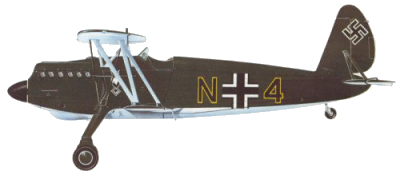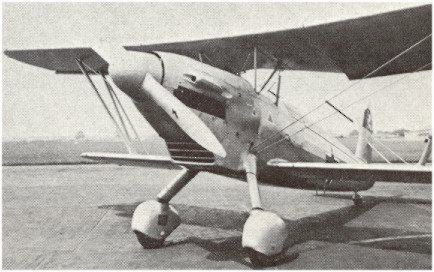 An Arado Ar 68E-1 with the Junkers Jumo 210 Da engine.

In the closing months of 1933 Arado flew what proved to be the sole example of the Ar 67, a smaller and lighter version of the company's earlier Ar 65, powered by a 640 hp (477 kW) Rolls-Royce Kestrel VI, it had a maximum speed of 211 mph (340 km/h). Like its antecedents, the Ar 67 was of mixed construction and was, similarly, to have carried two 7.92 mm (0.31 in) machine guns.
Development was discontinued, however, in favour of the Arado Ar68 which was the last biplane fighter to enter front-line service with the Luftwaffe. Reaching contemporary standards of aerodynamic efficiency, the aircraft had an oval-section fuselage of steel-tube construction, with metal panels covering the rear decking and forward sections, and fixed tail wheel landing gear whose main units incorporated wheel spats. The distinctive fin, which was to be used almost without exception in subsequent single-engined Arado designs, was introduced on the Ar 68.
The prototype Ar 68a flew for the first time in 1934, powered by a BMW VId engine providing a maximum continuous output of 550 hp (410 kW), resulting in disappointing performance. The problem was partially overcome in the Ar 68b second prototype, which was powered by a supercharged 610 hp (455 kW) Junkers Jumo 210 inverted-Vee engine, which both improved forward vision from the cockpit, and provided full power at higher altitudes. Even so, drag from the chin radiator depressed potential performance figures, and a redesigned unit was fitted to the Ar 68c third prototype which, flown in the summer of 1935, was the first to be fitted with the intended armament of two 7.92 mm (0.31 in) MG 17 machine guns. The fourth and fifth prototypes, designated Ar 68d and Ar 68e, were powered respectively by the BMW VI and Jumo 210 engines, and were regarded as pre-production aircraft. First to enter interim small-scale production was the Ar 6BF, powered by a 750 hp (570 kW) BMW VI engine pending improved supplies of the Jumo 210 engine. As soon as better allocations of the Junkers powerplant were made, production of the Ar 68E began with initial deliveries from the spring of 1937. An improved Ar 68G was planned, but this failed to enter production as the supercharged BMW engine to power it did not materialise, and the only other variant was the single Ar 68H prototype. This introduced a sliding cockpit canopy. two additional machine guns and a 850 hp (634 kW) BMW 132 9-cylinder radial engine. In this form the Ar 68H, first flown in 1937, had a maximum speed some 42 mph (68 km/h) better than that of the Ar 68E, but by then the RLM was convinced that the day of the biplane had ended and Arado was instructed to terminate its development.
Initial deliveries of the Ar 68F were made to the Luftwaffe in the late summer of 1936. commencing with I/JG 134 'Horst Wessel'. By the outbreak of World War II most surviving Ar 68s had been relegated to advanced fighter trainer status with the Jagdflieger-schulen (fighter pilot schools).
Specifications (Arado Ar 68E-1)
Type: Sinlge Seat Fighter
Design: Arado Design Team
Manufacturer: Arado Handelsgesellschaft, Warnemunde
Powerplant: (E-1) One 690 hp (515 kw) Junkers Jumo 210 Da 12-cylinder inverted-Vee piston engine. (F-1) One 750 hp (56 kW) BMW V1 12-cylinder liquid cooled Vee engine. (H) One 850 hp (634 kW) BMW 132 9-cylinder radial engine.
Performance: Maximum speed 190 mph (305 km/h) at sea level; service ceiling 26,575 ft (8100 m).
Range: 285 miles (415 km) on internal fuel.
Weight: Empty 4,057 lbs (1840 kg) with a maximum take-off weight of 5,457 lbs (2475 kg).
Dimensions: Span 36 ft 1 in (11.00 m); length 31 ft 2 in (9.50 m); height 10 ft 9 in (3.28 m); wing area 293.86 sq ft (27.30 sq m).
Armament: (F-1) Two fixed forward firing 7.92 mm (0.31 in) MG 17 machine guns. (E-1) Same as above plus six 110 lbs (50 kg) bombs.
Variants: Ar 67, Ar 68, Ar 68a, Ar 68b (second prototype), Ar 68c (third prototype), Ar 68d (forth prototype), Ar 68e (fifth prototype), Ar 68F-1 (initial production), Ar 68E-1, Ar 68G (planned but never built), Ar 68H (single prototype).
Avionics: None.
History: First flight November 1933; (Ar 68G) December 1935; termination of production around 1937.
Operators: Germany (Luftwaffe).