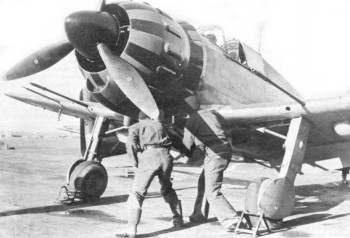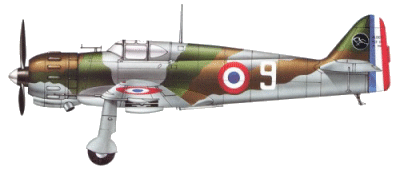 In July 1934 Avions Mareel Bloch was a contender in a design competition which resulted from a French air ministry specification for a new fighter. Submissions were received also from Dewoitine, Loire, Morane-Saulnier and Nieuport, with Morane-Saulnier eventually selected as the winner. So far as Bloch was concerned, this was no close-drawn decision with its design team chewing its finger nails because it had been beaten to the pylon by the thickness of the paint skin on the propeller. True, it was biting its finger nails; but this was probably because its Bloch M.B.150.01 prototype could not be induced to part company with the security of mother earth.
Nothing further happened for about nine months until, in early 1937, it was decided to force the 'ugly duckling' into the air. This was achieved in October 1937 after the provision of a strengthened wing of greater area, revised landing gear, and installation of a 701 kW (940 hp) Gnome-Rhone 14No radial engine with a three-blade constant speed propeller. Handed over to the Centre d'Essais du Materiel Aerien (CEMA) for service trials, its performance proved sufficiently interesting to warrant further development. This brought, at the very beginning of 1938, a small increase in wing span and installation of a Gnome-Rhone 14N-7 engine. When trials were completed in the late spring of 1938, SNCASO was awarded an order for a pre-production batch of 25 of these aircraft.
Preparatory work before initiation of construction of the aircraft, in a new SNCASO factory, brought realisation thatdesignoftheM.B.150.Ol was totally unsuited for mass production. The only solution was another redesign, during which wing area was reduced and the Gnome-Rh6ne 14N-11 engine selected for installation. It was in this form that a new prototype, redesignated M.B.151.01, flew for the first time on 18 August 1938. Construction of the balance of the pre-production order had already started by then, but despite the growing urgency of the situation only four of these aircraft had been delivered by April 1939. Simultaneously, SNCASO's design team had been working on an improved version, but the only significant difference between this and the M.B.151.01 lay in the installation of a 768 kW (1,030 hp) Gnome-Rhone 14N-21 engine. First flown in December 1938 the new prototype, designated M.B.152.01, was provided with the slightly more powerful Gnome-Rhone 14N-25 before being handed over to the CEMA for flight testing in February 1939. The improved performance of this version created positive reaction, with a firm order being placed for 400 production aircraft, of which 340 were to be M.13.152s, the balance the earlier M.B.151s.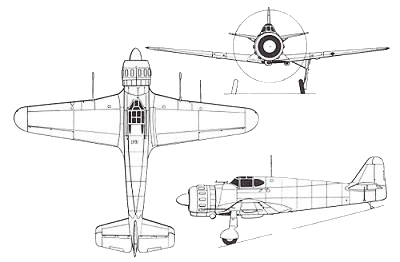 Three view diagram of the Block MB-152
Unfortunately, equally positive action did not materialise on the production line, and by the out-break of World War 11 in September 1939 a combined total of 120 M.B.151 and M.B.152s had been delivered. Even more unfortunately, not one of these could be used in action, for all were without gunsights and 95 of them could not be used at all, for they had been delivered without propellers. This was the moment when pressure of circumstances should have eliminated all petty difficulties, but even by the end of November, at which time 358 had been delivered, 157 were still without propellers and there were serious problems with engine overheating which needed attention.
Despite the problems, the Armee de I'Air did everything possible to speed introduction of what was potentially a valuable addition to its inventory. An experimental squadron was formed in September 1939, and initial deliveries to the fighter groupes began in the following month. Initial unit to convert to the type was Groupe de Chasse Ill, and by the end of 1939 newly equipped groupes included II/1 and II/10, III/9 and III/10, and the French Navy's Escadrille AC-3. All were to discover that their M.B.151s and M.B.152s possessed the desirable attributes of a combat aircraft, and it was tragic that indifference and political intrigue forced so many courageous pilots of the Armee de I'Air to lose their lives in obsolete aircraft, instead of being able to contest the Luftwaffe on more equal terms with fighters such as the M.B.152.
When the German armoured Divisions swept through France in May 1940, Groupes I/8, II/8 and II/9 had also been equipped with these fighters and, just before this, nine M.B.151s had been supplied to the Greek air force. After the collapse of France and conclusion of the Franco-German Armistice, six groupes of the Vichy French air force retained M.B.151 and M.B.152 aircraft, namely I/l and I/8, II/1, II/8 and II/9, III/9, and when SNCASO production ended at the same time a total of more than 600 had been built. When, subsequently, three of these groupes were re-equipped with Dewoitine fighters, the M.B.151s and M.B.152s were handed over to the Romanian air force.
The only variant comprised one M.B.153.01 prototype, an M.B.152 taken from the production line and re-engined with a 783 kW (1,050 hp) Pratt & Whitney R-1830-SC3-G Twin Wasp engine.
Specifications (Bloch MB-152)
Type: Single Seat Fighter
Design: Marcel Bloch
Manufacturer: SNCASO
Powerplant: One 1,080 hp (805 kw) Gnome-Rhone 14N-25 or a 1,100 hp (820 kw) 14N-49 14-cylinder radial piston engine.
Performance: Maximum speed 320 mph (515 km/h) at 13,125 ft (4000 m); maximum cruising speed 280 mph (450 km/h); service ceiling 32,810 ft (10000 m).
Range: 373 miles (600 km) with internal fuel stores.
Weight: Empty 4,453 lbs (2020 kg) with a maximum take-off weight of 5,908 lbs (2680 kg).
Dimensions: Span 34 ft 7 1/4 in (10.55 m); length 29 ft 10 1/4 in (9.10 m); height 12 ft 11 1/2 in (3.95 m); wing area 161.46 sq ft (15.00 sq m).
Armament: Two 20 mm Hispano 404 cannon (60 round drum each), and two 7.5 mm (0.295 in) MAC 1934 machine guns (500 rounds each) or four 7.5 mm (0.295 in) MAC 1934 machine guns.
Variants: MB-150 (first prototype, but it was such a bad aircraft, it never flew), MB-151 (much improved MB-150 redesign with a Gnome-Rhone 14N-11 engine), MB-152 (upgraded engine), MB-153-01 (a stock MB-152 with an American engine).
Operators: France (Armee de l'Air, Vichy AF), Greece, Romania.