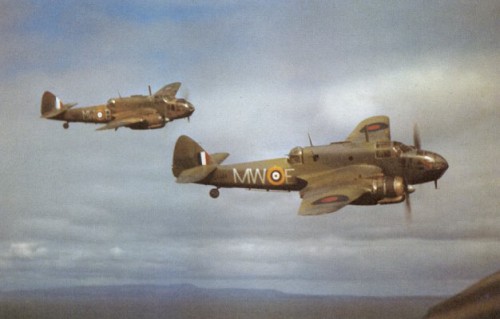 In 1935 the Air Ministry had issued two specifications, M.15/35 and G.24/35, which detailed requirements for a torpedo-bomber and a general reconnaissance/ bomber respectively. The latter was required to replace the Avro Anson in service for this role and. as mentioned in the Bristol Blenheim entry, was to be met by the Bristol Type 149 which was built in Canada as the Bolingbroke. To meet the first requirement, for a torpedo-bomber, Bristol began by considering an adaptation of the Blenheim, identifying its design as the Type 150. This proposal, which was concerned primarily with a change in fuselage design to provide accommodation for a torpedo and the installation of more powerful engines, was submitted to the Air Ministry in November 1935.
After sending off these details of the Type 150, the Bristol design team came to the conclusion that it would be possible to meet both of the Air Ministry's specifications by a single aircraft evolved from the Blenheim, and immediately prepared a new design outline, the Type 152. By comparison with the Blenheim Mk IV, the new design was increased slightly in length to allow for the carriage of a torpedo in a semi-exposed position, provided a navigation station, and seated pilot and navigator side-by-side. Behind them were radio and camera positions which would be manned by a gunner/camera/radio operator. The Type 152 was more attractive to the Air Ministry, but it was considered that a crew of four was essential, and the accommodation was redesigned to this end. The resulting high roofline, which continued unbroken to the dorsal turret, became a distinguishing feature of this new aircraft, built to Air Ministry Specification 10/36, and subsequently named Beaufort.
Detail design was initiated immediately, but early analysis and estimates showed that the intended powerplant of two Bristol Perseus engines would provide insufficient power to cater for the increase of almost 25 per cent in gross weight without a serious loss of performance. Instead, the newly developed twin-row Taurus sleeve-valve engine was selected for the Beaufort, the only concern being whether it would be cleared for production in time to coincide with the construction of the new airframe. The initial contract, for 78 aircraft, was placed in August 1936, but the first prototype did not fly until just over two years later, on 15 October 1938. There had been a number of reasons for this long period of labour, one being overheating problems with the powerplant, and another the need to disperse the Blenheim production line to shadow factories before the Beaufort could be built.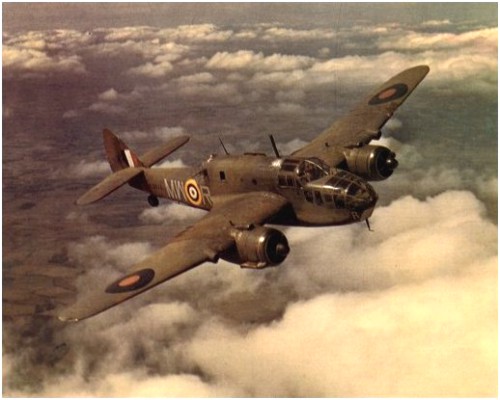 A Bristol Type 152 Beaufort Mk I with No. 217 Squadron RAF Coastal Command. In June 1942, the squadron moved to Malta.
Test flying of the prototype revealed a number of shortcomings, leading to the provision of doors to enclose the main landing gear units when retracted, repositioning of the engine exhausts, and an increase to two machine-guns in the dorsal turret. These and other items, added to continuing teething problems with the new engine, delayed the entry into service of the Beaufort Mk Is, these first equipping No. 22 Squadron of Coastal Command in January 1940. It was this unit, which on the night of 15-16 April 1940, began the Beaufort's operational career by laying mines in enemy coastal waters, but in the following month all in-service aircraft were grounded until engine modifications could be carried out.
Earlier, the Australian government had shown interest in the Beaufort, and following the visit of a British Air Mission in early 1939, it was decided that railway and industrial workshops could be adapted to produce these aircraft, resulting in the establishment of two final assembly plants (at Fishermen's Bend, Melbourne, and at Mascot, Sydney) with the production backing of railways workshops at Chullora, Islington and Newport. Twenty sets of airframe parts and the eighth Bristol built Beaufort Mk I (L4448, which became A9-1001) was imported for trials, but at an early stage the Australians decided they did not want the Taurus powerplant. Accordingly, they had obtained a licence from Pratt & Whitney to build the Twin Wasp (already being licence built by the Commonwealth Aircraft Corporation in Australia), and these were to power all Australian-built Beauforts, which eventually totalled 700. As from May 1941, several notable long distance flights were carried out by this experimental prototype and all expectations were exceeded. The first DAP Beaufort was tested in August 1941, and was one of a batch of 180 ordered by the RAF for use in the Far East.
Australian production began in 1940, the first Australian Beaufort Mk V making its initial flight in May 1941. Apart from the change in engines, these were generally similar to their British counterparts except for an increase in fin area to improve stability with the powerful Twin Wasp engine. In fact, engine and propeller changes accounted for most of the different variants produced by the Australian factories. These included the Beaufort V (50) and Beaufort VA (30), both with licence-built Twin Wasp S3C4-G engines; Beaufort VI (40 with Curtiss propellers) and Beaufort VII (60 with Hamilton propellers), all 100 being powered by imported SlC3-G Twin Wasps due to insufficient licence production; and the Beaufort VIII with licence-built S3C4-Gs. This last mark was the definitive production version, of which 520 were built, and had additional fuel tankage, Loran navigation system and variations in armament, with production ending in August 1944. Some 46 of the last production batch were subsequently converted to serve as unarmed transports; designated Beaufort IX, this variant had the dorsal turret removed and the resulting aperture faired in. The powerplant rating of all the Australian versions was 1,200 hp (895 kW). The Beaufort was used extensively by the Royal Australian Air Force in the Pacific theatre, serving from the summer of 1942 until the end of World War II.
The early trials of the Australian Beaufort V with Twin Wasp engines induced the Air Ministry to specify this powerplant for the next contract, and a prototype with these American engines was flown in November 1940. The first production Beaufort Mk II flew in September 1941, and by comparison with the Beaufort Mk I revealed much improved take-off performance. However, because of a shortage of Twin Wasps in the UK, only 164 production Mk IIs were built before Mk Is with improved Taurus XII engines were reintroduced on the line. In addition to the powerplant change, this version had structural strengthening, a changed gun turret, and ASV radar with Yagi aerials. When production of this version ended in 1944, well over 1,200 Beauforts had been built in Britain.
The final two Beaufort designations, Mk III and Mk IV, related respectively to a version with Rolls-Royce Merlin XX engines of which none were built, and a version with two 1,250 hp (932 kW) Taurus XX engines of which only a prototype was built.
Beauforts were the standard torpedo-bomber in service with Coastal Command during 1940-43, equipping Nos. 22, 42, 86, 217, 415 and 489 Squadrons in home waters, and Nos. 39, 47 and 213 in the Middle East. They were to acquit themselves well until superseded by the Beaufighter, involved in many of the early and bloody attacks against the German battle cruisers Gneisenau and Scharnhorst, and the heavy cruiser Prinz Eugen, three vessels that often seemed to be invincible, at least to aircraft carrying conventional weapons.
Specifications (Bristol Type 152 Beaufort Mk I)
Type: Four Seat General Reconnaissance (Anti-Shipping), Landed Based Torpedo Bomber, Trainer & Transport
Accommodation/Crew: A normal crew of four consisting of a Pilot, Navigator/Bomb-Aimer, Radio/Wireless Operator and an Air Gunner in the rear turret. The pilot and navigator sat side-by-side with the navigator usually responsible for any nose mounted armament. A navigation station/table was also provided for his use. The radio/wireless operator was stationed directly behind the pilot. The air gunner was responsible for the dorsal turret but would also assist the radio/wireless operator with any extra equipment (radar or cameras) when otherwise not engaged in the active defence of the aircraft.
Design: Chief Designer Frank Barnwell of the Bristol Aeroplane Company Limited based on the Bristol Blenheim.
Manufacturer: The Bristol Aeroplane Company Limited based at Filton (Bristol), Bristol County, England with secondary production facilities at Banwell (Somerset). Australia also licence built the Beaufort using a greatly dispersed manufacturing system. Over 400 sub-contractors delivered parts to three main sub-assembly areas consisting of the New South Wales Government Railway Workshops in Chullora (front fuselage, stern frame, landing gear and engine nacelles), the Victorian Railway Workshops in Newport (rear fuselage, tailplane, fin and control surfaces) and the South Australian Government Railway Workshops in Islington (centre-section and complete wings). All of these sub-assemblies were complete with all equipment and fittings when delivered to the two final assembly areas. Final assembly was carried out by the Beaufort Division of the Department of Aircraft Production (DAP) at Fishermen's Bend, Port Melbourne, Victoria and at Mascot, Sydney, New South Wales. The British Bristol Taurus engines could not be procured in any numbers, and the Australian built Beauforts were modified to accept a licence built Pratt & Whitney engine already being produced by the Commonwealth Aircraft Corporation.
Powerplant: Two Bristol Taurus II or VI 14-cylinder sleeve-valve twin-row air-cooled radial engines using a single speed supercharger rated at 1,065 hp (794 kW) for take-off and developing a maximum power rating (with boost) of 1,130 hp (843 kW) and driving a three bladed De Havilland Hydromatic constant-speed variable-pitch propellers. Late production Beaufort Mk Is were powered by two Bristol Taurus XII or XVI 14-cylinder sleeve-valve twin-row air-cooled radial engines using a single speed supercharger rated at 1,085 hp (809 kW) for take-off and developing a maximum power rating (with boost) of 1,130 hp (843 kW) using 100/130 octane/grade fuel.
Performance: Maximum speed (clean) 260 mph (418 km/h) at 6,000 ft (1830 m); maximum speed (with torpedo) 225 mph (362 km/h); cruising speed of 200 mph (322 km/h); service ceiling 16,500 ft (5180 m); rate of climb 1,150 ft/min (350.5 m/min).
Fuel Capacity: Two inboard fuel tanks each with a capacity of 194 Imperial gallons (882 litres) and two outboard fuel tanks each with a capacity of 91 Imperial gallons (413 litres) giving the aircraft a total capacity of 570 Imperial gallons (2590 litres). An auxiliary weapons bay tank of 138 Imperial gallons (626.5 litres) could also be carried internally. Normal endurance was about 6 hours with a fuel consumption of about 80 gallons per hour at cruising speed.
Range: (Normal) 1,035 miles (1666 km) on internal fuel with a maximum range of 1,600 miles (2576 km). Ordnance carried affected range.
Weights & Loadings: Empty 13,107 lbs (5945 kg) with a maximum take-off weight of 21,228 lbs (9629 kg) including torpedo.
Dimensions: Span 57 ft 10 in (17.63 m); length 44 ft 7 in (13.59 m); height 12 ft 5 in (3.78 m); wing area 503.0 sq ft (46.73 sq m).
Defensive Armament: Originally consisted of one 7.7 mm (0.303 in) machine-gun in the nose and one 7.7 mm (0.303 in) machine-gun in a Daimler-built dorsal turret. This soon changed to twin 7.7 mm (0.303 in) machine-guns in the nose and twin 7.7 mm (0.303 in) machine-guns in a Bristol power-operated dorsal turret, two side beam 7.7 mm (0.303 in) machine-guns and in some models a single 7.7 mm (0.303 in) backward machine-gun in a F.N.54 nose turret with a periscopic sight and remote control. Some aircraft also saw the installation of a single 7.7 mm (0.303 in) machine-gun in the port wing.
2 × 7.7 mm (0.303 in) Vickers "K" forward-firing machine-guns mounted in the nose with 300 rounds per gun (6 x 50 round circular ammunition pans).


2 × 7.7 mm (0.303 in) Vickers "K" trainable machine-guns in a power-operated Bristol B.IV Mk I dorsal turret with 900 rounds per gun (18 x 50 round circular ammunition pans).


2 × 7.7 mm (0.303 in) Vickers "K" trainable machine-guns with one gun in each beam position with 250 rounds per gun (5 x 50 round circular ammunition pans).


1 × 7.7 mm (0.303 in) Browning fixed forward-firing machine-gun mounted in the port wing with 500 rounds via belt feed from an ammunition box mounted in the wing (optional).


1 × 7.7 mm (0.303 in) Browning trainable rearward-firing machine-gun in a remotely controlled Frazer-Nash FN.54 nose turret with 600 rounds (optional).


4 × 7.7 mm (0.303 in) Browning fixed forward-firing machine-guns mounted in the wings with 500 rounds per gun for ground attack or anti-shipping work (optional).
Offensive/Disposable Armament: (Normal) 1,500 lbs (680 kg) of bombs or mines. (Maximum) 2,000 lbs (907 kg) of bombs or mines. A single 17.7 inch (45 cm) Mark XII torpedo of 1,548 lbs (702 kg) could be carried semi-externally to the left of the centreline. Commonly referred to as an 18 inch torpedo.

Variants: Bristol Type 150, Bristol Type 152 Beaufort, Bristol Beaufort Mk I, Bristol Beaufort Mk II, Bristol Beaufort T.Mk II (trainer), Bristol Beaufort Mk III, Bristol Beaufort Mk IV, DAP Beaufort Mk V, DAP Beaufort Mk VA, DAP Beaufort Mk VI, DAP Beaufort Mk VII, DAP Beaufort Mk VIII, DAP Beaufort Mk IX (transport).
Equipment/Avionics: Standard communications, navigation equipment and a G45 gun camera in conjunction with the port mounted machine-gun. Some later aircraft carried ASV Mk II radar. Aircraft used for reconnaissance carried additional cameras in the fuselage that were operated by the Air Gunner.
Wings/Fuselage/Tail Unit: The wings are of a mid-wing cantilever monoplane type. Structure consists of two spars, former ribs and stressed skin covering. The fuselage is an oval section monocoque. Structure comprises formers, stringers of extruded angles and a smooth flush riveted skin. The tail unit is of a cantilever monoplane type. Fin and tailplane constructed mainly of Alclad. Rudder and elevators have metal structure and fabric covering.
Landing Gear: The landing gear are a fully retractable type, with the mainwheels carried between pairs of Vickers oleo-pneumatic legs struts and are retracted backwards into engine nacelles. The tailwheel retracts forwards into a recess within the fuselage.
History: First flight (prototype) 1 October 1938; first delivery October 1939; first flight (Australian built but using British supplied parts) 5 May 1941; first flight (Australian Mk V) August 1941; last delivery (Australia) August 1944.
Operators: United Kingdom (RAF & RN), Australia (RAAF), Canada (RCAF), Turkey.
Units: The Beaufort was the standard torpedo bomber within Coastal Command during 1940-43 equipping Nos. 22, 42, 86, 217, 415 and 489 Squadrons in home waters. Nos. 39, 47 and 213 Squadrons saw service in the Middle East. No. 217 was later posted to Malta, and then Burma, seeing service at home, in the Middle East and finally the Far East. The Royal Navy's Fleet Air Arm operated the Beaufort with Nos. 728, 733, 762, 788 and 798 Squadrons. The Royal Canadian Air Force operated two overseas units, Nos. 404 and 415 RCAF Squadrons (although briefly) and No. 149 RCAF Squadron based in Patricia Bay, British Columbia. The Royal Australian Air Force operated Nos. 1, 2, 6, 7, 8, 13, 14, 15, 32 and 100 RAAF Squadrons plus several training units.