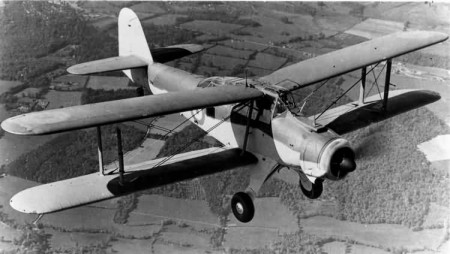 As a replacement for the antiquated Fairey Swordfish, the Fairey Albacore appeared to have everything going for it. Neat in appearance, and with an enclosed cabin providing such luxuries as heating, a windscreen wiper and automatic emergency dinghy ejection, the Albacore nevertheless failed to come up to expectations. Far from supplanting the Swordfish, it merely complemented the older biplane and, ironically, was outlived by the latter in service.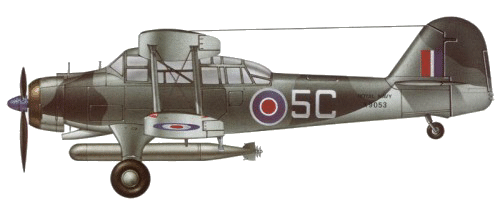 Designed to Specification S.41/36, the Albacore was ordered off the drawing board in May 1937, the Air Ministry placing a contract for two prototypes and 98 production aircraft. The first prototype flew on 12 December 1938 from Fairey's Great West Aerodrome (now part of London's Heathrow Airport), and production began in 1939. The prototype was tested on floats at Hamble in 1940, but the results did not justify further development along these lines.
Later in the same year the first production aircraft underwent tests at the Aircraft and Armament Experimental Establishment at Martlesham Heath, and it was this source that first reported all was not well with the Albacore. Elevators and ailerons were said to be very heavy, the stall with slots free was 'uncomfortable', the front cockpit was too hot in normal summer weather, and the rear cockpit was cold and draughty. There were a few things on the credit side, however. The Albacore was steady in a dive, with a smooth recovery when carrying a torpedo, and the pilot's view was excellent. Despite this rather unpromising background, Albacores began to roll off the production line after a hold-up caused by engine development problems. The 1,065 hp (794 kW) Bristol Taurus II installed in early aircraft was replaced by the Taurus XII of 1,130 hp (843 kW).
No. 826 Squadron was formed at Ford, Sussex, specially to fly the Albacore, and received 12 aircraft on 15 March 1940. The squadron went into action on 31 May, attacking E-boats off Zeebrugge and road and rail targets at Westende, Belgium. The squadron moved to Bircham Newton, Norfolk the following month, operating under the direction of Coastal Command until November, making night attacks, laying mines and bombing shipping. Three more Albacore squadrons formed before the end of 1940: No. 829 at Lee-on-Solent, No. 828 at Ford and No. 827 at Yeovilton, the last moving to Stornoway for anti-submarine patrols.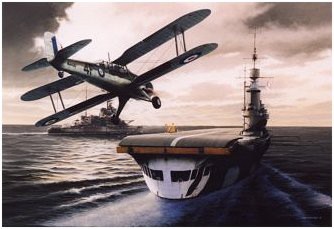 A Fairey Albacore landing on the HMS Formidable
Albacores finally went to sea when Nos. 826 and 829 Squadrons joined HMS Formidable on 26 November 1940, for convoy escort duty to Cape Town. Aircraft from these squadrons took part in the Battle of Cape Matapan in March 1941, pressing home their torpedo attacks in the true Swordfish tradition against the Italian battleship Vittorio Veneto, the first occasion on which they had used torpedoes in action.
By mid-1942 some 15 Fleet Air Arm squadrons were equipped with Albacores, operating from the Arctic Circle on Russian convoys, to the Western Desert. the Mediterranean and the Indian Ocean, and in November of that year Albacores of Nos. 817, 820, 822 and 832 Squadrons were in action during the Allied invasion of North Africa, flying anti-submarine patrols and bombing enemy coastal guns. Albacores had reached their zenith in 1942, and the next year Fairey Barracudas began to replace them in all squadrons except No. 832, which was to be equipped with Grumman Avengers. The last two squadrons to give up their Albacores were Nos. 820 and 841 in November 1943, aircraft from the latter squadron being passed to No.415 Squadron, Royal Canadian Air Force, at Manston for use in English Channel operations on D-Day.
Total Albacore production between 1939 and 1943 amounted to 800 including two prototypes, all built at Fairey's Hayes factory and test-flown at what became Heathrow Airport.
Specifications (Fairey Albacore TB.Mk I)
Type: Two Seat Torpedo Bomber & Three Seat Reconnaissance.
Accommodation/Crew: A fully enclosed heated cockpit for a crew of two or three according to required role. When carrying bombs or torpedo the crew consists of a Pilot and Gunner only. For Reconnaissance duties the crew comprises of a Pilot, Observer and Wireless Operator/Gunner.
Design: Lead Designer Marcel O. Lobelle of the Fairey Aviation Company Limited.
Manufacturer: The Fairey Aviation Company Limited based in Hayes, Middlesex (Heathrow Airport), with works in Stockport, Cheshire and Hamble, Hants.
Powerplant: One Bristol Taurus XII 14-cylinder two-row sleeve-valve air-cooled radial engine rated at 1,085 hp (809 kW) at 3,100 rpm for take-off with a maximum power rating of 1,130 hp (843 kW) using 100 Octane (Grade 130) fuel and driving three-bladed, variable-pitch metal propeller. Naca cowling with leading edge exhaust collector and trailing edge controllable slats.
Performance: Maximum speed 161 mph (259 km/h) at 4,500 ft (1370 m), cruising speed of 116 mph (187 km/h) at 6,000 ft (1830 m); service ceiling (with torpedo) 20,700 ft (6310 m).
Range: 930 miles (1497 km) 1,600 lbs (726 kg) of disposable ordnance.
Weights & Loadings: Empty 7,250 lbs (3289 kg) with a maximum take-off weight of 10,460 lbs (4745 kg) including torpedo.
Dimensions: Span 50 ft 0 in (15.24 m); length 39 ft 10 in (12.14 m); height 14 ft 2 in (4.32 m); wing area 623.0 sq ft (57.88 sq m).
Fixed Armament: One fixed forward firing 7.7 mm (0.303 in) Browning machine-gun in starboard wing and twin 7.7 mm (0.303 in) Vickers "K" Type machine-guns in rear cockpit.
Offensive/Disposable Armament: A single 17.7 inch (45 cm) British Mark XII torpedo of 1,548 lbs (702 kg) beneath the fuselage, or six 250 lbs (114 kg), or four 500 lbs (227 kg) bombs beneath the wings. Mines could also be carried.
Variants: Two prototypes (L7074 and L7075), Fairey Albacore Mk I (bombs), Fairey Albacore TB.Mk I (torpedo).
Equipment/Avionics: Standard radio and navigation equipment. Fire extinguishers, first aid outfit and a multi-seat 'H' or 'K' type dinghy in blow out storage.
Wings/Fuselage/Tail Unit: Single bay unstaggered biplane. Upper wings attached to framework of cockpit superstructure, lower wings to lower fuselage longerons. Wings fold round rear spar hinges. All metal wing structure with fabric covering. The fuselage is all metal monocoque with flush riveted smooth skin. The tail unit is an cantilever monoplane type. All-metal framework with metal covering to fixed surfaces and fabric covering to moveable surfaces.
Landing Gear: Fixed divided type with faired in sides. Twin metal floats may be substituted for the wheeled landing gear, but this was a single experimental aircraft only.
History: First flight (L7074) 12 December 1938, initial delivery 15 March 1940 (RAF), initial delivery 26 November 1940 (RN) when two units were assigned to the carrier HMS Formidable.
Operators: United Kingdom (RAF & RN), Canada (RCAF & RCN)
Units: A total of 36 squadrons (including 15 Fleet Air Arm Squadrons) operated the type at its peak. The RCAF operated six aircraft, making up "A Flight" with No. 415 (RCAF) Sqn until June 1944 when the squadron was transferred from Coastal to Bomber Command, its Albacores and most of the aircrews who were nearing the end of their tours were then sent to No. 119 (RAF) Sqn. The RCN continued to operated the type until 1949.