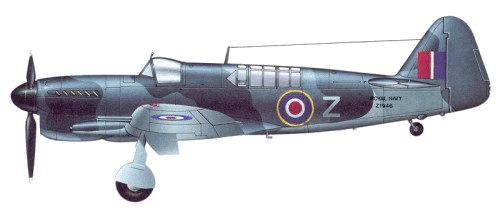 A Fairey Firefly F.Mk I of 1772nd Squadron Royal Navy - H.M.S. Indefatigable 1944
Before World War 11 Fairey designed a light bomber, P.4/34, from which evolved the Fulmar naval two-seat fighter to Specification 0.8/38. A total of 600 of these slender carrier-based aircraft served during the war with various equipment and roles. The Firefly followed the same formula, but was much more powerful and useful. Designed to N.5/40 - a merger of N.8139 and N.9139 - it was a clean stressed-skin machine with folding elliptical wings housing the four cannon and with the trailing edge provided with patented Youngman flaps for use at low speeds and in cruise. Unlike the installation on the Barracuda, these flaps could be recessed into the wing.
The pilot sat over the leading edge, with the observer behind the wing. The main wartime version was the Mk 1, widely used from the end of 1 943 in all theatres. Fairey and General Aircraft built 429 F.1s, 376 FR.Is with ASH radar and then 37 NF.2 night fighters. There followed the more powerful Mk Ill, from which derived the redesigned FR.4 with two-stage Griffon and wing-root radiators. There were 160 of these, 40 going to the Netherlands and the rest serving in Korea, with the 352 Mk 5s with folding wings. There were FR, NF and AS (anti-submarine) Mk 5s. and they were followed by the 1 33 specialised AS.6 versions with all role equipment tailored to anti-submarine operations. The 1 51 AS.7s rounded off production, this being a redesigned three-seater, with new tail and wings and distinctive beard radiator. More than 400 Fireflies were rebuilt in the 1950s as two-cockpit T.1 s or armed T.2s, or as various remotely piloted drone versions (U.8, U.9, U.10). Some were converted as target tugs and for other civil duties.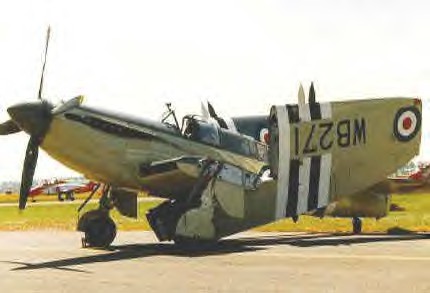 Variants
Designed to Admiralty Specification N.5140, calling for a two-seat reconnaissance fighter, the Fairey Firefly represented a considerable advance over the company's earlier Fulmar. A cantilever low-wing monoplane of all-metal construction, it had a conventional tail unit, retractable tailwheel landing gear and accommodation for the pilot and navigator/radio-operator in separate enclosed cockpits. Power was provided by a 1,730 hp (1290 kW) Rolls-Royce Griffon IIB engine, but later production Firefly F.Mk 1 aircraft had the 1,990 hp (1484-kW) Griffon XII. The first of four development aircraft was flown on 22 December 1941, and the first production Firefly F.Mk 1 aircraft were delivered in March 1943. A total of 459 of this version was built, 327 by Fairey and 132 by General Aircraft under sub-contract. The addition of ASH radar beneath the engine identified the Firefly FR.Mk 1, of which 236 were built, and a number of Firefly F.Mk Is modified to Firefly FR.MK 1 standard had the designation Firefly F.Mk IA. A Firefly NF.Mk 11 night-fighter version was developed, but when it was realised that its AI Mk 10 radar could be pod mounted beneath the engine, as with the ASH radar of the Firefly FR.MK 1, the planned 328 aircraft programme was cancelled. Instead, 140 Firefly FR.MK Is were modified on the production line to Firefly NF.Mk 1 configuration, the 37 Firefly NF.Mk IIs that had been built being converted back to Mk 1 standard. Post-war Mk 1 conversions included the unarmed dual-control Firefly T.Mk 1 pilot trainer, the cannon armed Firefly T.Mk 2 operational trainer, and the Firefly T.Mk 3 used for training in ASW operations. A few were also converted as Firefly TT.Mk 1 target tugs.
Only a prototype of the Firefly F.Mk Ill with Griffon 61 engine was built, development being concentrated instead on the Firefly F.Mk IV. This had a 2,250 hp (1678 kW) Griffon 74 engine and new outer wing nacelles that could both carry fuel, or an ASH scanner (port) and fuel (starboard). About 160 were built, and the first Firefly FR.Mk 4 delivered in July 1946; some were converted later to Firefly TT.Mk 4 standard. The Firefly Mk 5 and Firefly Mk 6 were similar externally to the Mk 4, the first aircraft of each variant flying in December 1947 and March 1949 respectively. Some 352 Mk 5s were built in versions designated Firefly FR.Mk 5, Firefly NF.Mk 5 and Firefly AS.Mk 5, the last with American sonobuoys and equipment that distinguished it from the British-equipped Firefly AS.Mk 6 of which 133 were built. A few Firefly T.Mk 5 trainers, and Firefly TT.Mk 5 and Firefly TT.Mk 6 target tugs were converted in Australia from Firefly AS.Mk 5s.
The first production Griffon 59-powered Firefly AS.Mk 7 was flown in October 1951, this reintroducing the beard radiator that had caused problems with the sole Mk Ill. Intended as an ASW aircraft accommodating two radar operators, few Fireflys AS.Mk 7s were built as such, the majority being completed as Firefly T.Mk 7 ASW trainers within a Mk 7 production of 151. Later conversions to pilotless target aircraft were carried out by Fairey, these including 34 Firefly U.Mk 8 aircraft converted from Firefly T. Mk 7s, and 40 similar Firefly U.Mk 9 conversions from Mk 4 and Mk 5 aircraft. They were used for missile development, and by the Royal Navy as targets for its Firestreak-armed fighters and Seaslug-carrying ships.
Fireflies entered service first with No. 1770 Squadron at Yeovilton, Somerset, on 1 October 1943. Later embarked on HMS Indefatigable, they were active in operations against the German battleship Tirpitz in Norway during July 1944. They also saw action against Japanese oil refineries in Sumatra, in attacks on the Carolines and against shipping and ground targets in the Japanese home islands. In 1950, after war broke out in Korea, Firefly Mk 5s were operated from Australian and British light fleet carriers, and in 1954 the type was in action in the ground-attack role in Malaya. Just over two years later the Firefly was retired after 13 years of valuable service.
Specifications (Fairey Firefly AS.Mk 5)
Type: Two Seat Naval Reconnaissance Fighter / Anti Submarine Strike Aircraft
Design: Fairey Aviation Design Team
Manufacturer: The Fairey Aviation Company
Powerplant: (AS.Mk 5) One 2,250 hp (1678 kW) Rolls-Royce Griffon 74 12-cylinder Vee piston engine. (Mk I up to No 470) One 1,730 hp (1290 kW) Rolls-Royce Griffon IIB 12-cylinder Vee liquid-cooled; (from No 471) 1,990 hp (1485 kW) Griffon XII. (Mks 4-7) One 2,250 hp (1678 kW) Griffon 74 12-cylinder Vee piston engine.
Performance: (AS.Mk 5) Maximum speed 386 mph (618 km/h) at 14,000 ft (4265 m); cruising speed 220 mph (354 km/h); service ceiling 28,000 ft (8534 m). (Mk I) Maximum speed 316 mph (509km/h); initial climb rate 1,700 ft (518m) per minute; service ceiling 28,000 ft (8534 m). (Mk 4) Maximum speed 386 mph (618 km/h); initial climb rate 2,050 ft (625 m) per minute; service ceiling 31,000 ft (9450 m).
Range: (AS.Mk 5) 1300 miles (2092 km) on internal fuel. (Mk I) 580 miles (933 km) on internal fuel. (Mk 4) 760 miles (1223 km) on internal fuel.
Weight: (AS.Mk 5) Empty 9,674 lbs (4388 kg) with a maximum take-off weight of 16,096 lbs (7301 kg). (Mk I) Empty 9,750 lbs (4422 kg) with a maximum take-off weight of 14,020 lbs (6359 kg). (Mk 7) Empty 11,016 lbs (4997 kg) with a maximum take-off weight of 13,970 lbs (6337 kg).
Dimensions: (Mk 4 - 6) Span 41 ft 2 in (12.55 m); length 37 ft 11 in (8.51 m); height 14 ft 4 in (4.37 m); wing area 330.0 sq ft (30.66 sq m). (Mk I - III) Span 44 ft 6 in (13.55m); length 37 ft 7 in (11.4 m); height 13 ft 7 in (4.15 m).
Armament: (Mk I) Four fixed 20 mm Hispano cannon in wings and underwing racks for up to two 1,000 lbs (454 kg) of bombs or sixteen 60 lbs (27 kg) rocket projectiles. (Mk 4 and 5) usually similar to 1 in most sub-types. (Mk 6) no guns, but underwing load increased to 3,000 lbs (1362 kg) and varied. (Mk 7) no guns, but underwing load remained at 3,000 lbs (1362 kg) and equipment changed.
Variants: Firefly F.Mk 1, Firefly FR.Mk 1, Firefly F.Mk IA, Firefly NF.Mk 11, Firefly NF.Mk I, Firefly T.Mk 1, Firefly T.Mk 2, Firefly T.Mk 3, Firefly F.Mk III, Firefly F.Mk IV, Firefly FR.Mk 4, Firefly TT.Mk 4, Firefly Mk 5, Firefly Mk 6, Firefly FR.Mk 5, Firefly NF.Mk 5, Firefly AS.Mk 5, Firefly AS.Mk 6, Firefly TT.Mk 5, Firefly TT.Mk 6, Firefly, AS.Mk 7, Firefly T.Mk 7 ASW, Firefly U.Mk 8, Firefly U.Mk 9.
Avionics: AI Mk X radar, ASH Scanner, sonobuoys.
History: First flight 22 December 1941; first production F.1 26 August 1942; production FR.4. 25 May 1945; final delivery of new aircraft May 1955.
Operators: United Kingdom (RN), Canada (RCN), Australia.
Number Built: ~1533