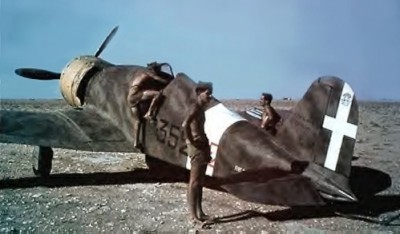 Background
Design of the Fiat G.50 cantilever low wing monoplane was begun by Guiseppe Gabrielli in April 1935. After extensive modifications, many ordered by the Italian authorities, the first (MM 334) of two prototypes flew for the first time a Marina di Pisa on 26 February 1937. Test pilot Giovanni de Briganti reported a tendency to spin and this problem continued even after series production had begun.
The G.50 was an all metal aircraft, only the movable control surfaces being fabric covered, with wide track inward retracting main landing gear units and a fixed tailwheel. The latter was provided with a streamlined fairing but this was often discarded in service use.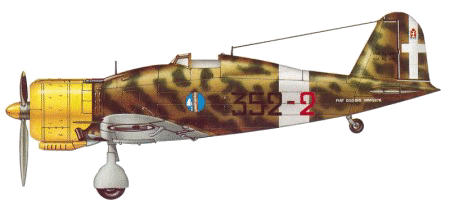 The prototypes and first pre-production batch of 45 G.50 aircraft had a pilot's enclosed cockpit with a rearward sliding canopy, but later production machines had either an open or partially enclosed cockpit. Apart from the two prototypes, a total of 778 machines were built, 350 being produced by Fiat, which did not start building the type until November 1940, and the balance of 428 by Costruzioni Meccaniche Aeronatiche SA (CMASA), which was a Fiat subsidiary. The initial series-built G.50s were characterised by modified flaps, reshaped vertical tail surfaces and an open cockpit, built by CMASA (206) and Fiat (6), and 45 of the total were exported to Croatia (10) and Finland (35).
Twelve pre-production G.50s formed the Gruppo Sperimentale de Caccia, which operated in Spain with the Italian Aviazione Legionaria for a few weeks before the Republican surrender to General Franco in 1939. When Italy entered World War II, 97 G.50s were in service. They took part in the fighting in southern France in June 1940 and then flew with the Corpo Aereo Italiano (C.A.I.) in Belgium for operations against the UK between September 1940 and January 1941. However the very limited range of the G.50 reduced it to an almost non-existent role with the Corpo Aereo Italiano. Subsequently the G.50 equipped 24th and 154st Gruppo moved to Albania for operations against Greece.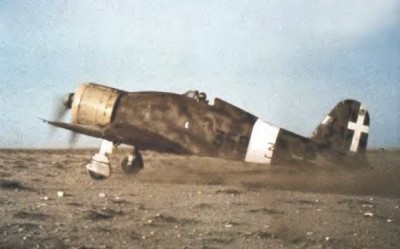 The G.50bis, the first example of which was tested on 9 September 1940, incorporated increased fuel tankage to extend range, redesigned vertical tail surfaces, and the glazed cockpit side panels to protect the pilot from the slipstream. Production totalled 421, 77 of them built by CMASA. The type was used in Croatia, but most G.50bis fighters went to North Africa with the 2nd and 155th Gruppo, these aircraft being equipped with carburettor sand filters.
Some G.50s were converted as fighter bombers with underwing racks for bombs, including anti-personnel bombs, and this version equipped the 50th Stormo in North Africa. The final production variant was the G.50B, a two seat dual-control fighter trainer development which had an unusual long glazed canopy, the top section over the rear cockpit being open. The prototype was flown for the first time on 30 April 1740, and CMASA went onto build 100 examples during 1940-43. Single production prototypes which did not enter production included the G.50ter powered by a 1,000 hp (746 kw) Fiat A.76 engine which, flown in July 1941, demonstrated a maximum of 329 mph (530 km/h), but the G.50V powered by a Daimler Benz DB 601 engine and flown during the following month attained an astounding 360 mph (580 km/h) . The final prototype was the G.50bis A/N, a two seat fighter bomber intended for operation on the aircraft carriers Aquilla and Sparviero, conversions from merchant ships which were never completed. Test flown for the first time on 3 October 1942, production G.50bis A/N aircraft would have been armed with four 12.7 mm (0.50 in) machine guns and carried a 551 lbs (250 kg) bomb.
In early 1943 the G.50bis was in use with the 24th Gruppo in Sardinia, the 151st Gruppo in Greece, and the 154th Gruppo in the Aegean. After the September armistice between Italy and the Allies, only four G.50s remained in flying condition, used as trainers by the air arm of the Fascist republic still fighting beside Germany.
Apart from the 12 pre-production aircraft flown in Spain and the 10 G.50s supplied to the Croat government, the only aircraft of this type to be exported were 35 G.50s bought by Finland in 1939. They were recieved too late for the 1939-40 winter war, but flew with some distinction against the USSR during the Continuation War of 1941-44. Several survived the war, the example being grounded in 1947.
Specifications (Fiat G.50 Freccia "Arrow")
Type: Single Seat Fighter
Design: Ingeniere Giuseppe Gabrielli of Aeronautica D'Italia S.A. (Fiat)
Manufacturer: Aeronautica D'Italia S.A. (Fiat) in Turin and also by CMASA in Marina di Pisa starting in 1939
Powerplant: One 840 hp (626 kw) Fiat A.74 RC.38 14-cylinder radial piston engine.
Performance: Maximum speed 293 mph (472 km/h); climb to 19,685 ft (6000 m) in 7 minutes 30 seconds; service ceiling 32,265 ft (9835 m).
Range: 416 miles (670 km) with internal fuel.
Weight: Empty 4,354 lbs (1975 kg) with a maximum take-off weight of 5,324 lbs (2415 kg).
Dimensions: Span 35 ft 11 1/2 in (10.96 m); length 25 ft 6 3/4 in (7.79 m); height 9 ft 8 1/2 in (2.96 m); wing area 195.37 sq ft (18.15 sq m)
Armament: Two fixed forward firing 12.7 mm (0.50 in) Breda-SAFAT machine guns.
Variants: G.50, G.50bis (modified). G50B (two seat trainer), G.50ter (single prototype only), G50.bis A/N (proposed carried based aircraft). Some G.50s were converted for use as fighter bombers, but no seperate designation was assigned.
Operators: Italy (Regia Aeronautica, Aeronautica Cobelligerante del Sud, Aeronautica Nazionale Repubblicana), Croatia, Finland, Spain.