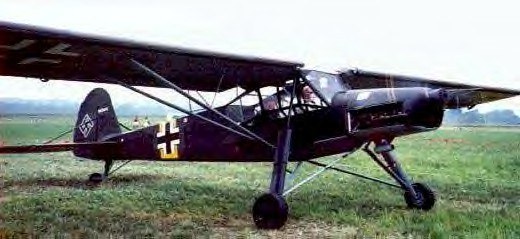 In the summer 1935, Chairman Gerhard Fieseler, Chief Designer Reinhold Mewes (who specialised in STOL aircraft) and Technical Director Erich Bachem (later the creator of the Ba 349 Natter VTO fighter) designed the ultimate in practical STOL aircraft, the Fieseler Fi 156. It was no mere exercise, and was seen as fulfilling numerous roles both in civil life and for the recendy disclosed Luftwaffe. It was a three-seat, high-winged machine, powered by the excellent 240 hp (179 kW) Argus engine and with the wing liberally endowed with slats and flaps. A particular feature was the stalky landing gear arrangement, well suited to cushioning arrivals at unprecedented steep angles.
Best-known of all the Fieseler designs because of its extensive use during World War II, the Fieseler Fi 156 Storch (stork) was a remarkable STOL (short take-off and landing) aircraft that was first flown nearly 50 years ago on 24 May 1936. A braced high-wing monoplane of mixed construction, with a conventional braced tail unit and fixed tailskid landing gear with long-stroke main units, the Fi 156 was powered by an 240 hp (179 kW) Argus As 10C 8-cylinder inverted-Vee air-cooled piston engine, and its extensively glazed cabin provided an excellent view for its three-man crew. As with the Fi 97, the key to the success of this aircraft was its wing incorporating the company's high-lift devices, comprising in the initial production series a fixed slot extending over the entire span of the wing leading edge, with slotted ailerons and slotted camber-changing flaps occupying the entire trailing edge. Flight testing of the first three prototypes (Fi 156 V1, V2 and V3) showed that the capability of this aircraft more than exceeded its STOL expectations, for with little more than a light breeze blowing it needed a take-off run of only about 200 ft (60 m) and could land in about one-third of that distance.
Built to complete against fixed-wing submissions from Messerschmitt (Bf 163) and Siebel (Si 201) and an auto gyro from Focke-Wulf (Fw 186) based on Cierva technology, the three prototypes were followed by the ski-equipped Fi 156 V4 for winter trials, a pre-production Fi 156 V5 and, in early 1937, by 10 Fi 156A-0 aircraft for service evaluation. One of these was demonstrated publicly for the first time at an international flying meeting at the end of July 1937 in Zürich, by which time the general-purpose Fi 156A-1 was in production. The Storch repeatedly demonstrated full-load take-offs after a ground run of never more than 148 ft (45 m), and a fully controllable speed range of 32-108 mph (51-174 km/h). Service tests confirmed that Germany's armed forces had acquired a 'go-anywhere' aircraft, and for the remainder of World War II the Storch was found virtually everywhere German forces operated, production of all variants totalling 2,549 aircraft.
It must be admitted that the Storch was large for its job, and the US Army Piper L-4 Grasshopper, its mass-produced equivalent, did most of the same tasks on 65 hp (48 kW) instead of 240 hp (179 kW). On the other hand, it could be argued that the aircraft bought by the RAF for the same duties was the Westland Lysander which, despite the best efforts of Westland could not come anywhere near the German aircraft's STOL qualities even with nearly 1,000 hp (746 kW). The truest test is perhaps an aircraft's influence on history. Immediately, the Storch had emulators in at least 10 countries, US examples including the Ryan YO-51 Dragonfly, Vultee L-1 Vigilant and Bellanca O-50, and even a version adopted by the Soviet Union.
It added up to a vehicle that could go almost anywhere and do a remarkable number of things. Tests against fighters appeared to confirm that, at around 34 mph (55 km/h), it was a very difficult target for fighters. There was almost trouble when Udet's camera-gun film showed not one picture of the elusive Storch. Another Fi 156A-0 was tested with three SC-50 (50 kg/110 lbs) bombs, with aim marks painted on the Plexiglas windows, while another did successful trials against a U-boat with inert 298 lbs (135 kg) depth charges. Less unexpected were supply-dropping tests and trials with smoke apparatus.
In view of large numbers produced it is not surprising that there were several variants, the first being the projected but not built Fi 156B with movable leading-edge slots. The major production version was the C-series, the initial pre-production Fi 156C-0 being a development of the Fi 156A-1 and introducing raised rear-cabin glazing to allow for installation of a rear-firing 7.92 mm (0.31 in) MG 15 machine-gun. The designation Fi 156C-1 applied to a variant intended to be deployed in liaison and staff transport roles, and the Fi 156C-2 was basically a two-crew reconnaissance version carrying a single camera. Some late examples of the Fi 156C-2 were, however, euipped to carry one stretcher for casualty evacuation. The Fi 156C-3 was the first to be equipped for multi-purpose use, the majority of the type being powered by the improved Argus As l0P engines, this engine being standard in the generally similar Fi 156C-5 which had provision to carry an underfuselage camera or drop tank. Tropicalised versions of the Fi 156C-3 and Fi 156C-5, incorporating engine dust/sand filters, were built under the respective designations Fi 156C-3/Trop and Fi 156C-5/Trop.
The final production variant was an improved casualty evacuation aircraft with an enlarged loading/unloading hatch for a single stretcher. Pre-production Fi 156D-0 aircraft were powered by the Argus As 10C engine, but production Fi 156D-1s had the Argus As l0P engine as standard. Ten unusual pre-production aircraft were built under the designation Fi 156E-0, intended for operation from rough terrain with the standard landing gear was replaced by main units that each incorporated two wheels in tandem, the wheels of each unit, being linked by pneumatic rubber track. Final wartime variant was the Fi 256, a larger capacity five-seat civil version, of which only two examples were built at the Morane-Saulnier factory in Puteaux, France, during 1943-44.
The Fi 156 Storch took part in many exciting actions. Certainly the most remarkable covert mission of the entire war (which received little publicity because it was by the losing side) took place on 12 September 1943. Italy had reached an armistice with the Allies, and the former Fascist dictator, Mussolini, had been taken prisoner. Most of the country was at once taken over by the German army, however, and Hitler ordered SS Haupsturm-führer Otto Skorzeny to find Mussolini and rescue him. Eventually Skorzeny located Mussolini being held in the hotel on top of the pinnacle of the Gran Sasso in the Abruzzi mountains, reached only by cable-car. He organised a rescue using a Focke-Achgelis Fa 223 Drache helicopter, but at the last moment this was unserviceable due to a crash. Undeterred, Skorzeny went in a Storch, landed on the tiny terrace at the back of the hotel, got the former dictator and, severely overloaded, took off over the sheer edge.
Almost equal in excitement was one of the very last missions ever flown by a Storch of the Luftwaffe. On 23 April 1945 Hider received a communication from Reichsmarschall Hermann Goering, previously his closest aide, which made him furious. He immediately dismissed Goering as C-in-C of the Luftwaffe (Goeringhaving got out of Berlin to safer climes), and appointed in his stead Generaloberst Ritter von Greim. He sent a message from his bunker to Berlin-Gatow calling for von Greim, and Flugkapitän Hanna Reitsch brought him to the Führerbunker in a Storch, flying by night over the entire encircling Soviet armies and landing amid piles of rubble and under enemy fire. Hitler formally invested von Greim, who was then flown out again by the brilliant woman test pilot. She was the last person to get out of beleaguered Berlin, and the return trip should on any rational basis have been impossible.
During the war at least 47 Storchs, nearly all of them Fi 156C-3/Trop or Fi 156C-5/Trop versions, were taken on charge by front-line RAF squadrons in the Mediterranean theatre. In the final few months of the war, more examples came into the hands of Allied units in northern Europe. By May 1945 further un-destroyed examples had been captured in Germany, and a surprisingly high proportion escaped immediate destruction. The British MAP (Ministry of Aircraft Production) carried out a formal evaluation of VX154, which numerically confirmed its outstanding qualities. Among more than 60 Storchs taken formally on RAF charge was VM472, the personal aircraft of Field Marshal Montgomery, in preference to an Allied type. Another, brought to the UK by an air marshal, was reluctantly wrested from him and, in 1946, in immaculate Ministry livery with serial VP546 (and British wheels), it was flown by Lieutenant Commander E. M. 'Winkle' Brown as a valued vehicle at Aero Flight, RAE Farnborough. Several others flew with the RAE's transport flight.
Many hundreds of Storchs were built after the war in both Puteaux, France and liberated Czechoslovakia. The Puteaux factory had in fact built two prototypes of the Fi 256, which Fieseler had designed in 1941 as a civil successor. It looked like a Storch with a wider fuselage, but in fact hardly any parts were common. The wings had automatic slats, the fuselage was more streamlined, and the cabin seated two pairs of passengers behind the pilot instead of two single seats. The engine was an Argus As l0P of 270 hp (201 kW). There was nothing wrong with the Fi 256, but the Luftwaffe declined to order it, and there was no obvious civil market.
Chocen-built aircraft after the war were known as the Mraz K.65 Cap "Storck". Production was terminated soon after the Communist take-over in 1948. The Puteaux designations were Morane-Saulnier M.S.500, M.S.501, M.S.502, M.S.504, M.S.505 and M.S.506. The M.S.500 resembled the standard Fieseler Fi 156C series. The M.S.501 looked like the Soviet Antonov OKA-38 in having a Renault 6Q-10/11 inverted inline engine, and the most important version, made in substantial numbers, was the M.S.502 with a 230 hp (172 kW) Salmson 9Abc unhooded radial engine. The radial seemed to suit the 'Cricket' admirably, and it had a long career with the French Armeé de l'Air and the Aéronavale. So, too, did the Argus-engined aircraft, and ex-French machines even served with the French forces in Vietnam throughout the 1950s. Another important user was the Swedish air force, whose S.14 versions from Germany were supplemented by post-war French examples. Several Storchs, from various sources, got on the British civil register, and many examples, most of them built post-war, are still flying in several countries.
Storch Configuration
There was little unconventional about the design or construction. The fuselage, which was just half as long again as that of an L-4, was of welded steel tube with fabric covering. The strongly made cabin had a glazed area all around, which was wider than the fuselage to give a clear view straight downwards. To the top of the cabin were attached the fabric-covered wooden wings, braced to the bottom fuselage longerons by steel-tube V -struts. The wings could be folded backwards. Along the entire straight leading edge were fixed aluminium slats, while the entire trailing edge was formed by wooden slotted flaps, the outer sections serving as drooping ailerons with inboard balance tabs to reduce stick forces in roll. The flaps were not of Fieseler's Rollflugel pattern (resembling the Fowler), but simply large slotted flaps driven by rods in the wingroot, jackscrews in the leading-edge root and, via sprockets and chains, a handwheel on the left of the cockpit. Working the flaps was little effort, and they could go to 70°. Take-off was usually with 20° or none, but 40° could be used for really 'impossible' situations. The fin was metal and fabric, but the rest of the tail was of wooden construction, with fabric covering, the tailplane having variable incidence for trim.
The inverted V-8 engine was nearly installed, and its air cooling was to be a boon on the Eastern Front during World War II. It invariably started as soon as the electric starter was selected, and the access step projecting from the landing gear was seldom needed except to replenish oil. The standard propeller was a 102 in (2.6 m) Schwartz, with metal anti-erosion inserts in the outer leading edges. A 16.28 Imperial gallon (74 litre) fuel tank was fitted in each wing, and a 45 Imperial gallon (204.54 litre) fuel tank could be installed in place of the two passenger seats in tandem behind the pilot. The main legs and tailskid were all tall and had a long stroke, the main units having spiral springs with an oil dashpot to prevent bounce. Hydraulic brakes were hardly needed, and tire pressure was low enough for almost any surface except fresh deep snow, although pilots soon learned to watch for ruts and large stones because the tires were rather small. In a strong wind flaps had to be kept in on the ground or the Storch could be blown over.
Specifications (Fieseler Fi 156C-2 Storch "Stork")
Type: Three Seat STOL Utility, Communications, Reconnaissance, Amubulance, Army Co-Operation and Personal Transport
Accommodation/Crew: Pilot, Observer/Gunner and one Passenger with a small baggage compartment in the rear behind the cockpit area. As an Ambulance it could be modified to carry a single stretcher. The entire sides and roof of the cabin were glazed. The side windows are built out with lower panels sloping in acutely to give good downward visibility. The door was located on the starboard side.
Design: Chairman Gerhard Fieseler, Chief Designer Reinhold Mewes and Technical Director Erich Bachem of the Gerhard Fieseler Werke GmbH.
Manufacturer: Gerhard Fieseler Werke GmbH at Bettenhausen and Waldau both in the Kassel area (formerly the factories of Segel Flugzeugbau bought by Fieseler Flugzeugbau and reorganinsed into the Gerhard Fieseler Werke GmbH). Starting in April 1942 production was undertaken by the German controlled Morane-Saulnier company at its Puteaux, France factory. It was also built in Czechoslovakia by Leichtbau Budweis (73 aircraft) then production was transferred to Benes-Mraz (64 aircraft) in Chocen. Also built under licence in Romania by Intreprinderea de Constructii Aeronautice Romanesti (ICAR), which was founded in Bucharest in 1932 (80 Fi 156C-3).
Powerplant: One 240 hp (179 kW) Argus As 10C-3 8-cylinder inverted-Vee air-cooled piston engine driving a Schwartz two-blade fixed pitch wooden propeller (Gustav Schwartz PropellerWerke). Oil tank capacity 2.42 Imperial gallons (11.0 litres).
Performance: Maximum speed 109 mph (175 km/h) at sea level; economical cruising speed 81 mph (130 km/h); landing speed 32 mph (51 km/h); service ceiling 15,090 ft (4600 m); climb to 3,000 ft (915 m) in 4 minutes.
Fuel Capacity: One fuel tank in each wingroot with a capacity of 16.28 Imperial gallons (74 litres) with an optional 45 Imperial gallon (204.54 litres) fuel tank in the fuselage instead of the two passengers. This gave the aircraft a total of 77.5 Imperial gallons (352.54 litres). Some aircraft also had a provision for a single 66 Imperial gallon (300 litres) seal-sealing drop tank carried under the fuselage.
Range: Normal range of 240 miles (385 km) with 32.56 Imperial gallons (148 litres) of fuel and a crew of three. Maximum range 630 miles (1010 km) with a crew of one and 77.5 Imperial gallons (352.54 litres) of fuel with a cruising speed of 60 mph (96 km/h) at sea level.
Weight: Empty 2,050 lbs (930 kg) with a maximum take-off weight of 2,921 lbs (1325 kg).
Dimensions: Span 46 ft 9 in (14.25 m); length 32 ft 5 3/4 in (9.90 m); height 10 ft 0 in (3.05 m); wing area 279.87 sq ft (26.00 sq m).
Armament: (Optional) One 7.92 mm (0.31 in) MG 15 machine-gun on a trainable LL-K swivel mount firing rearward. Standard ammunition loadout consisted of four drum magazines (50 or 75 rounds each) carried stowed on the rear lower bulkhead. Armed versions were usually crewed by a Pilot and an Observer/Gunner.
Variants: Fi 156 V1/V2/V3, Fi 156 V4, Fi 156 V5, Fi 156A-0, Fi 156A-1, Fi 156B, Fi 156C-0, Fi 156C-1, Fi 156C-2, Fi 156C-3, Fi 156C-3/Trop, Fi 156C-5, Fi 156C-5/Trop, Fi 156D-0, Fi 156D-1, Fi 156E-0, Fi 256, Morane-Saulnier M.S. 500 Criquet "Locust" Series (France), Benes-Mraz K-65 Cap "Stork" (Czechoslovakia).
Equipment/Avionics: Standard communication and navigation equipment with provision for an underfuselage camera. Some aircraft were equipped with night flying gear and a FuG 17 radio set.
Landing Gear: A split type consisting of two compression legs incorporating long-stroke steel-spring oil-dampened shock absorbers. The upper ends attached to the apices of two pyramids on the sides of the fuselage, with the lower ends hinged to the centreline of the underside of the fuselage by steel-tube Vees. Low pressure wheels with hydraulic brakes. The tailskid has steel-spring oil-damped shock absorbers. In flight, the undercarriage 'drooped' 18 inches more than when on the ground, giving a 'stork like' appearance and hence the name.
History: First flight (prototype) 24 May 1936; service introduction (Fi 156A-1) early 1937; German production terminated (all types) October 1943 but production in France and Czechoslovakia continued.
Operators: Germany (Luftwaffe), Bulgaria (20), Hungary (36), Finland (2), Italy (6), Romania (10 also built more under licence), Slovakia (10), Spain (10), Sweden (19), Switzerland (5), Croatia (4), Soviet Union (1), Britain, United States, France (Armeé de l'Air and the Aéronavale). Great Britain and the United States captured many aircraft intact. The British which captured upwards of 60 aircraft used them in the RAF during, and after, the end of the war.