In the early 1930s H.P. Folland, Chief Designer of the Gloster Aircraft Company, carried out a re-appraisal of his earlier design, the Gauntlet, in order to clean up aerodynamic efficiency to give an improved performance. The resultant aircraft, carrying the Gloster Type no. SS.37, was ready for test flying by September 1934. The fundamental differences between the SS.37 and the Gauntlet were the change to single-bay wings, a low-drag cantilever main undercarriage unit with Dowty internally sprung wheels, and flaps on both upper and lower mainplanes. Whilst this Private Venture design exercise had been progressing, an important event had been happening. The Gloster Aircraft Company had joined forces in 1934 with Hawker Aircraft, so bringing an immediate strengthening of resources which was to be invaluable in the execution of the forthcoming Air Ministry orders.
Gloster Type SS.37, subsequently named "Gladiator", was constructed at Gloster's plant at Hucclecote, Gloucester, also known as Brockworth. This confusion over address names came about because the boundary between two adjacent parishes actually crossed the airfield.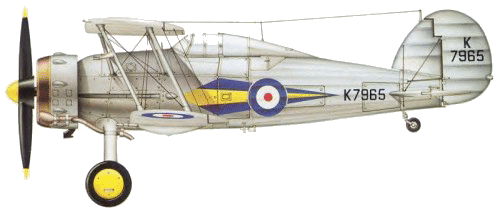 A Gloster Gladiator Mk I of 73 Squadron, Royal Air Force - 1938
The prototype Gladiator passed to the Air Ministry at A. & A.E.E. Martlesham with R.A.F. No. K.5200, on 3 April 1935. Some changes were made during evaluation, the principal one being the addition of a sliding cockpit canopy. Extensive trials were carried out with differing reduction gears, and two and three bladed propellers, with the primary objective of achieving smoother running of the engine. Report M/666B/Int.2 of 10 September 1937 detailed these comparative tests. Basically, the reports were very satisfactory; but the Mk.II was already developing. During this period the new monoplane fighters were threatening to eliminate biplanes from the defence scene, but a combination of vacillation by diehard champions of the biplane at the Air Ministry, and the failure of the more or less mandatory Goshawk engine due to its heavy and complex steam-cooling system, was causing serious delays to the implementation of the fighter programme.
Current political events in Europe, however, could not be ignored. The availability of the new biplane fighter proved to be opportune, as it had become clear that there was an urgent need for R.A.F. expansion. In the short space of two weeks a production specification, F.14/35 was drawn up and agreed, immediately followed by the award of a contract for the production of twenty-three Gladiators Mk.I. A second batch of one hundred and eighty was ordered in September, 1935. So the defence gap was filled by an aircraft whose conception was already obsolescent.
Initially, significant numbers of Gladiators were lost in flying accidents during operational training. The difficulties arose from an increased wing loading, combined with the lack of experience in landing with generous top and bottom flap area. Moreover, recovery from flat spins had proved to be almost impossible. Subsequently, it became clear that Gladiator-trained pilots had a significantly lower accident rate, when converted to Hurricanes and Spitfires, than did pilots who had not flown Gladiators. As a result of the accidental losses a small replacement batch of Gladiators Mk.I was ordered. The "Shuttleworth Gladiator" L.8032 was the last of this batch. It was retained in storage with six others at No.27 M.U. (Maintenance Unit), and none of these seven ever emerged for active service. Eventually, L.8032 was struck off R.A.F. charge in 1945 or 1946 and was sold back to the Gloster Aircraft Company.
Further serious delays were being experienced in the production of Rolls-Royce Merlin engines for the Spitfire and Hurricane. A decision had been taken in the 1930s to adopt a ramped head to the Merlin combustion chamber. In testing, this did not give the anticipated performance and, worse, suffered from cracking both during manufacture and when running. Although initial production had been committed a decision now had to be made to redesign the block and head.
Due to these delays, and to cover the unknown length of time involved, the Air Ministry decided to place an order under Specification F.36/37, for the production of three hundred Gladiators Mk.II to fill the gap, and these were built during 1938 and 1939. During 1941 the last operational Gladiators with the RAF were withdrawn from first-line service. However, several aircraft were modified for meteorological, liaison and communication duties.
variants
The inability of British manufacturers to produce by the mid-1930s a Bristol Bulldog replacement led to further orders for Gloster Gauntlets to equip additional squadrons proposed under the 1935 RAF expansion scheme. Although design studies for monoplane fighters were showing considerable promise, Gloster designer H. P. Folland conducted a detailed examination of the Gauntlet design to define the extent to which performance might be improved; the wings were redesigned as single-bay units and the landing gear introduced Dowty internally sprung wheels mounted on cantilever struts. Both changes reduced drag, promising a 10-15 mph (16-24 km/h) increase in maximum speed.
A prototype was built as a private venture, with the designation Gloster SS.37, and was first flown on 12 September l934 by the company's chief test pilot, Flight Lieutenant P. E. G. Sayer. With a Mercury IV engine installed a maximum speed of 380 km/h (236 mph) was recorded, and this was increased to 389 km/h (242 mph) after the fitting of a 481 kW (645 hp) Mercury VIS in November 1934. With the Gauntlet's two fuselage-mounted Vickers Mk III guns supplemented by two underwing Lewis guns, the SS.37 met Air Ministry armament requirements, and it was flown to Martiesham Heath in early 1935 for official evaluation.
Gloster's design was submitted to the Air Ministry in June 1935 and Specification F.14/35 written around it; an order for 23 aircraft followed, the name Gladiator being announced on 1 July. The 626 kW (840 hp) Mercury IX was specified, and other changes included an enclosed cockpit, minor landing gear modifications, a revised tail unit, and the fitting of improved Vickers MK V guns.
The first production batch of 23 Gladiator Mk I fighters, delivered in February and March 1937, carried Lewis guns under the wings, as did the first 37 of the second order, for 100 aircraft. All of this second batch were fitted with a universal armament mounting under each wing, capable of accepting any Vickers or Lewis gun or, indeed, the licence-built Colt-Browning which was installed in fuselage and wing positions in the majority of aircraft delivered in 1938. A third order, for 28 machines, brought the RAF's Gladiator Mk 1 procurement to 231 aircraft, some of which were converted later to Gladiator Mk 11 standard. The Royal Air Force later received 252 new Gladiator Mk IIs, built to Specification F.36/37, with an 619 kW (830 hp) Mercury VIIIA engine fitted with automatic mixture control, electric starter and a Vokes airfilter in the carburettor intake. Thirty-eight Gladiator Mk lIs were fitted with arrester hooks and transferred to the Fleet Air Arm in December 1938, these being an interim replacement for Hawker Nimrods and Ospreys until the delivery of 60 fully-navalised Sea Gladiator fighters. These latter aircraft had an arrester hook, catapult points and a ventral dinghy stowage fairing.
Gladiator production totalled 746, with orders from Belgium, China, Eire, Greece, Latvia, Lithuania, Norway and Sweden covering 147 Gladiator Mk Is and 18 Mk ils. Gladiators were first issued in February 1937 to No. 72 Squadron at Church Fenton, and although most of the squadrons that received the type had been re-equipped with Hawker Hurricanes or Supermarine Spitfires by September 1939, some of their aircraft had been reissued to home-based auxiliary units, four of which were fully operational when war broke out. Two of them, Nos 607 and 615 Squadrons, were posted to France in November 1939 as part of the Advanced Air Striking Force. No. 263 Squadron, together with No. 804 Squadron, Fleet Air Arm, participated in the Norwegian campaign; and the handful of aircraft of Hal Far Fighter Flight and of No. 261 Squadron, took part in the defence of Malta between April and June 1940. In the Middle East Gladiators said service during the war with Nos 6, 33, 80, 94,112 and 127 Squadrons and with No. 3 Squadron, Royal Australian Air Force. In addition to No. 804 Squadron, Fleet Air Arm Sea Gladiator units included Nos. 769. 801, 802. 805, 813 and 855 Squadrons. After withdrawal from front-line units, the Gladiator continued in RAF use for communications, liaison and meteorological reconnaissance until 1944.