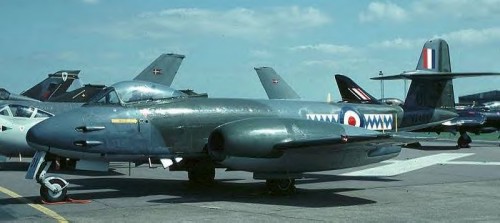 In the close race for the construction of a jet fighter, Great Britain took second place, following Germany. Nevertheless, its Gloster Meteor had the honour of going down in history as the only Allied aircraft of the new generation to go into service before the end of World War 11. Despite its limited career during the final months of the war in Europe (in which it did not have the chance of measuring itself against its great rival, the Messerschmitt Me.262), the Meteor also marked the end of an era in the British Royal Air Force and the beginning of a phase that was to see rapid developments in the immediate postwar years. Production of these aircraft continued until 1954, almost 3,900 were completed, the last of which remained in frontline service until August 1951.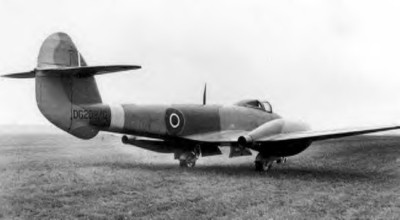 The program was launched in August, 1940, while the Battle of Britain was in progress, on the basis of official specifications coded F.9/40. George Carter, the technicians charged with the project, chose a two-engine configuration. This was due to the fact that the earliest types of turbojets were at an experimental phase at the time and were not yet capable of providing the thrust necessary to guarantee the desired performance alone. In February 1941, 12 prototypes were ordered (although only eight were completed) and the first (equipped with W.2B engines with 205 lbs - 454 kg - thrust) began tests on the ground in July of the following year. Delays in tuning the engine led to the installation of different engines in the remaining experimental aircraft, and the first to take to the air was the fifth prototype, powered by a pair of Halfors H.1 turbojets with 2,302 lbs (1403 kg) thrust, on March 5, 1943. It was an historical date, although the first flight by a jet-propelled aircraft had taken place in Britain on May 15, 1941, carried out by an experimental model of the Gloster (designated E. 28/39) powered by a single Whittle W.1 engine with 860 lbs (390 kg) thrust.
The initial production series Meteors (Mk.1) were in fact provided with turbojets derived from the Whittle W.1, the W.2B/23 model with 1,700 lbs (770 kg) thrust, which Rolls-Royce had prepared and constructed under the name of Welland. The launching of series production was marked by an order for 20 fighters and the first of these (which took to the air on January 12, 1944) was delivered to the United States in February, in exchange for a pre- series Bell YP-59A Airacomet, the first jet plane to be built on the other side of the Atlantic. Other Meteor Mk. Is were used for the development of the airframe and the engine unit, and the remaining aircraft were delivered to the RAF by June.


A Gloster Meteor Mk III of 616 Squadron Royal Air Force - England 1944
The first unit to receive the new fighters was the 616th Squadron, which entered service in July. On the 27th, the first mission was carried out against the German flying bombs and on August 4, one of these was shot down. The missions against the V-1 s continued throughout the summer and, apart from their reasonable success, they served mainly to train pilots and ground staff in using the new aircraft, as well as to study particular tactics and combat techniques.
In the meantime, a new variant of the Meteor had been prepared, the Mk.111, of which about 200 were to be produced, 15 with Welland engines and 195 with Rolls-Royce Derwent engines, with 1,997 lbs (905 kg) thrust. These aircraft formed part of the second and final version to enter service in World War 11. They were also characterized by their greater fuel capacity and a sliding drop canopy, instead of the Meteor Mk. I's canopy which was hinged to the side. The first was delivered on December 18, 1944 to the 616th Squadron and in January 1945, these aircraft were sent to Belgium, thus becoming the first Allied jet fighter to serve on the Continent.
Variants
The only Allied turbojet-powered aircraft to see action during World War 11, the Gloster Meteor was designed by George Carter, whose preliminary study gained Air Ministry approval in November 1940 under Specification F.9/40. Its twin-engine layout was determined by the low thrust produced by the turbojet engines then available. On 7 February 1941 an order was placed for 12 prototypes, although only eight were built. The first was fitted with Rover W.2B engines, each of 454 kg (1,000 lbs) thrust, and taxiing trials began at Newmarket Heath in July 1942. Delays in the production of flight-standard engines meant that the fifth airframe, with alternative de Havilland-developed Halford H.1 engines of 680 kg (1,500 lbs) thrust, was the first to fly, this event taking place at Cranwell on 5 March 1943.
Modified W.2B/23 engines then became available and were installed in the first and fourth prototypes, first flight dates being 12 June and 24 July respectively. On 13 November the third prototype made its maiden flight at Farnborough, powered by two Metrovick F.2 engines in underslung nacelles, and in the same month the second aircraft flew initially with Power Jets W.2/500 turbojets. The sixth aircraft later became the prototype Meteor F.Mk 11, with two 1225 kg (2,700 lbs) thrust de Havilland Goblin engines, and was flown on 24 July 1945. It had been preceded by the seventh, used for trials with a modified fin, rudder, and dive brakes, and flown on 20 January 1944. The eighth, with Rolls-Royce W.2B/37 Derwent Is, was flown on 18 April 1944.
Twenty Gloster G.41A Meteor F.Mk 1 fighters comprised the first production batch, these being powered by W.28/23C Wellands and incorporating minor airframe improvements, including a clear-view canopy. After a first flight on 12 January 1944 the first Meteor Mk 1 was delivered to the United States in February, in exchange for a Bell YP-59A Airacomet, the first American jet aircraft. Others were used for airframe and engine development, and the 18th later became the Trent-Meteor, the world's first turboprop-powered aircraft, which was flown on 20 September l945. The Trent was basically a Derwent engine provided with reduction gearing and a drive shaft that turned a five-bladed Rotol propeller of 2.41 m (7 ft 11 in) diameter, necessitating the introduction of longer-stroke landing gear to provide tip clearance. Each engine delivered 559 kW (750 hp) with a residual thrust of 454 kW (1,000 lbs).
The first operational jet fighter squadron was No. 616, based at Culmhead, Somerset, equipped with Spitfire F.Mk VIIs when its first two Meteor F.Mk Is arrived on 12 July 1944. On 21 July the squadron moved to Manston, Kent, receiving more Meteors on 23 July to form a detached flight of seven. The first operational sorties were flown on 27 July, and on 4 August, near Tonbridge, Flying Officer Dean destroyed the first Vl flying bomb to be claimed by a jet fighter, using the Meteor's wingtip to tip it over into a spin after the aircraft's four 20 mm cannon had jammed. On the same day, Flying Officer Roger shot down a second V1 near Tenterden.
Conversion to Meteors was completed towards the end of August, and the autumn was spent preparing for operations on the continent. Between 10 and 17 October, however, four Meteors were detached to Debden, to take part in an exercise with the USAAF 2nd Bombardment Division and 65th Fighter Wing, to enable defensive tactics against the Luftwaffe's Messerschmitt Me 163 and Me 262 fighters to be devised. The first Meteor F.Mk III aircraft were delivered to Manston on 18 December, and on 17 January the squadron moved to Colerne, Wiltshire, where the remaining Meteor F.Mk Is were replaced. On 20 January 1945 one flight of No. 616's Meteors joined No. 84 Group, 2nd Tactical Air Force in Belgium, and in March No. 504 became the second Meteor F.Mk Ill unit to operate on the other side of the English Channel.
The Meteor F.Mk Ill, the second and last mark to see operational service during World War 11, had increased fuel capacity and a sliding bubble canopy in place of the sideways-opening hood of the Meteor Mk.l. Fifteen F.Mk IIIs were completed with Welland engines and 195 with Derwents, some in lengthened engine nacelles. Derwents also powered the Meteor F.Mk IV (subsequently Meteor F.Mk 4), later examples of which were modified by a 1.78 m (5 ft 10 in) reduction in wingspan. Of 657 built, 465 were supplied to the RAF, enabling Meteor F.Mk Ills to be passed to auxiliary units.
A 0.76 m (2 ft 6 in) fuselage extension, to accommodate a second cockpit in the Meteor F.Mk IV airframe, was a feature of Gloster's private-venture Meteor Trainer, first flown on 19 March 1948. Unarmed and with dual controls, the aircraft was ordered for RAF use as the Meteor T.Mk 7, 712 of which were built, including aircraft for the Royal Navy and overseas air forces.
The most prolific variant, however, was the Meteor F.Mk 8 which had a lengthed fuselage, a redesigned tail unit, an additional 432 litre (95 Imp gal) fuel tank, and a bubble cockpit canopy. Extra equipment included a gyro gunsight and a Martin-Baker ejection seat. Derwent 8 turbojets of 1633 kg (3,600 lbs) thrust were installed, to confer a top speed of almost 966 km/h (600 mph). The first of 1,183 Meteor F.Mk 8s was flown on 12 October 1948. For low-level tactical reconnaissance the Meteor FR.Mk 9 was developed from the Meteor F.Mk 8, carrying a camera nose and retaining the nose armament. The first of 126 examples was flown on 22 March 1950. They were followed by an unarmed high-altitude version, designated Meteor PR.Mk 10. These were hybrids, with the F.Mk 3 wing, F.Mk 4 tail unit, and FR.MK 9 fuselage. The first of 58 made its initial flight on 29 March 1950.
Development of a night-fighter version to Specification F.24/48 was assigned to Armstrong Whitworth Aircraft in l949.The T.Mk7 cockpit section, with an extended forward fuselage to accommodate SCR-720 AI Mk 10 radar, was mated to an F.Mk 8 rear fuselage and tail unit, and a wing similar to that of the F.Mk 1, but redesigned to house the four 20 mm cannon displaced from the nose. The definitive Meteor NF.Mk 11 prototype flew on 31 May 1950. A tropicalised version, the Meteor NF.Mk 13, was first flown on 23 December 1952, and used only by two Middle East squadrons. The Meteor NF.Mk l2, flown for the first time on 21 April 1953, had a higher limiting Mach number than its predecessors, American-built APS-21 radar and fin leading-edge fairings. A revised clear-view canopy and some minor aerodynamic and equipment changes identified the final night-fighter variant, the Meteor NF.Mk 14.
Conversions included the Meteor U.Mk 15 and Meteor U.Mk 16 pilotless target aircraft, from F.Mk IV and F.Mk 8 airframes respectively. The Meteor U.Mk 21 was a similar F.Mk 8 conversion for use at the Woomera range in Australia. NF.Mk lls equipped for target towing duties with the Royal Navy were designated Meteor TT.Mk 20.
Specifications (Gloster Meteor Mk I)
Type: Single Seat Fighter
Design: George Carter
Manufacturer: Gloster Aircraft Company
Powerplant: (Mk I) Two 1,700 lbs (771 kg) thrust Rolls-Royce W.2B/23C turbojet engines. (F.Mk 8) Two 3,600 lbs (1633 kg) thrust Derwent 8 turbojet engines.
Performance: Maximum speed 415 mph (668 km/h) at 10,000 ft (3050 m); service ceiling 40,000 ft (12190 m); initial climb rate 2,155 ft (657 m) per minute.
Range: 1000 miles (1610 km) on internal fuel.
Weight: Empty 8,140 lbs (3693 kg) with a maximum take-off weight of 13,795 lbs (6257 kg).
Dimensions: Span 43 ft 0 in (13.10 m); length 41 ft 4 in (12.6 m); height 13 ft 0 in (3.96 m); wing area 374.0 sq ft (34.74 sq m).
Armament: Four 20 mm Hispano cannon mounted in the nose.
Variants: Gloster Meteor (prototype), G41.A Meteor F.Mk 1 (first production), Meteor F.Mk II, Trent-Meteor (turboprop prototype), Meteor F.Mk III, Meteor F.Mk IV (later known as F.Mk 4), Meteor T.Mk 7 (trainer), Meteor F.Mk 8 (most produced variant), Meteor FR.Mk 9 (fighter-reconnaissance), Meteor PR.Mk 10 (high altitude reconnaissance), Meteor NF.Mk 11, Meteor NF.Mk 12, Meteor NF.Mk 13 (tropicalized), Meteor NF.Mk 14, Meteor U.Mk 15/16 (pilotless target aircraft), Meteor U.Mk 21 (pilotless target aircraft - Australia), Meteor TT.Mk 20 (target towing with the Royal Navy).
Avionics: (NF.Mk 11) SCR-720 AI Mk 10 radar, (NF.MK 14) American built APS-21 radar.
History: First flight (prototype) 5 March 1943; squadron delivery (F.1) 12 July 1944.
Operators: Belgium, China, Egypt. Finland, Greece, Iraq, Ireland, Latvia, Lithuania, Norway, Portugal, South Africa, Sweden, UK (RAF, RN).