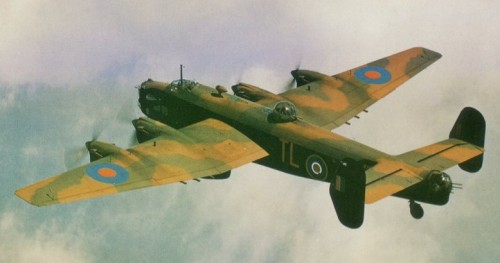 Second of the four-engined heavy bombers to enter service with the RAF, in November 1940, the Handley Page H.P.57 Halifax was one of the famous triad comprised of the Handley Page Halifax, Avro Lancaster and Short Stirling which mounted RAF Bomber Command's night-bombing offensive against Germany. In conjunction with the daylight attacks for which the USAAF had accepted responsibility, this round-the-clock battering of German targets reached its peak in 1944, causing almost unbelievable devastation. But although it entered service more than a year ahead of the Lancaster, the Halifax was always somewhat over-shadowed in the bombing role by the achievement of the superb Lancaster. The Halifax, however, scored over the Lancaster in its multi-role capability, for in addition to its deployment as a heavy night-bomber, it was equally at home when employed as an ambulance, freighter, glider tug, personnel transport and maritime reconnaissance aircraft.
The origin of the Halifax stemmed back to an Air Ministry requirement of 1935 for a twin-engined bomber, to which Handley Page submitted a design identified as the H.P.55. This proved to be unsuccessful, but about a year later the Air Ministry issued a new specification, P.13/36, which called for a medium/heavy bomber to be powered by two 24-cylinder engines known as the Vulture X-Type which Rolls-Royce then had under development. Handley Page's H.P.56 proposal was selected for prototype construction, but the company had doubts that the Vulture engine would emerge as a reliable production powerplant, and set about the task of redesigning the H.P.56 to take four Bristol Taurus engines, but this was soon changed to incorporate Rolls-Royce Merlins instead. The overall configuration was not greatly changed, but the H.P.57 design, which was submitted to the Air Ministry for approval, was for a considerably larger and heavier aeroplane. 40,000 lbs (18141 kg) loaded weight instead of the original 26,300 lbs (11927 kg).
On 3 September 1937 Handley Page was awarded a contract for the manufacture of two prototypes of the H.P.57, with construction beginning in early 1938. When the first of these was nearing completion, it was realised that the company's airfield at Radlett, Hertfordshire, was too restricted for the first flight of such a large aircraft, and it was decided instead to use the nearest non-operationa1 RAF airfield, which was at Bicester in Oxfordshire. Thus, final assembly was carried out at Bicester and it was from there that the first flight (L7244) was made on 25 October 1939.
As then flown the H.P.57 was a mid-wing cantilever monoplane of all-metal construction, the wing incorporating automatic leading-edge slats, but these were deleted on production aircraft as the Air Ministry required that the wing leading edges should be armoured and provided with barrage balloon cable cutters. The tail unit comprised a large high-mounted tailplane and rudder assembly with twin endplate fins and rudders, and the fuselage was a deep, slab-sided all-metal structure with considerable internal volume, it was this feature which was to provide the later versions with multi-role capability. Accommodation was provided for a crew of seven, including three gunners to man the nose, beam and tail positions. Landing gear was of retractable tailwheel type, and the powerplant comprised four Merlin engines. For its primary role as a bomber, a variety of weapons could be carried in a 22 ft (6.71 m) long bomb bay in the lower fuselage, supplemented by two bomb compartments in the wing centre-section, one on each side of the fuselage.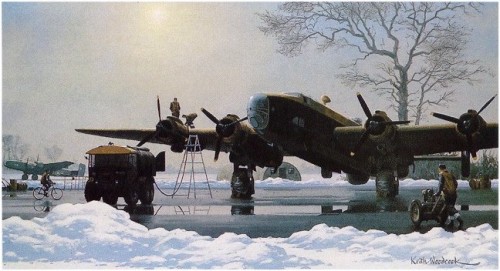 Melting Snow, Clearing Mist - An original artwork by Keith Woodcock.
The second prototype (L7245) made its first flight on 17 August 1940, followed just under two months later on 11 October 1940 by the first production example (L9485), by then designated Halifax Mk I, and this was powered by 1,280 hp (954 kW) Rolls-Royce Merlin X engines. Armament of these early production aircraft consisted of two and four 7.7 mm (0.303 in) machine-guns in nose and tail turrets, respectively. Full designation of the first production version was Halifax B.Mk I Series I, and these began to equip the RAF's No.35 Bomber Squadron based in Leeming starting on 23 November 1940. It was this unit that, on 11 March 1941, was the first to use the Halifax operationally, in an attack on Le Havre by six of the squadrons aircraft, and a few days later the Halifax became the first of the RAF's four-engined bombers to make a night attack against a German target, when bombs were dropped on Hamburg by three aircraft. The Halifax was used for the first time in a daylight attack against Kiel on 30 June 1941, but it did not take long to discover that the aircraft's defensive armament was inadequate for daylight use, and by the end of 1941 the Halifaxes were used only by night in the bombing role. This resulted in the provision of better armament for later versions.
Early deployment of the Halifax had confirmed that this new four-engined bomber had much to offer, but although contracts for large-scale construction very quickly exceeded the productive capacity of the Handley Page factories at Cricklewood and Radlett, pre-war plans had been made for alternative sources of supply. The establishment of four new production lines was made easier by the unit method of construction which had been adopted for the Halifax, and the first of these sub-contract aircraft to fly, on 15 August 1941, came from the English Electric Company of Preston, which had earlier been involved in the manufacture of Handley Page's Hampden medium-bomber. The other three lines were those of Fairey Aviation Company Limited of Stockport, Rootes Securities Limited of Spekes and the London Aircraft Production Group (London Passenger Transport Board).
From their first introduction into operational service, Halifax bombers were in continuous use by RAF Bomber Command, equipping at their peak usage no fewer than 34 squadrons in the European theatre, and four more in the Middle East. Two flights were in early use in the Far East, and following VE-Day a number of squadrons operating with the Halifax B.Mk VI flew their aircraft out for co-operation with the Allied forces fighting in the Pacific theatre The Halifax was involved in the first Pathfinder operations in August 1942 and was the first RAF aircraft to be equipped with the highly secret H2S blind bombing radar equipment. It was also involved in extensively in daylight attacks on German V-1 sites. Between 1941 and 1945 the Halifax flew 75,532 sorties during which 231252 tonnes (227,610 tons) of bombs were dropped on European targets.
The Halifax was also operated by nine squadrons of the RAF's Coastal Command for anti-submarine, meteorological and shipping patrols, the aircraft being converted from standard bombers and specially equipped, taking the designations Halifax GR.Mk II, GR.Mk V or GR.Mk VI according to the bomber version from which they were derived. Similarly, RAF Transport Command acquired Halifax C.Mk III, C.Mk VI and C.Mk VII aircraft as casualty, freight and personnel transports. Little known in wartime was the work of Nos 138 and 161 SOE (Special Duties) Squadrons, which had the task of dropping special agents and/or supplies by parachute into enemy territory.
One other vital use of the Halifax was by the Airborne Forces, for under the designations Halifax A.Mk III, A.Mk V and A.Mk VII, equivalent bomber versions were converted to serve for the deployment of paratroops or as glider tugs. The Halifax was, in fact, the only aircraft capable of towing the large General Aircraft Hamilcar glider, a capability first proven in February 1942. Soon after that date the Halifax tug made its operational debut when two Airspeed Horsas were hauled across the North Sea to attack the German heavy-water plant in south Norway.
The Halifax Mk I was followed into service by the Halifax B.Mk II Srs 1, which introduced a Boulton Paul twin-gun dorsal turret, and an increase of 15 per cent in standard fuel capacity. The powerplant, initially Merlin XXs, was changed later to Merlin 22s of equal power output. These changes, plus others introduced after the prototypes had made their first flights, resulted in a steady increase in gross weight. As there had been no surplus engine power from the outset, the result was that operational performance was being eroded by enhanced capability. This can be accepted during wartime conditions provided the rate of attrition remains fairly constant, but in the case of the Halifax Mk II the dorsal turret represented 'the last straw', and steps were taken immediately to improve the performance of these aircraft.
The resulting Halifax B.Mk II Srs IA (company designation H.P.59) had a performance increase of some 10 per cent in both maximum and cruising speeds, which was achieved by efforts to reduce both weight and drag. The nose turret was deleted, the nose acquiring a streamlined fairing and the dorsal turret was removed. Later production switched to the B.Mk II Series IA, which introduced a Perspex nose fairing and Defiant-type four-gun dorsal turret.
The Halifax however, suffered through several initial teething problems. The most serious of which was that the rudders, when exposed to violent manoeuvres, had a tendency to overload and jam, making it possible for the Halifax to enter an inverted and uncontrollable spin. When this happened the pilot usually was unable to free the rudder from its locked position and several crashes initially determined to be caused by "unknown circumstances" were eventually traced to this problem after extensive testing, following the inexplicable losses of fully loaded aircraft. This design flaw along with other minor problems, were to lead to the Halifax squadron's suffering higher than expected losses in the aircraft's early months of service. Various modifications were made to the initial rudder design, including limiting the amount the rudder could be moved, but the problem was not completely eliminated until the introduction of the B.Mk III, which introduced a rectangular, rather than a triangular shaped rudder. The last major production version was the Halifax B.Mk III (company designation H.P.61), the first of the bombers to introduce Bristol Hercules VI or XVI radial engines, which offered 1,615 hp (1204 kW) for take-off.
Although withdrawn from Bomber Command immediately after VJ-Day, the Halifax GR.Mk VI continued to serve with Coastal Command after the war, as did the Halifax A.Mk VII with transport squadrons at home and overseas. Post-war versions included the Halifax C.Mk VIII (company designation H.P.70), which could accommodate a 8,000 lbs (3629 kg) capacity detachable pannier beneath the fuselage, and the Halifax A.Mk IX (company designation H.P.71) troop-carrier and supply-dropper for use by airborne forces. When production of these two versions ended, amounting to some 230 aircraft, a total of 6,178 Halifaxes had been built, and examples remained in RAF service until late 1947.
When Transport Command Halifax C.Mk VIIIs became surplus to military requirements, 10 were converted by Short Brothers & Harland (Belfast) as 10 seat Halton Mk.I (H.P.70) civil transports for service with BOAC. Subsequently about 80 other civil conversions, some near to the Halton standard were carried out by a variety of contractors.
Only four Halifaxes made it to 100 missions. Today there are no complete original Halifax bomber on display, but the Air Force Museum in Trenton, Ontario, Canada is currently restoring a plane recovered from a lake in Norway, which had originally crashed there in 1944.
Halifax Civil Transport
To make available as soon as possible a high-speed long range civil transport that will serve as an interim type until the Handley Page H.P.68 Hermes is ready, Handley Page Limited, developed a civil conversion of the Halifax Bomber for use by Airline Operators.
In a conventional airliner interior arrangement the Halifax Civil Transport accommodates eleven passengers. Nine in adjustable armchair type seats and two in a comfortable compartment which is readily convertible into a two-berth sleeping compartment. If desired additional sleeping berths can be fitted in the main passenger compartment. The whole cabin is upholstered and lined throughout and each passenger seat has a window adjacent thereto. A lavatory is fitted aft of the main compartment.
In addition to the eleven passengers, the Halifax Civil Transport can also carry a large amount of freight and/or mail in a specially-designed pannier of a streamline form which fits into the underside of the fuselage where in the military version bombs are carried. This pannier, with a capacity for loads up to 8,000 lbs (3,632 kg), has loading hatches fore and aft and can be lowered from and raised up to the aircraft by means of winches. Thus for specific freight-carrying operations, a complete pannier can be detached and replaced by another for rapid "turn-around" flights.
When conditions demand extreme range, with a consequent reduction in payload, additional long-range tanks can be fitted in place of the pannier to give a maximum range of 3,510 miles (5616 km). The general structure of the Civil Transport is identical to that of the Halifax bomber. The powerplant consists of four Bristol Hercules 100 engines which developed 1,675 hp (1249 kW) for take-off and 1,800 hp (1342 kW) at 10,000 ft (3050 m), each driving a de Havilland three-blade constant-speed full-feathering airscrew.
Range - at 65,000 lbs (29510 kg) all up weight and 55,000 lbs (24970 kg) landing weight. Range with maximum load of 12,100 lbs (5493 kg) 1,810 miles (2896 km), Range with load of 10,000 lbs (4540 kg) 2,150 miles (3440 km), Maximum range with normal fuel tanks and load of 7,750 lbs (3518 kg) 2,530 miles (4050 km.), Maximum range with long-range fuel tanks and load of 2,500 lbs (1135 kg) 3,510 miles (5616 km).


Range - at 68,000 lbs (30,870 kg) all up weight and 57,000 lbs (25880 kg) landing weight. Range with maximum load of 14,100 lbs (6400 km) 1,860 miles (2976 km), Range with load of 12,500 lbs (5675 kg) 2,120 miles (3390 km), Maximum range with normal fuel tanks and load of 10,750 lbs (4880 kg) 2,420 miles (3872 km), Maximum range with long-range fuel tanks and load of 5,450 lbs (2475 kg) 3,360 miles (5,376 km).


Dimensions - Same as for the Halifax bomber except Length 73 ft 7 in. (22.45 m).


Weights - Tare weight 37,750 lbs (17140 kg). Removable equipment and crew 2,850 Ibs (1294 kg). Basic equipped weight 40,600 lbs (18434 kg).


Performance - Maximum speed 320 mph. (512 km/h), Maximum weak mixture cruising speed at 10,000 ft (3050 m) 260 mph (416 km/h), Maximum weak mixture cruising speed at 15,000 ft (4575 m) 270 mph (432 km/h), Economical cruising speed at 10,000 ft (3050 m) 200 mph (320 km/h). Economical cruising speed at 15,000 ft (4575 m) 210 mph (336 km/h).
This type was a late war conversion done by Handley Page Limited, and should not be confused with the 10 post-war Halton Mk.I (H.P.70) civil transports converted from surplus military aircraft for service with BOAC.
Specifications (Handley Page H.P.57 Halifax B.Mk III)
Type: Seven Seat Heavy Bomber, Glider Tug, Troop/Freight Transport, Electronic Countermeasures (ECM), ASW Platform & Air Ambulance
Accommodation/Crew: A crew of seven was normally carried, consisting of a Pilot, Co-Pilot/Flight Engineer, Navigator, Radio/Wireless Operator and three Gunners. Bomb-aimers position in extreme nose. Aft of the bomb-aimer is the navigator's compartment and chart table. Aft of the navigator is the pilot's compartment seating two side-by-side. Pilots have direct communication with the Radio Operator who is situated below them on the same level as the navigator. Behind the pilots compartment is the engineers station, where there is an astral dome in the roof from which the Fighting Control Officer can direct operations when the aircraft is attacked. In the centre-section bunks are fitted for the crew. Behind the wings there is an upper midships gun turret and tail turret. A walkway throughout the length of the fuselage gives access to all crew stations. Entry to the fuselage is provided by a door on the lower port side of the aircraft. All crew positions have armour protection.
Design: Handley Page Design Team with Sir Frederick Handley Page as Managing Director.
Manufacturer: Handley Page Limited based in Cricklewood, London with airport facilities at Park Street and Colney Street, Radlett, Hertfordshire. The aircraft were built at Cricklewood, but assembled at the Park and Colney Street plants (1,592 aircraft). The actual production of the Halifax was undertaken by a Production Group consisting of Handley Page Limited (which acted as technical consultants and advisors), the English Electric Company of Preston, Lancashire with assembly at Samlesbury (2,145 aircraft), the London Passenger Transport Board (710 aircraft), Rootes Securities Limited of Spekes (1,070 aircraft) and the Fairey Aviation Company Limited of Stockport (661 aircraft). The London Passenger Transport Board (London Aircraft Production Group) itself originally consisted of Chrysler Motors (rear fuselage), Duplex Bodies and Motors (forward fuselage and components), Express Motor and Body Works (inner wing sections), Park Royal Coachworks (outer wing sections) and London Transport's Aldenham bus depot, with assembly at Leavesden. Altogether at the peak of production the Group comprised 41 factories and dispersed units, 600 sub-contractors and a total of 51,000 employees, which on average, produced one aircraft per hour.
Powerplant: Four 1,675 hp (1250 kW) Bristol Hercules XVI 14-cylinder sleeve-valve double-row air-cooled radial engines rated at 2,900 rpm at 4,500 ft (1370 m); 1,615 hp (1205 kW) at 2,900 rpm for take-off; 1,050 hp (783 kW) at 2,400 rpm at 10,250 ft (3130 m) driving three-bladed Rotol constant-speed full-feathering propellers or four-bladed de Havilland Hydromatic propellers.
Performance: Maximum speed 282 mph (454 km/h) at 13,500 ft (4115 m); long range cruising speed of 215 mph (346 km/h) at 20,000 ft (6095 m); service ceiling 24,000 ft (7315 m); initial rate of climb 751 ft (229 m) per minute.
Fuel Capacity: 12 self-sealing fuel tanks giving a total capacity of 1,998 Imperial gallons (2,400 US gallons or 9071 litres), plus provisions for 576 Imperial gallons (692 US gallons) in 6 auxiliary tanks in the the wing weapon cells.
Oil Capacity: Oil tanks in outer engine nacelles and in leading-edge of centre-section for the inboard engines. Capacity is unknown.
Range: 1,030 miles (1658 km) on internal fuel with maximum bombload of 14,500 lbs (6576 kg) or 1,985 miles (3196 km) with a main fuselage bomb bay load of 13,500 lbs (6122 kg) with extra fuel carried in the wing cells.
Weights & Loadings: Empty (clean) 38,240 lbs (17345 kg), empty (equipped) xx lbs (xx kg) with a maximum take-off weight of 65,000 lbs (29484 kg). Wing loading 51 lbs/sq ft (248.8 kg/sq m); power loading 12.7 lbs/hp (5.76 kg/hp).
Dimensions: Span 104 ft 2 in (31.75 m); length 71 ft 7 in (21.82 m); height 20 ft 9 in (6.32 m); wing area 1,275.0 sq ft (118.45 sq m).
Defensive Armament: A total of nine 7.7 mm (0.303 in) machine-guns with one 7.7 mm (0.303 in) Vickers "K" machine-gun with 300 rounds on a pivoted mount in the nose and four 7.7 mm (0.303 in) Browning machine-guns in each of the (Boulton-Paul) Type A Mk.VIII dorsal turret with 600 rounds per gun and the Boulton Paul Type E Mk.III tail turret with 2,500 rounds per gun. For aircraft serving in RAF Coastal Command, standard machine-guns of 12.7 mm (0.50 in) calibre were used where possible.
Disposable Ordnance: A maximum of 14,500 lbs (6576 kg) of disposable ordnance in main fuselage and wing cells. The main ordnance compartment in the lower part of the fuselage is 22 ft (6.7 m) long and closed by eight hydraulically operated doors and is capable of carrying up to 13,000 lbs (5896 kg) of disposable stores. Six wing cells (three in each centre-section of the wing) are each capable of carrying 500 lbs (227 kg). Handley Page loading winches load bombs on their carriers and automatically locates them in the correct position within the bomb-bays. Aircraft serving in RAF Coastal Command could carry up to eight 250 lbs (113 kg) depth charges and starting in 1944, 600 lbs (272 kg) anti-submarine bombs. Supply dropping usually consisted of the delivery of containers containing weapons, ammunition and explosives. The containers were about 15 in (38 cm) in diameter and about 60 in (152.4 cm) long and were carried in the Halifax's bomb-bays.
Variants: GR.Mk II, GR.Mk II Series 1 (Special), GR.Mk V, Met.Mk V, GR.Mk VI, Met.Mk VI, C.Mk III, C.Mk VI. C.Mk VII, C.Mk VIII (H.P.70), A.Mk III, A.Mk VI, A.Mk VII, A.Mk IX (H.P.71), B.Mk I Series 1, B.Mk I Series 2, B.Mk I Series 3, Mk II/B.Mk II, B.Mk II Series 1, B.Mk II Series 1A, B.Mk II Series 1 (Special), B.Mk II Series 2, B.Mk III (H.P.61), B.Mk IV (single prototype), B.Mk V Series IA, B.Mk V Series I (Special), B.Mk VI (H.P.61), B.Mk VII (H.P. 61), Halton Mk I.
Equipment/Avionics: Full communications and navigation equipment. Flares, oxygen, cabin heating are also provided. Dinghies for emergency use are located in the trailing-edge of the port wing.
Wings/Fuselage/Tail Unit: Mid-wing cantilever monoplane type. The wing is built up of five main sections, consisting of a centre-section carrying the inboard engine mountings at its extremities, two intermediate sections, and tow out sections which carry the outboard engine mountings at their roots. The centre-section has two spars, the front spar a girder structure built up of channel sections and the rear spar comprising of T-section extruded booms and plain sheet web. The intermediate sections, at which the dihedral begins, are built up on two spars which have T-section booms and sheet webs. The outer wings are similar but have L-section booms. All sections have detachable trailing-edge sections aft of the rear spars. The leading-edge of the outer sections is armoured and is provided with balloon cable cutters. The structure of the various sections is completed by former ribs, spanwise stringers and a smooth light alloy skin. Ailerons on the outer sections have aluminium-alloy frames and fabric covering. Handley Page slotted trailing-edge flaps between ailerons and fuselage. The fuselage is an oval section with light alloy monocoque structure in four main sections with L-section and U-section frames, L-section stringers and a stressed-metal skin. Two channel section longerons run the entire length of the fuselage along the centreline of the sides, with the top flanges forming the floor support. The tail unit is a cantilever monoplane type with twin fins and rudders. Two spar tailplane. Balanced elevators and rudders. Trimming tabs in all control surfaces.
Landing Gear: Rectractable Messier hydraulic units made from cast magnesium, with auxiliary hand pumps. Wheels are retracted backwards into inner engine nacelles leaving a small portion of each wheel protruding but closely fitted by doors. The tailwheel was also retractable.
History: First flight (first prototype) 25 October 1939; first flight (second prototype) 17 August 1940; first flight (production) October 1940; first operational sortie 11 March 1941; retired from service (RAF Coastal Command) late 1947.
Operators: United Kingdom (RAF), Canada (RCAF), Australia (RAAF), New Zealand (RNZAF), France (FFL).
Units: The Halifax first entered service with No.35 Bomber Squadron during November 1940, and on 11 March 1941, was the first to use the Halifax operationally, in an attack on Le Havre. At their peak, the Halifax was to equip 34 Squadrons in the RAF Bomber Command (Europe). Squadrons Nos.10, 35, 51, 76, 77, 78, 102, 103, 158, 171, 192, 199, 346, 347, 405, 408, 415, 419, 420, 424, 425, 426, 427, 428, 429, 431, 432, 433, 434, 460, 466, 578, 614, 640. Four additional bombers squadrons served in the Far East. Squadron Nos. 138 & 161 (Special Duties) also used the type in a clandestine role, today known as Covert Operations, dropping agents and supplies into German occupied territories. RAF Coastal Command equipped nine squadrons with the Halifax for anti-submarine, meteorological and anti-shipping patrols.