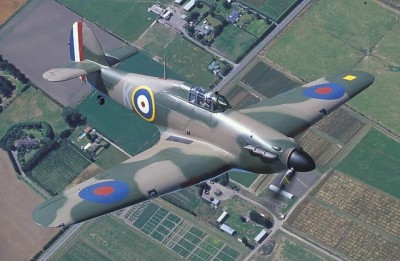 Few members of the British public could have been aware that a significant new fighter aircraft had joined the ranks of the RAF when, in December 1937, the first production examples of the Hawker Hurricane Mk 1 were delivered to No. 111 Squadron at RAF Northolt. lt was not until two months later, during February 1938, that this news became common, and exciting, knowledge when banner headlines announced, on 11 February, that one of these new Hurricane fighters had more than lived up to its name on the previous afternoon. Piloted by Squadron Leader J. W. Gillan, Commanding Officer of No. 111 Squadron, this aircraft had been flown from Turnhouse, Scotland, to Northolt, a distance of 526 km (327 miles), in 48 minutes at an average speed of almost 658 km/h (409 mph).
The subject of all this excitement, the Hurricane, reached back as far as 1933, when Hawker's chief designer, Sydney Camm, who was knighted after the war for his aircraft design contributions to the Allied war effort, decided to design a monoplane fighter based on the Fury biplane, using as its powerplant the Rolls-Royce Goshawk engine. As development progressed, the Goshawk was supplanted by the Rolls-Royce P.V.12 Merlin, and Hawker began construction of a prototype around which the air Ministry Specification F.36/34 had been drawn up. As first flown, on 6 November 1935, this prototype had retractable landing gear, a strut-braced tailplane, conventional Hawker-structure fuselage with fabric covering, a new two-spar monoplane wing covered with fabric, and a powerplant comprising a 990 hp (738 kW) Rolls-Royce Merlin 'C' engine.
Official trials began in February 1936, when the most optimistic high-speed performance predictions were comfortably exceeded, and on 3 June 1936 an initial order for 600 production aircraft was issued to Hawker. At the end of the month the new fighter was named the Hurricane. Hawker had in fact anticipated the production contract, and plans for the construction of 1,000 examples had already been initiated when the Air Ministry order was received. This, however, called for introduction of the Rolls-Royce Merlin II 12-cylinger engine, causing some delay for installation redesign, but Hawker's advance preparations made possible the first flight of a production Hurricane Mk 1 on 12 October 1937. It had a maximum speed of 330 mph (530 km/h) at 17,500 ft (5333 m), with a ceiling of 36,000 ft (10920 m) and a range of 460 miles (740 km). It packed 8 Browning 7.7 mm (0.303 in) machine guns in the wings, giving it a fair bit of destructive power. In 1939 it was fitted with metal wings, a three blade propeller and armour.


A Hawker Hurricane Mk I of 601 Squadron Royal Air Force - Battle of Britain 1940

No. 111 Squadron at Northolt had one flight operational in December 1937 and was completely re-equipped by the end of the following month. Soon afterwards, Nos 3 and 56 Squadrons were equipped, and by the end of 1938 about 200 Hurricanes had been delivered to the RAF's Fighter Command. The early production aircraft differed little from the prototype, except for the installation of the 1,030 hp (768 kW) Merlin II engine.
No doubts existed that the Hurricane was anything but an important and essential aircraft to reinforce the expansion of the RAF, and plans were made in late 1938 for additional construction to be undertaken by Gloster Aircraft at Hueclecote, Gloucestershire. This latter company's first production aircraft made its initial flight on 27 October 1939, and in little over 12 months Gloster had completed 1,000 Hurricanes, a figure that was to reach 1,850, plus 1,924 by Hawker, before later versions superseded the Hurricane Mk 1 in production. Before that happened, however, the fabric-covered wing had been replaced by one with metal stressed skin, and other progressively introduced improvements had included the Merlin III engine, a bulletproof windscreen, and some armour protection for the pilot.
Despite the pressure of its production programme for the RAF, Hawker had found time and space to cope with modest production orders covering 24 aircraft and a production licence for Yugoslavia, followed by aircraft for Belgium, Iran, Poland, Romania and Turkey. Belgium also negotiated a production licence for construction to be carried out by Avions Fairey, but only two Belgium-built Hurricanes had been completed and flown before the German invasion. Arrangements were also completed for Hurricanes to be built in Canada by the Canadian Car and Foundry Co., the first production aircraft flying on 9 January 1940. Canadian aircraft were at first generally similar to the British-built Hurricane Mk 1, but differed later by having the Packard-built Merlin engine.
At the outbreak of World War 11, 19 RAF squadrons were fully equipped with Hurricanes, and within a short time Nos 1, 73, 85 and 87 Squadrons had been despatched to bases in France, but during the 'phoney' period of the war that followed these squadrons had comparatively little to do until the German push westward in May 1940. Immediately, six more Hurricane squadrons were flown to France, followed shortly after by two more squadrons, but these were an inadequate number to stem the flood of German arms, armour and aircraft. Post-Dunkirk accounting showed that almost 200 Hurricanes had been lost, destroyed or so severely damaged that they had to be abandoned. It represented a major disaster for the RAF, for this number of aircraft amounted to about a quarter of its total strength in first-line fighters.
Fortunately for the UK, and for the RAF, the anticipated invasion of the British Isles by Germany failed to materialise, and there was a breathing space during which the squadrons of Fighter Command were able to reinforce their numbers. On 8 August 1940, which is regarded officially as the opening date of the Battle of Britain, the RAF could call upon 32 squadrons of Hurricanes and 19 squadrons of Supermarine Spitfires. But despite the debacle at Dunkirk and the resulting fighter famine in the UK, three Hurricane squadrons were transferred overseas. These comprised No. 261 Squadron sent to support the island of Malta, and Nos 73 and 274 Squadrons which, suitably 'tropicalised', began operations in the Western Desert.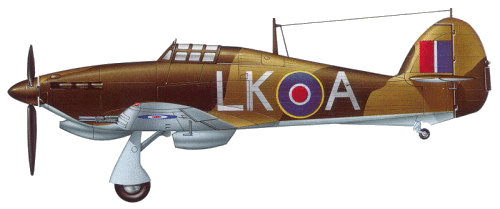 A Hawker Hurricane Mk IIC of the 87th Fighter Squadron Royal Air Force - North Africa 1942
Variants
Development of the type began with the introduction of a 1,280 hp (954 kW) Rolls-Royce Merlin XX 12-cylinder Vee Supercharged piston engine in a Hurricane Mk 1 airframe, this being redesignated Hurricane Mk IIA Srs 1. Generally similar, except for a slightly lengthened fuselage, was the Hurricane Mk IIA Srs 2, representing an interim change on the production lines to make possible the installation of newly developed and interchangeable wings. Thus, with a wing housing no fewer than 12 7.7 mm (0.303 in) machine guns and with provision for the carriage of two 113 kg (250 lbs) or two 227 kg (500 lbs) bombs beneath the wings or alternatively 45 or 90 gallon drop tanks, the designation became Hurricane Mk IIB. The Hurricane Mk IIC was generally similar, but with the machine guns replaced by four 20 mm cannon. When the Hurricane's life as a fighter had virtually come to an end, in 1942, the introduction of yet another wing was to rejuvenate this remarkable aircraft as the Hurricane Mk IID. The new wing carried two 40 mm Rolls-Royce B.F. or Vickers Type S anti-tank guns, plus one harmonised 7.7 mm (0.303 in) machine gun for each anti-armour weapon to assist in aiming. The Hurricane Mk IID 'tank buster' proved a potent weapon, highly effective against German armour in North Africa and when opposing more lightly armoured Japanese fighting vehicles in Burma.
The success of these wing variations led to the final production version, the Hurricane Mk IV (early examples of this version were designated Hurricane Mk IIE), which introduced the 1,620 hp (1208 kW) Merlin 24 or 27 engine, and a 'universal wing' to make the Mk IV a highly-specialised ground-attack aircraft. This wing carried two 7.7 mm (0.303 in) machine guns to assist in sighting other weapons, which could include two 40 mm (2.3 in) anti-tank guns, two 113 kg (250 lbs) or 227 kg (500 lbs) bombs, or smoke curtain installations, ferry or droptanks, or eight rocket projectiles with 27 kg (60 lbs) warheads. This last weapon, first proposed in late 1941, had been tested on a Hurricane in February 1942. When used operationally on the Hurricane IV, it was the first Allied aircraft to deploy air-to-ground rockets, and these weapons made the little Hurricane a giant in capability, extending its operational life beyond the end of World War II, for it was not until January 1947 that the RAF's last Hurricane squadron, No. 6, received replacement aircraft.
Hurricane production in Canada had grown considerably in proportions from the initial line of Hurricane Mk Is. The introduction of the 1,300 hp (969 kW) Packard-built Merlin 28 engine brought a designation change to Hurricane Mk X. This model was generally similar to the British-built Mk IIB with the 12-gun wing, and while small numbers were supplied to the UK, the majority was retained for use by the Royal Canadian Air Force. The Hurricane MK XI which followed was developed specifically for RCAF requirements, but differed from the Mk X primarily in having RCAF military equipment. Major production version was the Hurricane Mk XII, introducing the 1,300 hp (696 kW) Packard-built Merlin 29. initially, this was provided with the 12-gun wing; subsequently, the four-cannon and 'universal' wings became available. The final land-based version to emanate from Canada was the Hurricane Mk XIIA, identical to the Mk XII except for having an eight-gun wing.
In addition to the Hurricanes which went to other countries before the war, wartime production supplied 2,952 of these aircraft to the USSR, although as a result of convoy shipping losses not all reached their destination. Other wartime deliveries, most made at a time when it was difficult to spare a single aircraft, went to Egypt (20), Finland (12), India (300), Irish Air Corps (12), Persia (1) and Turkey (14), and total production in the UK and Canada amounted to 14,231.
Undoubtedly one of the great fighter aircraft of World War II, it is difficult to overstate the capabilities of this remarkable aircraft. In the Battle of Britain Hurricanes destroyed more enemy aircraft than all other defences, air or ground, combined. This statement must be put in perspective, as it resulted from Supermarine Spitfires taking on the Messerschmitt Bf 109s, allowing the slower Hurricanes to battle against the German bombers. 'Hurribombers' fought from Malta, carried out anti-shipping operations in the English Channel, and caused havoc to Axis columns in the Western Desert. 'Tank Busting' Hurricanes ranged far and wide in practically every operational theatre. One fighter, flown by Flight Lieutenant J. B. Nicholson of No. 249 (Fighter) Squadron, during that eventful late summer of 1940, helped earn for its gallant pilot the only Victoria Cross to be awarded to a member of Fighter Command. This occurred on 17 August when, his Hurricane badly damaged and wreathed in flames, the wounded and severely burnt Nicholson succeeded in destroying the attacking Messerschmitt Bf 110 before baling out, to be rescued and survive.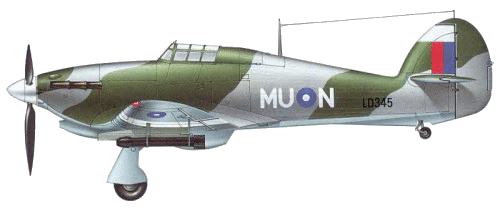 A Hawker Hurricane Mk IV of 60 Squadron Royal Air Force - Far East Asia 1943
Sea Hurricane
The early success of the Hawker Hurricane fighter in RAF service meant that the Royal Navy was keen to acquire numbers of these aircraft to help in the Battle of the Atlantic which, in early 1940, was depicted statistically by a steeply rising graph of shipping losses. A large proportion of such losses resulted far from shore, in areas where land- based aircraft could not provide air cover for Allied convoys. Thus German long-range patrol aircraft were able to range freely, spotting convoys far out at sea, and calling in and directing U-boat packs to attack them.
An interim measure gave birth to the 'Hurricat', a converted Hurricane carried by CAM-ships (Catapult Armed Merchantmen). Mounted on and launched from a catapult at the ship's bows, the Hurricane was flown off on what was usually a one-way flight: after providing defence for the convoy there was no where for the FAA or RAF pilot to land, which meant he was obliged to bailout, or ditch his aircraft as near as possible to the convoy, hoping to be picked up. The provision of long-range drop-tanks beneath the wings, introduced in August 1941 after the CAM-ships had been provided with more powerful catapults for the higher gross weight, improved the situation a little. At best it was a desperate rather than a practical measure, but despite this six enemy aircraft were destroyed in the last five months of 1941, the first success coming on 3 August 1941, when Lieutenant R. W. H. Everett intercepted and destroyed a Focke-Wulf Fw 200 Condor.
Variants
Hurricanes converted for the above role needed only the addition of catapult spools, and 50 Hurricane Mk I land-planes so modified were designated Sea Hurricane Mk IA. They were followed by about 300 Mk Is converted to Sea Hurricane Mk IB configuration, these having catapult spools plus a V-frame arrester hook: in addition 25 Mk IIA Srs 2 aircraft were similarly modified as Sea Hurricane IB or Hooked Hurricane II fighters. Their initial role was a considerable improvement on CAM-ship deployment, for from October 1941 they began to go to sea aboard MAC-ships, these being large merchant ships fitted with a small flight deck. They carried on dock (for there was no hangar accommodation) a small number of fighter and ASW aircraft, which were able to operate from and to the mini-carriers. Sea Hurricane Mk IC fighters, introduced in February 1942 were, once again, conventional Mk I conversions with catapult spools and arrester hook; they had, however, the four-cannon wing of the land-based Hurricane Mk IIC. last of the Sea Hurricanes from British sources was the Sea Hurricane Mk IIC, intended for Conventional carrier operations and, consequently, without catapult spools. They introduced also to navy service the Merlin XX engine, and carried FAA radio equipment. Last of the Sea Hurricane variants was the Sea Hurricane Mk XIIA, of which a small number were converted from Canadian-built Mk XIIs, and these were used operationally in the North Atlantic.
The Sea Hurricane's most famous action was fought during the late summer of 1942, when aircraft serving with Nos 801, 802 and 885 Squadrons aboard the carriers HMS Indomitable, Eagle and Victorious respectively, joined with Fairey Fulmars and Grumman Martlets to protect a vital convoy to Malta. During three days of almost continuous attack by an Axis force of bombers, torpedo-bombers and escorting fighters, 39 enemy aircraft were destroyed for the loss of eight naval fighters.
It is not really surprising, therefore, that for many years after the end of World War II, a lone Hurricane had the honour of leading the RAF fly-past over London, flown each year to commemorate victory in the Battle of Britain. Not many original flight worthy examples exist today, and sadly the one Hurricane of the Canadian Warplane Heritage in Ontario, Canada was lost in a hanger fire a few years ago. While they did find a replacement it is strictly a static display.
Specifications (Hawker Hurricane IIB)
Type: Single Seat Fighter / Fighter Bomber / Tank Buster & Ship Based Catapult Fighter
Design: Sydney Camm
Manufacturer: Hawker Aircraft Limited, also built by Gloster Aircraft, SABCA (Belgium) and Canadian Car & Foundry Inc.
Powerplant: (Prototype) One 990 hp (738 kW) Rolls-Royce Merlin 'C' engine. (Mk I) One 1,030 hp (768 kW) Merlin II 12-cylinder engine, later the Merlin III was used. (Mk II) One Rolls-Royce Merlin XX 12-cylinder 60 degree Vee liquid-cooled engine rated at 1,280 hp (954 kw) at take-off and 1,850 hp (1379 kw) at 21,000 ft (6400 m). (Mk IV) One 1,620 hp (1208 kW) Merlin 24 or 27 12-cylinder engine. (Canadian Mk X) One 1,300 hp (969 kW) Packard-built Merlin 28. (Canadian Mk XII) One 1,300 hp (696 kW) Packard-built Merlin 29. (Sea Hurricane Mk IIC) One 1,280 hp (954 kW) Rolls-Royce Merlin XX 12-cylinder piston engine.
Performance: 340 mph (547 km/h) at 21,000 ft (6400 m) clean, 320 mph (514 km/h) at 19,700 ft (6004 m) with two 250 lbs (113 kg) bombs, 307 mph (494 km/h) at 19,500 ft (5943 m) with two 500 lbs (227 kg) bombs. Service Ceiling 40,000 ft (12192 m) clean, 33,000 ft (10058 m) with a 500 lbs (227 kg) bomb load. Initial climb rate of 2,700 ft (825 m) per minute (varies depending on stores carried).
Range: 460 miles (740 km) at 178 mph (286 km/h) normal fuel. 920 miles (1480 km) with two 44 gallon auxiliary tanks.
Weight: Empty 5,658 lbs (2566 kg) with a maximum take-off weight of 8,470 lbs (3841 kg) with two 500 lbs (227 kg) bombs.
Dimensions: Span 40 ft 0 in (12.19 m); length 32 ft 2 1/2 in (9.82 m); height 13 ft 1 in (3.99 m); wing area 257.5 sq ft (23.92 sq m).
Armament: (Mk I) Eight 7.7 mm (0.303 in) Browning Machine guns each with 333 rounds. (Mk IIA) Same as Mk I but with provisions for twelve guns and bombs. (Mk IIB) Twelve 7.7 mm (0.303 in Browning machine guns and two 250 lbs (113 kg) or 500 lbs (227 kg) bombs or eight rocket projectiles (25 lbs armour piercing or 60 lbs HE). (Mk IIC) Four 20 mm Hispano cannon and provisions for bombs. (Mk IID) Two 40 mm Vickers S Cannon and two 7.7 mm (0.303 in) Browning machine guns to assist aiming of the cannons. (Sea Hurricane Mk IIC) Four 20 mm Hispano cannon. (Mk IV) Universal wing with two 7.7 mm (0.303 in) Browning machine guns and two 40 mm Vickers S cannon, two 500 lbs (227 kg) bombs, eight rockets. Also was capable of using smoke and other stores. Belgium built aircraft were equipped with four 12.7 mm (0.50 in) FN-Browning machine guns.
Variants: Mk I, Mk II, Mk IIA (eight machine guns), Mk IIB (twelve machine guns), Mk IIC (four 20 mm cannons), Mk IID (40 mm cannon), Mk IV (specialized ground attack).
Avionics: (Sea Hurricane) FAA radio equipment.
History: First flight (prototype) 6 November 1935; (production Mk I) 12 October 1937; (Mk II) 11 June 1940; (Canadian Mk X) January 1940; final delivery September 1944.
Operators: RAF, RCAF, RAAF, Belgium, Egypt, Finland, India, Iraq, Iran, Yugoslavia, RNZAF, Poland, Portugal, Rumania, Soviet Union, South Africa, Turkey.
Number Built: 14,231
Number Still Airworthy: 6