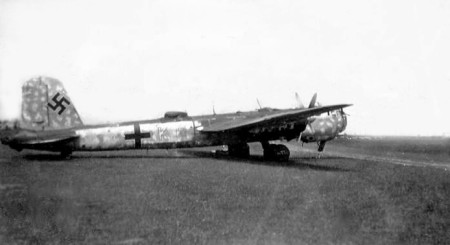 In the spring of 1938, Heinkel received from the Reichsluftfahrtministerium a development contract for its P.1041 project, evolved in response to an official specification for a long-range heavy bomber. This specification called for a heavy bomber/anti shipping aircraft with dive bombing capabilities. This ridiculous specification would prove to be a major contributor to the He 177s failings.
Although almost 1,200 examples of the resulting Heinkel He 177 Greif (griffon) were built, the type never fulfilled its potential and, indeed, earned itself the nickname of the 'Flaming Coffin'. The Daimler-Benz DB 606 engines were prone to overheating and a number of inflight engine fires occurred. Six of the original eight aircraft were lost, most due to engine fires, and many of the first 35 production aircraft (built mainly by Arado) also suffered the same fate.
Heinkel's designer, Siegfried Gunter, required two 2,000 hp (1491 kW) engines to power his brainchild, but a suitable power unit in this class was not then available and two Daimler-Benz DB 601 engines were coupled together to produce the 2,600 hp (1939 kW) DB 606. Another novel feature of the He 177 was the main landing gear, comprising twin main legs on each side, which retracted sideways into the wing, inboard and outboard of each engine nacelle.

The first prototype flew on 19 November 1939 at Rostock-Marienehe, in the hands of Dipl. Ing. Francke of Erprobungsstelle E-2 at Rechlin. This first flight was cut short when the engine temperatures rose rapidly and vibration was experienced; the tail surfaces were also judged to be inadequate, and these were increased in area following the crash of the second prototype, which disintegrated when flutter was experienced during diving trials. This trouble also claimed the fourth prototype. The fifth prototype was the first to be armed (four MG 15 machine-guns singly mounted in nose, dorsal, ventral and tail positions), and was the first to suffer an engine fire and be lost. Three more prototypes were built, the first two with modified nose sections which mounted two MG FF cannon and an MG 131 machine-gun and following further testing 35 He 177A-0 pre-production aircraft were built, 15 at Rostock, 15 at Oranienburg and five by Arado at Warnemunde. These were used for development trials and the conversion training of crews for the initial production He 177A-1, which was introduced in March 1942. Arado built a total of 130 in four sub-variants, each with minor armament variations, under the designations He 177A-1/RI to He 177A-I/R4.
A number of early production He 177A-Is were delivered in July 1942 for operational trials with 1./KG 40 at Bordeaux-Merignae, but structural weaknesses in the wing necessitated substantial redesign, and the first of the modified He 177A-3s to see service with the Luftwaffe were delivered during the closing months of 1942. A total of 170 of the A-3 series was built at Oranienburg, the first 15 being designated He 177A-3/R1 and retaining the DB 606A/B engines. The remainder of the batch were powered by DB 610 engines, and included the He 177A-3/R2 with improved armament, the He 177A-3/R3 carrying three Henschel Hs 293 missiles and the He 177A-3/R4 having a gondola containing the FuG 203 missile-control equipment. The introduction of a 75 mm (2.95 in) cannon in a ventral gondola identified the He 177A-3/R5, and three He 177A-3/R7 aircraft were built and equipped to carry two torpedoes. Final production version was the He 177A-5 featuring a strengthened wing to allow for the carriage of heavier underwing loads, deletion of the Fowler flaps, and the introduction of shortened main landing gear legs. It was produced initially in He 177A-5/RI to He 177A-5/R4 sub-variants with minor armament changes, followed by the He 177A- 5/R5 which mounted a remotely controlled barbette to the rear of the bomb bay and the generally similar He 177A-5/R6 in which two forward bomb bays were deleted. The He 177A-5/R7 introduced a pressurised cockpit, with the He 177A-5/RS was equipped with barbettes in chin and rear positions. Most interesting were five He 177A-5 aircraft converted to carry revised offensive armament, the bomb bay area being used to mount an array of 33 rocket tubes, these weapons being fired upwards at a forward angle of 60 degrees. Delivered in June 1944, and known as the He 177 Zerstorer (destroyer), they were flown initially by Erprobungskommando 25 at Tarnewitz, but it seems unlikely that they were used operationally.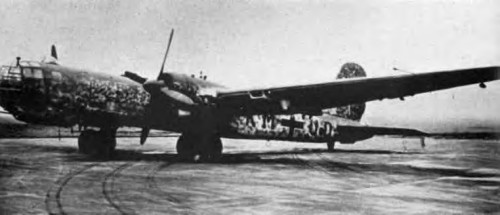 Six He 177A-6/RI aircraft were built as development machines for a proposed He 177A-6 production version, including armour protection for the crew compartment and fuel tanks, and extra armament; and the He 177 V22 served as prototype for the He 177A-6/R2, this variant having a new forward fuselage and defensive armament of two 20 mm MG 151/20 cannon, plus four MG 81 and three MG 131 machine-guns. The final variant resulted from the conversion of six He 177A-5 airframes to incorporate a 118 ft 11/2 in (36.00 m) span wing which had been designed for the planned He 177A-7 high-altitude bomber, but these were flown with four DB 610 engines, instead of the intended 3,600 hp (2685 kW) DB 613s produced by the coupling of two DB 603Gs.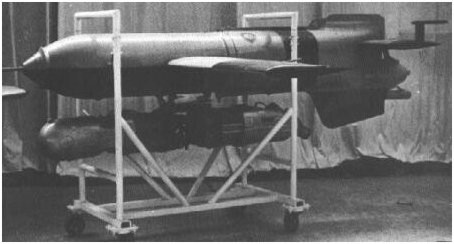 The Henschel 293 Anti-Shipping Guided Missile
During the first half of 1944 French and German based He 177s took part in Operation 'Steinbock', an offensive against British targets, making their attacks in a high-speed shallow dive from altitude. This enabled them to penetrate the defences without difficulty, but did little for bombing accuracy. The type also saw service on the Eastern Front, but Germany's critical fuel supply and the concentration of fighter production and operations led to virtual withdrawal of the He 177 by the end of 1944. One of these aircraft which was particularly noteworthy was modified extensively at Letov in Prague during 1943-44 to provide an enlarged bomb bay to accommodate the planned German atomic bomb; it was never completed.
The He 177, right from the start, was doomed to failure. An absurd specification that insisted a heavy bomber be capable of dive bombing, the fact that no engine with sufficient power existed and it was pressed into roles that it never was designed to do. It was only the courage and dedication of the designers that this plane was made in the numbers it was. This aircraft was the predecessor for the much improved He 277 and He 274, but the war ended before they could be built in any numbers.
He 177A-0
35 pre-production aircraft used for development and conversion training.
He 177A-1/R1 to R4
130 aircraft built by Arado in four versions, designated He 177A-1/R1 to He 177A-1/R4 each with minor variations. Introduced in March 1942.
He 177A-3/R1 to R5/R7
170 aircraft (He 177A-3) built by Heinkel, the first 15 aircraft (He 177A-3/R1) bombers had DB 606A/B engines and the remainder with DB 610 Engines. The He 177A-3/R2 differed by having improved armament. The He 177A-3/R3 carried three Henschel Hs 293 missiles. The He 177A-3/R4 had a gondola containing FuG 203 missile-control equipment. The He 177A-3/R5 was armed with a 75 mm cannon in a ventral gondola for anti-tank or anti-shipping operations. The He 177A-3/R7 were each equipped to carry two torpedoes.
He 177A-4
Proposed high altitude version.
He 177A-5R1 to R4/R5/R6/R7
A version with structural modifications, primarily strengthened wing for heavier underwing loads. The He 177A-5/R1 to He 177A-5/R4 had minor armament changes. The He 177A-5/R5 had a remotely controlled barbette to the rear of the bomb bays, the first two of which were deleted in the He 177A-5/R6. The He 177A-5/R7 had a pressurised cockpit and the He 177A-5/R8 had barbettes in chin and rear positions. Five He 177A-5s had the bomb bay area modified to house an array of 33 rocket tubes, the weapons being fired upwards at a forward angle of 60'.
He 177A-6/R1/R2
Six He 177A-6/R1 aircraft were built as development examples of proposed version with extra armament, and armour protection for the crew compartment and fuel tanks. One development aircraft was flown with new forward fuselage and heavier armament intended for the He 177A-6/R2.
He 177A-7
Six He 177A-5 airframes were modified with a 36 m (118 ft 1 1/2 in) wing intended for the production He 177A-7, and with DB 610 engines instead of the intended 2685 kW (3,600 hp) DB 613 engines
Specifications (Heinkel He 177A-5/R2 Greif "Griffon")
Type: Six Seat Heavy Bomber and Missile Carrier
Design: Ernst Heinkel AG
Manufacturer: Ernst Heinkel AG and Arado Flugzeugwerke
Powerplant: Two 2,950 hp (2200 kW) Daimler-Benz DB 610A/B engines, each comprising of two 12-cylinder inverted Vee DB 605 engines close-coupled to one propeller.
Performance: Maximum speed 304 mph (490 km/h) at 19,685 ft (6000 m); cruising speed 258 mph (415 km/h); service ceiling 26,245 ft (8000 m). Initial climb rate 853 ft (260 m) per minute.
Range: 3,417 miles (5500 km) with two Hs 293 missiles or SD 1400 X guided bombs.
Weight: Empty equipped 37,038 lb (16800 kg) with a maximum take-off weight of 68,343 lb (31000 kg).
Dimensions: Span 103 ft 1 3/4 in (31.44 m); length 66 ft 11 1/4 in (20.40 m); height 20 ft 11 3/4 in (6.39 m); wing area 1,097.95 sq ft (102.00 sq m).
Armament: Three 7.92 mm (0.31 in) MG 81 and three 13 mm (0.51 in) MG 131 machine-guns, and two 20 mm MG 151/20 cannon, plus 2,205 lbs (1000 kg) of bombs internally and two Henschel Hs 293 or SD 1400 X missiles under the wings. Could also carry mines or torpedoes. Loadout could be increased to three missiles, if the bombay was blanked off and racks added to it. Some aircraft, serving on the Eastern Front, carried 50 mm or 75 mm cannon for anti-tank operations.
Variants: P.1041 (original project designation), He 177 (prototype), He 177A-0/A-1/A-3, He 177A-4 (proposed high altitude), He 177A-5/A-6/A-7.
Avionics: (He 177A-3/R4) FuG 203 missile-control system for use with the Henschel 293 Anti-shipping missile.
History: First flight (He 177V-1) 19 November 1939, (pre-production He 177A-0) November 1941, service delivery (A-1) March 1942, (A-5) February 1943, first flight (He 277V-1) December 1943, He 274 alias AAS 01A) December 1945.
Operators: Germany (Luftwaffe).