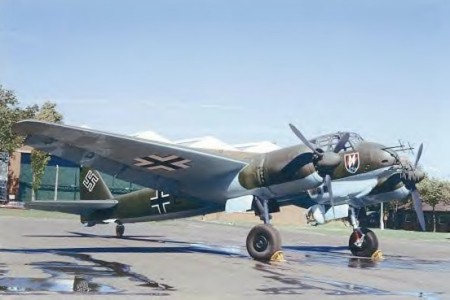 Unarguably the most versatile German warplane of World War 11, the Junkers Ju 88 remained in production right through the war in developed forms. It originated in a 1935 specification for a three-seat high-speed bomber to be capable of more than 298 mph (480 km/h). Henschel and Messerschmitt tendered initially to the same specification but later withdrew.
The prototype Ju 88 flew on 21 December 1936 with two 1,000 hp (746 kW) Daimler-Benz DB 600Ae inline engines with annular radiators, giving them the appearance of radials, the use of these radiators was to continue throughout the development of the aircraft. Further prototypes followed, the third having 1,000 hp (746 kW) Junkers Jumo engines and this, during evaluation, reached 323 mph (520 km/h). The high performance of the Ju 88 encouraged record-breaking fights, and in March 1939 the fifth prototype set a 1,000km (621 mile) closed-circuit record of 321.25 mph (517 km/h) carrying a 4,409 lbs (2000 kg) payload. A total of 10 prototypes were completed and the first of the pre-production batch of Ju 88A-0 bombers flew in early 1939. Production aircraft were designated Ju 88A-1 and began to enter service in September 1939.


A Junkers Ju 88A-14 1./KG 77 Luftwaffe - Libya 1942
Early teething troubles were gradually ironed out and sub-variants began to appear, including the Ju 88A-2 with jettisonable rocket packs for assisting take-off in overload conditions, the Ju 88A-3 dual-control trainer and the Ju 88A-4, the first considerably modified development. Designed around the new and more powerful Jumo 211J engine, the Ju 88A-4 had increased span and was strengthened to take greater loads. Because of problems with the new engine the Ju 88A-4 was overtaken by the Ju 88A-5, which featured the new wing but retained the former engines. During the Battle of Britain many Ju 88A-5s were fitted with balloon-cable lenders and cutters to combat the UK's balloon barrage, and in this form they became Ju 88A-6 aircraft. Some Ju 88A-5s, converted to dual-control trainers, were designated Ju 88A-7.
By the time definitive Ju 88A-4s began to enter service, lessons learned in the Battle of Britain had dictated heavier armament and better protection for the crew. Several different armament layouts were used, but a typical installation was a single 7.92 mm (0.31 in) MG 81 machine-gun on the right side of the nose and operated by the pilot, and two 7.92-mm (0.31- in) MG 81s or one 13 mm (0.51 in) MG 131 machine-gun firing forward through the transparent nose panels, operated by the bomb aimer. The same option was available in the ventral gondola beneath the nose, firing aft, while two other MG 81s were in the rear of the cockpit canopy. Some 4,409 lbs (2000 kg) of the bombload was carried beneath the wings, both inboard and outboard of the engines, while the internal bomb bay held another 1,102 lbs (500 kg).
Sub-variants of the basic Ju 88A extended up to the Ju 88A-17; space considerations preclude detailed mention of all these, but the Ju 88A-12 and Ju 88A-16 were trainers; the Ju 88A-8 and Ju 88A-14 had cable cutters; the Ju 88A-11 was a tropical variant; and the Ju 88A-17 was the Ju 88A-4 adapted to carry two 1,686 lbs (765 kg) torpedoes. The Ju 88A-15 with enlarged bomb bay could carry 6,614 lbs (3000 kg) of bombs.
By the end of 1942 the Luftwaffe had taken delivery of more than 8,000 Ju 88's. While the Ju 88A was in quantity production, Junkers was developing the Ju 88B, the prototype of which flew in 1940 with two 1,600 hp (1193 kW) BMW 801MA radial engines. Main change in appearance was to the forward fuselage, which was enlarged and extensively glazed, and there was a marginal increase in performance over the Ju 88A, though this was not sufficient to warrant a change in the production lines, and only 10 pre-production aircraft were built.
It was inevitable that the Ju 88's basic design would also be adapted to the fighter role, although initially the need for bombers dictated a low priority for fighter versions. However, the second preproduction Ju 88A was adapted in mid-1939 to have a solid nose with three 7.92 mm (0.31 in) MG 17 machine guns and one 20 mm FF/M cannon firing forward. Single 7.92-mm (0.31 1n) MG 15 machine-guns were mounted in dorsal and ventral positions firing aft.
The fighter version would have become the Ju 88C-1, with an addition forward-firing 20 mm cannon, but plans to use 1,600 hp (1193 kW) BMW 801 engines had to be dropped since these were required for the Focke-Wulf Fw 190. However, many Ju 88A-ls were converted on the production line as Ju 88C-2 fighters. Around 130 were built, and these operated as night-fighters in 1940-1; they also carried out night intruder patrols over British bomber bases. The first Ju 88 fighter to be built from scratch was the Ju 88C-4, which had the longer span wing of the Ju 88A4 and 1,340 hp (999 kW) Jumo 211J engines. Attempts to provide more power by the use of 1,700 hp (1268 kW) BMW 801D radial engines produced the Ju 88C-3, of which only one was built and the Ju 88C-5; a pre-production batch of 10 was built before the lack of BMW engines again killed the idea.
The Ju 88C-6 which followed after less than 100 Ju 88C-4s was basically a more heavily armoured day fighter and went into large-scale production; it was a sub-variant of this type, the Ju 88"b, which became the first radar-equipped Ju 88 night-fighter, with nose-mounted Lichtenstein radar. It was to turn the tide appreciably against the RAF bombers, for on five operations between 21 January and 30 March 1944 342 bombers were destroyed out of 3,759 dispatched.
Alphabetically out of sequence was the Ju 88R-1, which had the same airframe and armament as the Ju 88C-6b but used BMW 801MA radial engines, the supply position on these having eased. The Ju 88R-2 was similar, but with BMW 801D engines. Long-range reconnaissance versions of the Ju 88 were developed as Ju 88D aircraft; they were based on the Ju 88A4, and almost 1,500 were built between 1941 and 1944 to see action on all fronts. The variants from Ju 88D-1 to Ju 88D-5 differed in engine and detail. In an effort to improve stability of the Ju 88 a new, tall, square-cut fin and rudder was fitted to a Ju 88R-2, the new variant becoming, in its production form, the Ju 88G-1. The twin nose cannon were removed, but the aircraft carried Lichtenstein nose radar, with Flensburg aerials on the wings that enabled it to home in on RAF bombers using tail-warning radar emission.
The Ju 88G-1 had BMW 801D engines and developed into a number of sub-types; the Ju 88G-4 was the first to use the Me 110's schrage Musik installation of two MG 151 cannon, which fired forwards and upwards. Main differences among the various sub-types were in the types of radar and armament fitted, although the later variants from Ju 88G-6e reverted to Jumo engines. The last production model of the series was the Ju 88G-7c.
Development of the basic Ju 88D reconnaissance aircraft resulted in the Ju 88H series, the prototype of which combined the wings and BMW engines of a Ju 88G-1 with the fuselage and tail of a Ju 88D-1. 'Plugs' were inserted in the fuselage fore and aft of the wing, increasing its length by 10 ft 8 in (3.25 m) to 57 ft 10 3/4 in (17.65 m). With the additional fuel tanks that could now be carried the Ju 88H had a range of 3,200 miles (5150 km).
Ten Ju 88H-1 reconnaissance aircraft and 10 Ju 88H-2 long-range fighters were built the latter with six forward-firing 20-mm MG 151 cannon in place of the Ju 88H-1's cameras and radar. Despite being built in such small numbers, these types saw action over the Atlantic. As Ju 87s were converted for tank-busting missions, so were a number of Ju 88s as the Ju 88P series. In 1942 a Ju 88A4 airframe became the prototype, and was tested with a 75 mm (2.95 in) KwK 39 cannon mounted in a larger underbelly fairing. A small batch was ordered as the Ju 88P-1 with 75-mm (2.95 in) PaK 40 cannon, a 7.92 mm (0.31 in) MG 81 forward-firing machine-gun being used by the pilot for aiming the cannon. The usual ventral and dorsal rear-firing machine guns were carried for defence. Other sub-variants with different forward-firing cannon were the Ju 88P-2 and Ju 88P-3 (two 37 mm BK cannon) and the Ju 88P-4 (one 50 mm BK5 cannon). Thirty-two of this final variant were delivered.
Performance of the Ju 88 bombers by 1942 was such that they were becoming progressively unable to escape from enemy fighters, and in order to improve their chances the Ju 88S series was developed. Two BMW 801D 1,700 hp (1268 kW) radial engines were married to the Ju 88A-4 airframe for the prototype Ju 88S, which reached a speed of 332 mph (535 km/h). A pre-production series was ordered, followed in 1943 by production Ju 88S-1 aircraft with BMW 801G-2 engines which, with power boosting, gave 1,730 hp (1290 kW) at 5,005 ft (1525 m). To save weight, armament was reduced to a single rear-firing 13 mm (0.51 in) MG 131 machine-gun and a maximum speed (with nitrous oxide injection) of 379 mph (610 km/h) was reached at 26,245 ft (8000 m). Two more sub-variants were built, the Ju 88S-2 and Ju 88S-3, the latter having Jumo 213A engines that, with injection, gave 2,125 hp (1585 kW) and a speed of 382 mph (615 km/h) at 27,885 ft (8500 m). Only a few Ju 88S aircraft were built, with production beginning in 1944, and a high-speed photo-reconnaissance version, the Ju 88T, was also built in small numbers. Total Ju 88 production reached almost 15,000 in nine years.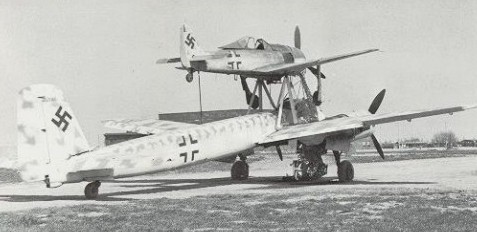 Junkers Ju 88 Mistel Composite
In May 1916 a Bristol Scout was carried to a height of 1,000 ft (305 m) on the centre-section of a Porte Baby flying boat, to test the feasibility of carrying a fighter to within firing range of the German Zeppelins which were carrying out raids on England. Twenty-two years later Short Brothers flew their Mayo composite, the lower component being a four- engine flying-boat which was used to carry a heavily laden four-engine seaplane aloft with a greater load than the seaplane could have lifted off the water, thereby increasing the seaplane's range.
In 1943 the wheel turned fun circle, with the possibility of pick-a-back aircraft for military purposes revived in Germany following experiments with light aircraft mounted above gliders. The proposal was that time-expired Junkers Ju 88 airframes be converted to pilotless missiles by the installation of a warhead packed with explosives. One of these would then be flown to within range of a target, controlled by the pilot of a single-engine fighter which was mounted on struts above the bomber's centre section. The fighter would release the Ju 88 and then guide it to the target.
The first conversion combined a Ju 88A-4 and a Messerschmitt Bf 109F, and this proved sufficiently successful for Junkers to be contracted to convert 15 Ju 88A airframes to Mistel (mistletoe) configuration, as it was called, presumably to imply its parasitic connection; the programme was codenamed 'Beethoven'. An initial batch of trainers was converted, using Bf 109F-4s as the upper component. The lower component was stripped of nonessential equipment but retained a two-crew layout for training. The nose section could be completely removed by quick-release bolts and an 8,378 lbs (3800 kg) warhead attached.
Operational flying began in mid-1944 when four Allied ships were attacked at night, all being hit but not sunk. Encouraged by these results, the Luftwaffe ordered a further 75 Ju 88G-1 fighters to be converted, this time with Focke-Wulf Fw 190A-6 or Fw 190F-S fighters as the upper components of what became the Mistel 2 composite. Unfortunately, the combination of the Ju 88G with full fuel load and warhead, plus the Fw 190, meant that the lower component was considerably overloaded and burst tires caused a number of take-off accidents.
Plans for a night attack on the British Fleet in Scapa Flow by 60 Mistel combinations, in December 1944, were thwarted by bad weather. The aircraft were unable to leave their Danish bases, perhaps fortunately for the Luftwaffe, since the combination was only capable of an airspeed of 236 mph (380 km/h) and was so ungainly, the group would have probably been decimated by British night-fighters. The next assault was to be against Soviet arms factories, with a planned date during March 1945. A total of 125 Mistel were then on order, of which 100 were required for this operation, which had to be cancelled when advancing Soviet troops occupied the airfields which were to have been used.
Sporadic attacks were made against bridges on the Eastern and Western Fronts, but the Mistel suffered heavy losses. Development continued, however, including the use of new Ju 88G-10 and Ju 88H-4 airframes on the production line. The Ju 88G-10s were twinned with Fw 190A-8s with overwing long range tanks as Mistel 3C aircraft, while the Ju 88H- 4/Fw 190A-8 composite became the Mistel 3B. A different role was served by a modified Mistel 3B where the lower component with a crew of three became an ultra long-range pathfinder, carrying its own Fw 190A-8 escort as the upper component, for launch only in emergency.
One of the last Mistel combinations tested consisted of a Ta 152H/Ju 88G-7 which flew in the last few weeks of the war. Total Mistel production has been estimated at around 250. Detailed performance specifications for Mistel are not known, but reference may be made to individual type specifications of aircraft used.
Ju 88A/A-1 to A-17
Certainly the most versatile German warplane of World War II, the Junkers Ju 88 in progressively improved versions continued in production throughout the war. It was originated to meet a requirement for a three seat high-speed bomber and the first prototype, powered by two 1,000 hp (746 kW) Daimler-Benz DB 600Aa engines, made its initial flight on 21 December 1936. Further prototypes followed the third with 746 kW (1,000 hp) Junkers Jumo engines and this, during evaluation, attained a speed of 520 km/h (323 mph). Such high performance encouraged record-breaking attempts, and in March 1939 the fifth prototype set a 1,000 km (621 mile) closed-circuit record of 517 km/h (321.25 mph) carrying a 2000 kg (4,409 lbs) payload. A total of 10 prototypes was completed, and the first of the pre-production Ju 88A-0 bombers flew in early 1939, the initial Ju 88A-1 production version entering service in September 1939.
Early operational deployment showed that despite good performance and a worthwhile bombload, defensive armament was totally inadequate, leading to the Ju 88A-4 with increased wing span, structural strengthening to carry greater loads and gunpower increased substantially. This formed the basis for further diverse development of the type, ultimately in so many versions that a detailed listing of them is not possible, For example, the Ju 88A series extended over Ju 88A-1 to Ju 88A-17 sub-variants.
Ju 88B/B-0
While the Ju 88A was in production an improved Ju 88B was planned, with a more extensively glazed nose and power provided by two 1193 kW (1,600 hp) BMW 801MA radials, but flight testing showed only marginal performance improvement and only 10 pre-production Ju 88 aircraft were built.
Ju 88C-1/C-2/C-4/C-5/C-6a/C-6b/C-6c/C-7a/C-7b/C-7c, Ju 88R-1/R-2
The Ju 88 was almost as fast as contemporary fighters, and such performance coupled with excellent manoeuvrability brought the development of the Ju 88C series. The planned Ju 88C-1 with BMW 801MA engines was abandoned because the new Focke-Wulf Fw 190 fighter had priority for this powerplant. As a result the first production version was the Ju 88C-2, this being the Ju 88A-1 converted on the production line to have a solid nose mounting three 7.92 mm (0.31 in) MG 17 machine guns and a 20 mm MG FF cannon. Defensive armament comprised two additional 7.92 mm (0.31 in) MG 15 machine guns. The Ju 88C-4 was a heavy fighter/reconnaissance model, the Ju 88C-5 an improved heavy fighter, the Ju 88C-6a an improved Ju 88C-5, the Ju 88C-6b and Ju 88C-6c night-fighters, the Ju 88C-7a and Ju 88-C7b intruders, and the Ju 88C-7c, a heavy fighter. Alphabetically out of sequence were the Ju 88R-1 and Ju 88R-2 night-fighters, which were developed and powered by BMW 801MA engines when the supply position of this powerplant eased.

Ju 88D
The Ju 88D series was long-range reconnaissance aircraft based on the Ju 88A-4, in Ju 88D-1 to Ju 88D-5 variants that differed in engines and detail.
Ju 88G
The Ju 88G series represented definitive night-fighter versions that from the early summer of 1944 replaced the earlier Ju 88C and Ju 88R aircraft. Equipped with airborne interception radar and bristling with weapons, the Ju 88Gs were extremely formidable night-fighters, taking a heavy toll of Allied night bombers.
Ju 88H-1/H-2
They were followed by small numbers of Ju 88H aircraft which had a lengthened fuselage to provide increased internal fuel capacity, providing extra long range Ju 88H-1 reconnaissance and Ju 88H-2 fighter aircraft.
Ju 88P/P-1 to P-4
The tank busting Ju 88P was developed from the Ju 88A-4, the Ju 88P-1 with a 75 mm Pak 40 cannon and the ensuing Ju 88P-2 to Ju 88P-4 with different combinations of heavy anti-tank weapons.
Ju 88S, Ju 88T
The increasing capability of Allied fighters meant that losses began to rise, leading to the development of the higher performance Ju 88S bomber and the Ju 88T photo-reconnaissance aircraft that represented the final production versions. When production ended almost 15,000 aircraft of different versions had been built, emphasising the significant role that the Ju 88 played in Luftwaffe operations.
Ju 88 Mistel 1, S-1, Mistel 2, S-2, Mistel 3A, S-3A, 3B, 3C
In 1943 a proposal was made that time-expired Ju 88 airframes could be converted as pilotless missiles, with an attached Messerschmitt Bf 109 whose pilot would control the Ju 88 in flight to a point of release, where he would aim it at its target before detaching his fighter. Known as Mistel (mistletoe) composites or, more popularly as 'Vater und Sohn' (father and son), a prototype combination was first flown in July 1943 and found to be practicable. The weakness in the concept was that the warhead-carrying Ju 88 was not guided from the moment that the piloted aircraft separated from it, merely continuing in steady flight under the control of its onboard autopilot. Plans for remote-guidance systems were frustrated by an end of the war in Europe.
Several designations resulted from different combinations of fighter and bomber. They include the Mistel 1 (and S 1 training version) that combined the Ju 88A-4 and Bf 109F, the Mistel 2 (and S 2) the Ju 88G-1 and Focke-Wulf Fw 190A-8, and Mistel 3A (and S 3A) the Ju 88A-6 and Fw 190A-6. Extra long-range Mistel 3R and Mistel 3C resulted from the combination of Ju 88G-10 or Ju 88H-4 bombers with Fw 190A-8s that carried overwing auxiliary fuel tanks. These were intended as pathfinders, the lower component carrying a three man crew and having the benefit of its own Fw 190 escort, for launch only in emergency.
Specifications (Junkers Ju 88A-4)
Type: Four Seat Bomber / Dive Bomber (Secondary roles as close support, night fighter, torpedeo bomber, reconnaissance and pilotless missile)
Design: Junkers Flugzeug und Motorenworke AG (Design team led by two American designers temporarily employed by Junkers)
Manufacturer: Junkers Flugzeug und Motorenworke AG, dispersed among 14 plants with subcontract or assembly by ATG, Opel, Volkswagen and various French companies.
Powerplant: (A-4, C-6) Two 1,340 hp (999 kW) Junkers Jumo 211J 12-cylinder inverted Vee engines. (G-7) Two 1,880 hp (1402 kW) Junkers Jumo 213E 12-cylinder Vee engines. (S-1) Two 1,700 hp (1268 kW) BMW 801G 18-cylinder two row radial engines.
Performance: (A-4) Maximum speed 292 mph (470 km/h) at 17,390 ft (5300 m) or 269 mph (433 km/h) with maximum loadout; service ceiling 26,900 ft (8200 m); maximum cruising speed 248 mph (400 km/h) at 16,405 ft (5000 m); initial climb rate 1,312 ft (400 m) per minute. (C-6b) Maximum speed 300 mph (480 km/h); service ceiling 32,480 ft (9900 m); initial climb rate (approx.) 985 ft (300 m) per minute. (G-7b) Maximum speed 402 mph (643 km/h) without drop tank and flame dampers; service ceiling 28,870 ft (8800 m); climb rate 1,640 ft (500 m) per minute. (S-1) Maximum speed 373 mph (600 km/h); service ceiling 36,090 ft (11000 m); initial climb rate 1,804 ft (550 m) per minute.
Range: (A-4) 1,696 miles (2730 km) clean or 1,112 miles (1790 km) with full loadout. (C-6b) 1,243 miles (2000 km) with full loadout. (G-7a) 1,430 miles (2300 km) with full loadout. (S-1) 1,243 miles (2000 km) with full loadout.
Weight: (A-4) Empty equipped 21,737 lbs (9860 kg), empty clean 17,637 lbs (8000 kg) with a maximum take-off weight of 30,865 lbs (14000 kg). (C-6b) Empty clean 19,090 lbs (8660 kg) with a maximum take-off weight of 27,500 lbs (12485 kg). (G-7b) Empty clean 20,062 lbs (9100 kg) with a maximum take-off weight of 32,350 lbs (14690 kg). (S-1) Empty clean 18,300 lbs (8300 kg) with a maximum take-off weight of 23,100 lbs (10,490 kg).
Dimensions: (A-4) Span 65 ft 10 1/2 in (20.13 m); length 47 ft 2 1/4 in (14.40 m); height 15 ft 11 in (4.85 m); wing area 586.6 sq ft (54.50 sq m). Early versions had a wing span of 59 ft 10 3/4 inches.
Armament: (A-4) Two 7.92 mm (0.31 in) MG 81 (or one MG 81 and one 13 mm (0.51 in) MG 131) firing forward, twin MG 81 or one MG 131 upper rear, orne or two MG 81 at rear of ventral gondola and (later aircraft) two MG 81 at front of gondola. Could also carry 1,100 lbs (500 kg) of bombs internally and four external racks rated at (inner racks) 2,200 lbs (1000 kg) and (outer racks) 1,100 lbs (500 kg) to a total bombload of up to 6,614 lbs (3000 kg). (C-6b) Three 20 mm MG FF and three MG 17 in nose and two 20 mm MG 151/20 firing obliquely upward in 'Schrage Musik' installation. (G-7b) Four MG 151/20 (200 rounds each) firing forward from ventral fairing. Two MG 151/20 in 'Schrage Musik' installation (200 rounds each) and defensive MG 131 (500 rounds) swivelling in rear roof. (S-1) One MG MG 131 (500 rounds) swivelling in rear roof and up to 4,410 lbs (2000 kg) of bombs on external racks. The C-6b and G-7b did not carry bombs.
Variants: Ju 88A-0/A-17, Ju 88B/B-0 (bomber), Ju 88C-1/C-2/C-4/C-5/C-6a/C-6b/C-6c/C-7a/C-7b/C-7c, Ju 88R-1/R-2, Ju 88D-1 to D-5 (reconnaissance), Ju 88G (night fighter), Ju 88H/H-1/H-2, Ju 88P-1 to P-4, Ju 88S (bomber), Ju 88T (reconnaissance).
History: First flight (Ju 88V1) 21 December 1936, (first Ju 88A-1) 7 September 1939, (first night fighter, Ju 88C-0) July 1939, (Ju 88C-6) mid 1942, (first G-series) early 1944. (S-series) late 1943; final deliveries, only as factories were overrun by the Allies.
Operators: Germany (Luftwaffe), Finland, France, Hungary, Italy, Romania, Bulgaria (briefly).