Very few of the combat planes built in Japan during the war had in-line liquid-cooled engines. This was only partly due to the greater reliability of radial engines, which from many points of view were almost ideal for use in a theatre of war characterized by vast expanses of ocean. In practice however, this situation resulted from the lack of a specific technological tradition, a lack that prevented the Empire of the Rising Sun's aeronautical industry from keeping up with the more aeronautically advanced nations. This is proved by the fact that the construction of the most famous Japanese aircraft provided with an "in-line" engine (the Kawasaki Ki-61 Hien fighter, an aircraft with a remarkable performance) was made possible only by the availability of German Daimler-Benz DB 601 engines (the same as those of the Messerschmitt Bf 109) built under license.
The only other exception worthy of mention is the Ki-32 light bomber, also manufactured by Kawasaki in the second half of the 1930s. This aircraft, inspired by the same operative concepts that led, more or less at the same time, to the development of the Fairey Battle in Great Britain, was the last bomber in the Imperial army to be powered by a liquid-cooled engine. In fact, its career was plagued by difficulties in engine tuning that, apart from making it generally unreliable, contributed to increasing the widespread indifference toward this type of engine. From the second half of 1938 until May 1940, a total of 854 Kawasaki Ki-32s were built and, following their debut in combat during the second Sino-Japanese conflict, they remained in front-line service until the beginning of 1942, subsequently being relegated to training and secondary roles. In the Allies' code the Ki-32 was known as "Mary."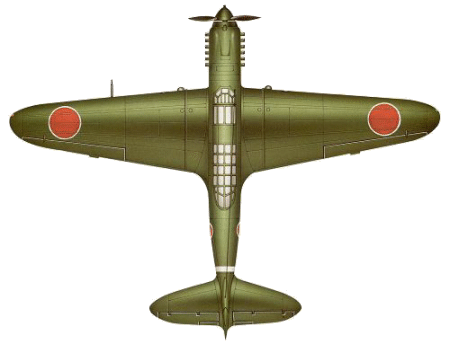 Kawasaki Ki-32 "Mary" of the 6th Sentai (6th Attack Group) Japanese Imperial Army Air Force - Manchuria 1941
The project was launched in May 1936, when the Imperial Army's technical authorities asked Kawasaki and Mitsubishi to develop a single-engine monoplane fighter capable of carrying a maximum of 992 lbs (450 kg) of bombs at 186 mph (300 km/h) and at an altitude between 6,550 ft (2000 m) and 13,150 ft (4000 m); maximum speed was to be 250 mph (400 km/h) at 9,850 ft (3000 m) and the defensive armament was to consist of two machine-guns. The prototypes presented were quite similar with the formula chosen in both cases was that of an all-metal mid-wing monoplane with fixed landing gear and a bomb hold inside the fuselage. The only difference lay in the power plants. While the Mitsubishi Ki-30 was provided with a 950 hp Nakajima Ha-5 14-cylinder radial engine, the Kawasaki Ki-32 was powered by an 850 hp Ha-9-11 "V-12" engine manufactured by the company itself.
The first of eight Ki-32 prototypes took to the air in March 1937, but right from the start of operative tests the aircraft revealed serious problems in tuning, caused by the unreliability of the engine, and these problems led to the project being suspended and set aside in favour of Mitsubishi's.
However, the threat of war led to a change of idea by the army's technical authorities. In 1938, it was decided to put Kawasaki bomber into production, too, and the first aircraft came off the assembly lines later in the year. Paradoxically, the number of Ki-32s built was much higher than that of its Mitsubishi rival, of which 704 were built up to September.
(Army Type 98 Single Engine Light Bomber - Kawasaki Ki-32)
Allied Codename: Mary
Type: Two Seat Light Bomber
Accommodation/Crew: Pilot and Radio-Operator/Bombardier in an enclosed cockpit.
Design: Isamu Imashi and Shiro Ota
Manufacturer: Kawasaki Kokuki Kogyo K.K. (Kawasaki Aircraft Engineering Company Limited) which was a wholly-owned subsidiary of Kawasaki Jukogyo K.K. (Kawasaki Heavy Industries Company Limited). Production was concentrated in two main plants, one manufacturing aircraft and engines at Akashi, near Kobe and the other at Kagamigahara (Gifu) near Nagoya which produced aircraft only. Smaller plants producing complete airframes were located at Ichinomiya, also near Nagoya and at Miyakonojo on Kyushu.
Powerplant: One Army Type 98 (Kawasaki Ha-9-IIb) V-12 liquid cooled piston engine rated at 850 hp (634 kW) for take-off, 775 hp (578 kW) at sea level and 950 hp (709 kW) at 12,470 ft (3800 m) driving a three-blade variable-pitch metal propeller.
Performance: Maximum speed 263 mph (423 km/h) at 12,925 ft (3840 m); cruising speed 186 mph (300 km/h); climb to 16,405 ft (5000 m) in 10 minutes 55 seconds; service ceiling 29,265 ft (8920 m).
Range: Normal operational range of 826 miles (1300 km) with a maximum range of 1,218 miles (1965 km).
Weights & Loadings: Empty 5,179 lbs (2349 kg) with a maximum take-off weight of 8,293 lbs (3762 kg). Normal loaded weight was 7,802 lbs (3539 kg). Wing loading 21.3 lbs/sq ft (104.1 kg/sq m) and power loading 9.2 lbs/hp (4.2 kg/hp).
Dimensions: Span 49 ft 2 9/16 in (15.00 m); length 38 ft 2 9/32 in (11.64 m); height 9 ft 6 3/16 in (2.90 m); wing area 365.972 sq ft (34.00 sq m).
Armament: One forward-firing 7.7 mm (0.303 in) Type 89 machine-gun in the engine cowling and one trainable rearward-firing 7.7 mm (0.303 in) Type 89 machine-gun and a normal bomb-load of 661 lbs (300 kg) with a maximum of 992 lbs (450 kg) of bombs.
Variants: Four production aircraft (March 1937) and 846 Ki-32 Army Type 98 production aircraft (July 1938 - May 1940).
Avionics: None.
History: First flight (prototype) March 1937; service delivery July 1938; production terminated in May 1940; withdrawn from front-line service in 1942 and then given employment in training units.
Operators: Japan (Imperial Japanese Army).
Units: 3rd, 6th, 10th, 35th, 45th, 65th and 75th Sentais.