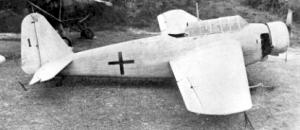 The Watanabe Ironworks Company was responsible for the design of a crew trainer to meet the requirements of the Imperial Japanese Navy, but by the time that the trainer was ordered into production this manufacturer had been reorganised as the Kyushu Aeroplane Company, explaining the designation of this aircraft as the Kyushu K11W. A mid-wing cantilever monoplane with retractable tailwheel landing gear, the K11W had a deep-section fuselage to provide the requisite accommodation for a complete bomber crew and an instructor. This was arranged with the pilot and radio-operator/gunner in a canopied cockpit above the wing, and with the instructor, bomb-aimer and navigator in a cabin below the wing. Power was provided by a 515 hp (384 kW) Hitachi GK2B Amakaze 21 (heavenly wing) 9-cylinder radial engine.

A Kyushu K11W Shiragiku of the Imperial Japanese Navy
The K11W1 prototype was first flown during November 1942, its early testing and service trials being completed quite quickly because only minor faults were found. Ordered into production as the Navy Operations Trainer Shiragiku (white chrysanthemum). Designed as an economical successor to the obsolete Mitsubishi K3M series, the first examples began to enter service in the summer of 1943, these carrying a rear-firing 7.7 mm (0.303 in) Type 92 machine-gun and two 66 lbs (30 kg) bombs for armament training. Used extensively by the navy, almost 800 had been built by August 1945, this total including a small number of an alternative version of all-wood construction which, designated K11W2, was built to fulfil ASW and transport roles. Like many Japanese aircraft, K11Ws were pressed into service for kamikaze attacks during the final stages of the war carrying a single 511 lbs (250 kg) bomb. The aircraft was nothing if not obscure and thus never was given an Allied code name, it is only superficially described even in Japanese-published references.
Variants
Kyushu K11W Shiragiku - The main production type with all-metal construction and fabric-covered control surfaces. 798 were built.
Kyushu K11W2 Shiragiku - Similar to the above but of all-wood construction and built primarily to fufil ASW and Transport roles. Only a small number were built.
(Navy Operations Trainer Shiragiku "White Chrysanthemum" - Kyushi K11W)
Allied Codename: None
Type: Five Seat Advanced Bomber Crew Trainer
Accommodation/Crew: Pilot and radio-operator/gunner in canopied cockpit above the wing with the instructor, bomb-aimer and navigator in a cabin below the wing.
Design: Watanabe Tekkosho KK Design Team
Manufacturer: Watanabe Tekkosho Kabushiki Kaisha (Watanabe Iron Works Limited) in Zatsushonokuma, Fukoaka, Japan. In 1942 the company was re-organised and renamed Kyushu Hikoki Kabushiki Kaisha.
Powerplant: One Hitachi GK2B Amakaze 21 9-cylinder radial piston engine rated at 515 hp (384 kW) for take-off and 480 hp (358 kW) at 4,921 ft (1500 m) driving a two-bladed metal propeller.
Performance: Maximum level speed 143 mph (230 km/h) at 5,580 ft (1700 m); cruising speed 109 mph (175 km/h) at 3,280 ft (1000 m); service ceiling 18,400 ft (5620 m); climb to 9,842 ft (3000 m) in 19 minutes 35 seconds.
Range: 1,094 miles (1760 km) on internal fuel.
Weight: Empty 3,697 lbs (1677 kg) with a normal take-off weight of 5,821 lbs (2,640 kg) and a maximum take-off weight of 6,173 lbs (2800 kg). Wing loading of 17.85 lbs/sq ft (86.6 kg/sq m); Power loading 11.2 lbs/hp (5.1 kg/hp).
Dimensions: Span 49 ft 1 3/4 in (14.98 m); length 33 ft 7 1/4 in (10.24 m); height 12 ft 10 3/4 in (3.93 m); wing area 328.31 sq ft (30.50 sq m).
Armament: One rear firing 7.7 mm (0.303 in) Type 92 machine-gun on a flexible mount plus two 66 lbs (30 kg) bombs when required for training purposes. When used in the kamikaze role a single 551 lbs (250 kg) bomb was used.
Variants: K11W1 (prototype), K11W (trainer), K11W2 (ASW & transport).
Equipment/Avionics: Standard communications and navigation equipment.
History: First flight (prototype) November 1942.
Operators: Japan (Imperial Japanese Navy).