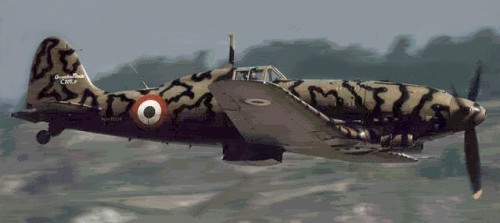 Fundamentally a developed version of the MC.202 the Macchi MC.205V prototype comprised a production MC.202 airframe with an imported Daimler Benz DB 605A engine of 1,475 hp (1100 kw). Flown for the first time on 19 April 1942, it was put into production immediately, but some delay resulted before Fiat's licence built version of the Daimler Benz engine, the RA.1050 RC.58 Tifone (typhoon), became available in significant numbers. As a result the production MC.205V Veltro (greyhound) did not become operational until mid-43, its first known action occurring in early July when the type was deployed in support of torpedo bombers attacking Allied naval forces off Sicily. Just two months later when the Italian government headed by Marshal Badoglio made peace with the Allies, the Regia Aeronautica had a total of 66 Veltros. Of this total only six gained allied airfields to serve with the Italian Co-Belligerent Air Force, the remainder being used by the Republican Socialist Italian Air Force.


Macchi MC.205V Veltro of the 1st Squadriglia, 1 Gruppo, Aeronautica Nazionale Repubblicana, late 1943
Production continued on a limited scale after the armistice and ultimately a total of 265 had been built. In addition to the production MC.205V, single prototypes had been built of an MC.205N-1 high altitude interceptor with an increased wingspan and armament comprising of one engine mounted 20 mm cannon and four fuselage mounted 12.7 mm (0.50 in) machine guns, and an alternative MC.205N-2 which differed only in having and armament of three 20 mm cannon and two 12.7 mm (0.50 in) machine guns. The construction prototype of an MC.206 with an increased wingspan and armament the same as the MC.205N-1, and a similar MC.207 which differed only by having four wing mounted 20 mm cannon, were never completed.
Regarded as the best Italian fighter of the war, the Veltro was capable of meeting on equal terms such renowned fighters as the North American P-51 Mustang, a capability which encouraged the Luftwaffe to use a number of these aircraft to equip one Gruppe.
(Macchi MC.205V Veltro "Greyhound")
Type: Single Seat Interceptor & Fighter Bomber
Design: Ingeniere Mario Casoldi of Aeronautica Macchi based on his design of the MC.202 Folgore
Manufacturer: Aeronautica Macchi with plants in Varese-Schiranna and Lonate Pozzolo
Powerplant: One 1,475 hp (1100 kw) Fiat RA.1050 RC.58 Tifone (typhoon) 12-cylinder inverted Vee engine.
Performance: Maximum speed 399 mph (642 km/h) at 23,620 ft (7200 m); cruising speed 310 mph (500 km/h); service ceiling 37,090 ft (16370 m).
Range: 646 miles (1040 km) with internal fuel stores.
Weight: Empty 5,691 lbs (2581 kg) with a maximum take-off weight of 7,514 lbs (3408 kg).
Dimensions: Span 34 ft 8 1/2 in (10.58 m); length 29 ft 1/2 in (8.58 m); height 9 ft 11 1/2 in (3.04 m); wing area 180.84 sq ft (16.80 sq m)
Armament: Two 12.7 mm (0.50 in) Breda-SAFAT machine guns in the upper cowling and two 7.7 mm (0.303 in) Breda-SAFAT machine guns mounted in the wings. Late series aircraft had the wing guns replaced with two 20 mm cannon.
Variants: MC.205 (production), MC.205N-1 (high altitude interceptor), MC.205N-2 (night fighter with alternative armament), MC206 (similar to the MC.205N-1), MC207 (four wing mounted 20 mm cannon - proposed but never built).
Operators: Italy (Regia Aeronautica, Aeronautica Cobelligerante de Sud, and Aeronautica Nazionale Repubblicana), Luftwaffe.