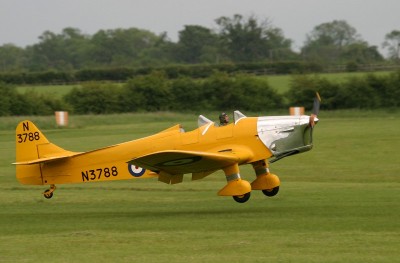 Following the success of the civil Miles Hawk Trainer, the Air Ministry drew up Specification T.40/36 for a development of the Hawk as an elementary trainer for the RAF. Design changes included the provision of larger cockpits and blind-flying equipment, production of the Miles M.14 Magister starting in early 1937 to the revised Specification T.37/37. Initial deliveries to the RAF were made in May 1937, these being the first low-wing monoplane trainers used in the history of the Royal Air Force. Also, it was also a radical departure from the declared policy of the Air Ministry that all future Service aircraft were to be of metal construction.

The Magister was, in addition, the first R.A.F. aeroplane in which magnesium alloy castings were used for stressed parts, and the first low-wing cantilever monoplane with full Air Ministry approval for acrobatic flying, including protracted spins. The Magister's spinning problem was soon rectified and modified aircraft and subsequent production aircraft had the designation M.14A.

At the time of the Magister's introduction, the first deliveries of Hurricanes and Spitfires were being made, and the new trainer, with its low-wing monoplane characteristics and split trailing-edge flaps, reproduced the handlings qualities of these types in a safe manner.

Built from 1937 to 1941, the total construction by Miles amounted to 1,293, and an additional 100 were built under licence in Turkey following the evaluation of four received from Miles. RAF contracts covered 1,229 aircraft, and other countries acquiring Magisters for military use included Eire (15), Egypt (42) and New Zealand (2). In addition, a number were supplied to civil customers, and after the end of World War 2 many ex RAF Magisters came on to the civil market under the designation Hawk Trainer III.
At the peak of RAF use Magisters equipped 16 Elementary Flying Training Schools and the Central Flying School, and were in use with the RAF commands, the last being retired in 1948; in addition, they saw service with the British army and the Fleet Air Arm.
General characteristics
Crew: 2, instructor & student
Length: 24 ft 7 in (7.51 m)
Wingspan: 33 ft 10 in (10.31 m)
Height: 9 ft 1 in (2.77 m)
Wing area: 176 ft² (16.3 m²)
Empty: 1,260 lb (570 kg)
Loaded: 1,863 lb (845 kg)
Powerplant: 1x de Havilland Gipsy Major 1 inverted Inline type, 130 hp (97 kW)

Performance
Maximum speed: 132 mph at 1,000 ft (212 km/h)
Range: 380 miles (610 km)
Service ceiling: 18,000 ft (5,500 m)
Rate of climb: 850 ft/min (260 m/min)
Wing loading: 10.6 lb/ft² (51.8 kg/m²)
Power/mass: 0.07 hp/lb (0.11 kW/kg)

Operators
Egypt, Ireland (Eire), New Zealand, Turkey, United Kingdom.