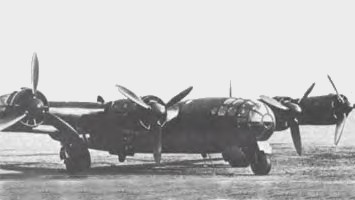 The Messerschmitt Me 264 Amerika (America) was a long-range strategic bomber aircraft developed during WW2 for the Luftwaffe under the Reichsluftfahrtministerium's "Amerika Bomber" programme.

The bomber was to be capable of flying from Germany to New York City and back. One prototype was made but production was abandoned to allow Messerschmitt to concentrate on fighter production and because the Junkers Ju 390 had been selected in its place for the Amerika Bomber.

The Me 264 had little armour and guns in the interest of increasing fuel capacity. The heavy bomber would have had a crew of 5-6.
It had four 1,700 HP BMW 801D 14-cylinder radials with GM-1 (nitrous oxide-laughing gas) boost on its 141 foot wings. The smooth fuselage measured 68.5 feet in length and it could weigh as much as 123,460 lbs. when fully loaded. 75-79,000 lbs. was normal. A 4,400 lb. bomb load could be carried at maximum range configuration. Four 13 mm Mg 131s and two 20 mm MG 151s were mounted for defensive purposes. Normal cruise was 217 MPH but at 75,000 lbs. it could haul at 351 MPH with the GM-1 on at its 27,230-foot ceiling.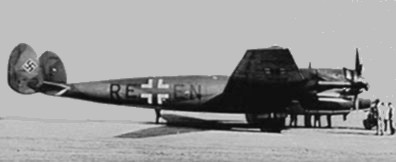 Specifications
Year deployed
Wing span, m
Length, m
Height, m
Wings area, m2
Weight, kg
empty aircraft
maximum take-off
Engine
Power, hp
Maximum speed, km/h
Cruising speed, km/h
Range, km
Rate of climb, m/min
Service ceiling, m
Crew
Armament:
1944
43.00
20.90
4.30
127.80

21150
56000
4 PE BMW 801D or G
4 У 1700
560

14900
120
- 8000
6-9
4 13-mm machine-gun MG 131
2 20-mm cannon MG 151
up to 2000 kg bombs