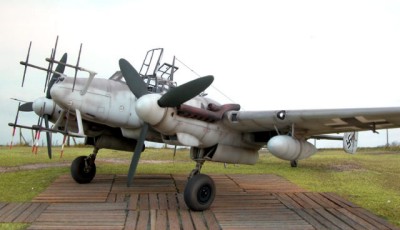 The Messerschmitt Bf 110 was an aircraft of mixed success. While a failure during the Battle of Britain as a fighter (for which it was initially designed as), it did enjoy success in other roles. Yet, this aircraft that did not match up to Luftwaffe expectations managed to serve Germany throughout the Second World War in long-range escort fighter, fighter-bomber, reconnaissance, ground attack and night fighter roles.
The long-range multi-seat escort fighter is possibly the most difficult of combat aircraft to design. Certainly no entirely successful machine in this category emerged from the Second World War, and when Professor Willy Messerschmitt began design studies for such a warplane towards the end of 1934 at the Bayerische Flugzeugwerke at Augsburg his problems would have seemed insurmountable had he possessed a full knowledge of interceptor fighter development trends abroad. Such a machine as was required by Marshal Goering to equip the elite "Zerstorer" formations that he envisaged had to be capable of penetrating deep into enemy territory, possessing sufficient range to accompany bomber formations. The fuel tankage necessary presented a serious weight penalty and called for the use of two engines if the "Zerstorer" was to achieve a performance approaching that of the lighter interceptor fighter by which it would be opposed. Yet it had to be manaoeuvrable if it was to successfully fend off the enemy's single seaters.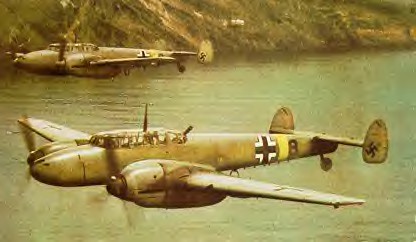 Messerschmitt possessed no previous experience with twin-engined military aircraft when he commenced work on the Bf 110. Indeed, his first warplane, the single seat Bf 109 , had been conceived only the previous summer. At the time, the most powerful aero engine of national design available was the Junkers Jumo 210A of 610 hp (455 kw). It was obvious from the outset that a pair of such engines would be inadequate to provide the power needed for the relatively large and heavy fighter envisaged. However, the Daimler-Benz Aktiengesellschaft was actively engaged in developing a new 12-cylinder liquid-cooled inverted-vee engine, the DB 600 , which held promise of 1,000 hp (746 kw) and on the premise that such engines would be available for his prototypes, Messerschmitt began the design of the Bf 110.
Designed to a 1934 requirement for a long range escort fighter, the first prototype Bf 110 made its initial flight on May 12, 1936. A key factor in the design was the use of two Daimler-Benz DB 600 engines; subsequent difficulty in obtaining enough of these to power development aircraft meant that the Bf 110 could not be tested during the Spanish Civil War. Nevertheless, one aircraft was tested at the Rechlin evaluation centre in 1937 and proved to be very fast, although not as manoeuvrable as hoped. Despite obvious shortcomings, the Bf 110 entered service in 1939 as the Bf 110C, powered by two 1100 hp (820 kw) DB 601A engines. Production was set up on a massive scale, and by the end of the year some 500 Bf 110s were flying operationally.
By the time Germany invaded Poland on September 1,1939, ten Luftwaffe Gruppen had been equipped with the heavy fighter. Owing to the limited aerial opposition the Bf 110C was largely employed in the ground-support role, and after the fall of Poland little was heard of this much-vaunted machine until, on December 14, 1939, it was encountered by a formation of twelve Wellingtons over the Heligoland Bight. But it was not until it was to come up against R.A.F. fighters in 1940 that the Bf 110C was to receive its first real trial in combat and to be found wanting.
As a long-range escort fighter the Bf 110C received a disastrous mauling at the hands of the more nimble Hurricane and Spitfire during the "Battle of Britain". Rather than protecting the bombers under escort, the Bf 110C formations usually found that they were hard put to defend themselves, and the farcical situation developed in which single-seat Bf 109E fighters were having to afford protection to the escort fighters. The complete failure of the Bf 110C in the role for which it had been conceived led to its eventual withdrawal from the Channel coast but did not result in any reduction in its production priority.
Against Polish PZL fighters and other European countries the aircraft fared well, but when used during the Battle of Britain to escort German bombers, Royal Air Force fighters dealt heavily with the aircraft, forcing the Luftwaffe to switch to short-range Bf 109s for escort duties. Although the Bf 110s had failed in this primary task, production continued at a high rate; by 1945 no fewer than 6,150 had been built, ranging from Bf 110As to Gs. As later models became available, the early Bf 110Cs and Ds were transferred to the Middle East and Eastern Front.
Both the "C" and "D" models had almost disappeared from the European theatre by the summer of 1941, although they were being used extensively on the Russian front and in the Middle East. Production during 1940 had risen to 1,083 machines, but with the impending introduction of the Me 210 only 784 machines were produced in the following year.
By the end of 1942, in which year 580 Bf 110s were produced, production of this aircraft had again been stepped up as, on April 17, production of the Me 210 was canceled after numerous accidents, thus leaving a serious gap in the Luftwaffe's fighter and fighter bomber production program. To fill the gap an improved version of the Bf 110 was introduced, the G-series with the DB 605 engine which provided 1,475 hp (1100 kw) for take-off and 1,355 hp (1011 kw) at 18,700 feet. The pre-production Bf 110G-0 fighter-bomber was delivered for service evaluation late in 1942, and from early in 1943 G-series machines were encountered in increasing numbers. Apart from its engines the first production model, the Bf 110G-1, was similar to earlier fighter-bomber variants, and the G-2 differed principally in the armament installed: two or four 20 mm. MG 151 cannon and four 7.92 mm. MG 17 in the nose plus two 7.92 mm. MG 81 in the rear cockpit.
The Bf 110Es were capable of carrying a respectable bomb load of 4,410 lbs (2000 kg) as fighter-bombers, while straight fighter and reconnaissance versions were also built. These, and later versions, were operated with a fair degree of success in many war zones. The Bf 110F was basically similar to the E, but two new variants were produced - the 110F-2 carrying rocket projectiles and the F-4 with two 30 mm cannon and an extra crew member for night fighting. The last version, the Bf 110G, was intended for use originally as a fighter-bomber but, in view of the success of the F-4 and the increasingly heavy attacks on Germany by Allied bombers, was employed mostly as a night fighter.
From time to time Bf 110G night fighters were used on day operations. They were first employed as close escort to the Scharnhorst and the Gneisenau off the Dutch coast and Heligoland Bight, and in the summer of 1943 they fought American day-bomber formations whenever the latter flew unescorted. The Bf 110G groups sustained heavy losses during these actions owing to their pilots, trained in night-fighting tactics, going in close before attacking and being met by the heavy defensive fire of the bombers. They were no match for American fighters escorting American B-17 and B-24 bombers over Berlin.
It was in a Bf 110 that Rudolf Hess, Deputy Fuhrer of Germany, flew solo to Scotland on the night of May 10, 1941 in the hope of negotiating peace terms with Britain, without Hitler's knowledge.


A Messerschmitt Bf 110G-4/R3 8th Staffel 3rd Nachtjagdgeschwader Belgium 1944
Specifications (Messerschmitt Bf 110G-4/R3)
Type: Two or Three Seat Night Fighter
Design: Willy Messerschmitt
Manufacturer: Bayerische Flugzeugwerke (after 1938 Messerschmitt AG)
Powerplant: Two 1,475 hp (1100 kw) Damlier-Benz DB 605B inverted V-12 piston engines.
Performance: Maximum speed 342 mph (550 km/h) at 22,900 ft (6980 m); cruising speed 317 mph (510 km/h) at 19,685 ft (6000 m); service ceiling 26,245 ft (6780 m); initial climb: to 18,045 ft (5500 m) in 8 minutes.
Range: 1,305 miles (2100 km) with two 66 Imperial Gallon drop tanks mounted under the wing outboard of the engines.
Fuel: (C-4/B) Fuel was provided in four tanks, located in the inner wings either side of the main spar. The forward tanks each held 373 litres (82 Imperial gallons), while the rear tanks each held 264 litres (58 Imperial gallons). Later versions could carry two drop tanks to increase range.
Weight: Empty 11,222 lbs (5090 kg) with a maximum take-off weight of 21,805 lbs (9890 kg).
Dimensions: Span 53 ft 3 3/4 in (16.25 m); length 42 ft 9 3/4 in (13.05 m); height 13 ft 8 1/2 in (4.18 m); wing area 413.35 sq ft (38.40 sq m).
Armament: Two 30 mm MK 108 cannon (135 rounds per gun) and two 20 mm MG 151 cannon (300 rounds (port) and 350 rounds (starboard)) in the nose, and two 20 mm MG 151 cannon in a trainable Schrage Musik mount in the rear cockpit. An option was the installation of a Waffenwanne 151Z ventral tray, housing two forward firing 20mm MG 151 cannon. Some aircraft had two 7.92 mm (0.31 in) MG 81 machine guns instead of the two 20 mm MG 151 in the rear cockpit. A small number of aircraft had provisions for 210 mm Wfr Gr 21 rockets under the wings. On models designated for fighter bomber service, ETC 50 racks were installed under the wings capable of carrying 2,645 lbs (1200 kg) of bombs.
Variants: Bf 110A-0 (three production aircraft), Bf 110B, Bf 110B-1/B-2/B-3 (initial production), Bf 110-C, Bf 110C-1 to Bf 110C-4, Bf 110C-4/B, Bf 110C-5 (reconnaissance), Bf 110C-6, Bf 110C-7 (fighter bomber), Bf 110D, Bf 110D-1/R-1 & Bf 110D-1/R-2 (long range escort fighters), Bf 110D-1/U-1 (night fighter), Bf 110D-2 (long range fighter bomber), Bf 110D-3 (convoy escort), Bf 110E (pre-production), Bf 110E-1 (production aircraft), Bf 110E-2 (fighter bomber), Bf 110E-3 (long range reconnaissance), Bf 110F (engine and armor upgrades), Bf 110F-0 to Bf 110F-1, Bf 110F-2 (converted to fire rockets but proved unsatisfactory), Bf 110F-3 to Bf 110F-4, Bf 110G, Bf 110G-0 to Bf 110G-4, Bf 110H, Bf 110G-0 to Bf 110G-4.
Avionics: FuG 10P R/T Set, FuB1 2F Airfield blind approach reciever, FuG 227/1 Flensburg Homing System (used to home in on British Monica tail warning radar emissions - only fitted to some aircraft), FuG 212 Lichtenstien C-1 Radar, FuG 220b Lichtenstien SN-2 Radar.
History: First flight (Bf 110V-1 prototype) 12 May 1936; (pre-production Bf 110C-0) February 1939; operational service with Bf 110C-1, April 1939; final run down of production (Bf 110H-2/H-4) February 1945.
Operators: Germany (Luftwaffe), Hungary, Italy, Romania.