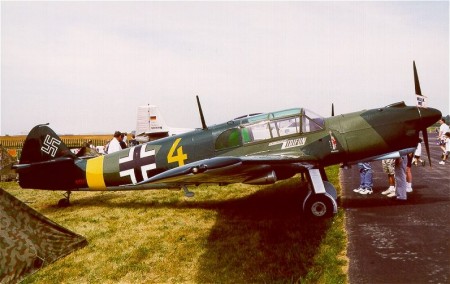 First founded in 1926 as the Bayerische Flugzeugwerke (Bavarian Aircraft Works) at Augsburg with Willy Messerschmitt as its Technical Director. It was the successor to the Udet Flugzeugbau GmbH of Munchen and the former Bayerische Rumpler Werke at Haunstetten, south of Augsburg. The company's financial difficulties began with a contract with Deutsche Lufthansa over the purchase of 10 civil M.20 transports. The Director of Deutsche Lufthansa, Erhard Milch (who disliked Willy Messerschmitt and his company) cancelled the order after the crash of the prototype on 26 February 1928, and forced Bayerische Flugzeugwerke to pay back the deposit Lufthansa had given them. Infuriated by the cancellation and now on the verge of bankruptcy, Messerschmitt went ahead with the building of the second prototype, flying it successfully on 3 August 1928. With help from the State Air Ministry, Willy Messerschmitt "convinced" Lufthansa in April 1933 to accept delivery of the second prototype and eventually 14 more aircraft. This decision put Erhard Milch (by this time the Deputy Minister for Aviation) and Willy Messerschmitt on a collision course. Milch at this time, told Messerschmitt that he would never get any government contracts for his own aircraft, but only orders to build under licence, aircraft designed by other companies.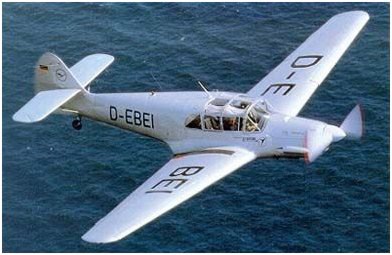 The Messerschmitt Bf 108 Taifun "Typhoon" which is owned and flown by Lufthansa
On 1 May 1933 the company was once again reformed under the name Messerschmitt Flugzeugbau GmbH of Bamberg, with Willy Messerschmitt as its Lead Technical Director and Chief Executive Officer. The firm later reverted to its former title (Bayerische Flugzeugwerke) and style of operating (but in 11 July 1938 it was reconstituted as Messerschmitt AG). The company now devoid of domestic orders (thanks to Milch) turned to foreign markets and the export business. A Romanian order for the design of the M.36 transport, as well as a future licence to build them as the IAR 36 and further interest to develop and later build a two-seat trainer for the Romanian Air Force brought Erhard Milch to openly criticize Messerschmitt for favouring foreign orders over German ones. This was the moment Willy Messerschmitt had been waiting for. He started to state publicly that the only reason he seeked foreign orders was because no domestic orders were forthcoming. As a result Bayerische Flugzeugwerke and Willy Messerschmitt received an contract to build six aircraft to compete in the 4th Challenge de Tourisme International in 1934.
The Messerschmitt M.37 was developed from his previous design of the M.35 two-seat aerobatic aircraft. The M.37 (later given the RLM designation Bf 108) was a cantilever low-wing monoplane of basically all-metal construction with an enclosed two-seat cabin, tailskid landing gear with retractable main unit. First flown in prototype form in June 1934, it was a considerable advance on contemporary touring aircraft. Six aircraft were built with 225 hp (168 kW) Hirth HM8U engines driving a three-bladed propeller. A seventh Bf 108A, as the first series was designated, had a 220 hp (l64 kW) Argus As 17B engine.
While training for the contest one of the Bf 108As crashed, and pressure by the German team manager almost caused the type's withdrawal. However, four did go on to compete, but unsuccessfully, since the handicapping favored lighter aircraft. Their all-metal construction made them considerably heavier than their wood and fabric competitors. However in spite this, its good handling and high performance did not go unnoticed.
The high performance of the Bf 108 led to a number of record flights and some contest success. A German woman pilot, Elly Beinhorn, made a return flight from Berlin to Constantinople in one day during 1935 using a Bf 108A named Taifun (typhoon), a name which was adopted subsequently for the type.
In 1935 the Bf 108B appeared with a 240 hp (179 kW) Argus As 10C engine, with modifications to the fin and rudder, removal of upper external tailplane bracing and the substitution of a tail wheel for the skid. A 160 hp (119 kW) Siemens Sh 14A radial engine was tried on one aircraft (D-IELE) experimentally but this proved unsuitable.
Bf 108s competed in aviation rallies held during the 1936 Olympic Games, and in the following year Elly Beinhorn was in the news again when she flew from Berlin to Capetown and back. The Bf 108 was entered in many air races during the late 1930s winning several including the International Air Meets at Hoggar in January 1938, the Konigin-Astrid-Rennen, Belgium in July 1938 and Dinard in August 1938.
The obvious sterling qualities of the Bf 108 were not overlooked by the Luftwaffe, and the type was adopted and evolved into a four-seat communications and liasion aircraft. Others were exported to various countries and two former German embassy aircraft were impressed into RAF service during the war, while a few others served with the RAF for a short time after the end of the war.
Early production aircraft had been built at Augsburg in the BFW factory (hence the Bf of the designation) but this became Messerschmitt AG in July 1938. By that time, production had been moved to a new factory at Regensburg, and more than 500 had been built by 1942 when another move was made, this time to the SNCAN factory at Les Mureaux, near Paris.
Although several further variants of the design were proposed, only one was built before the end of the war. This was the Me 208, which had retractable tricycle landing gear but was otherwise very similar in appearance to its predecessor. Of the two prototypes built one was destroyed in an air raid, but the design lived on after the war, developed as the Nord 1101 Noralpha. The Bf 108 also received a new lease of life, entering production at Les Mureaux after the war as the Nord 1000 Pingouin (penguin) series. The Nord 1001 had a 233 hp (174 kW) Renault 6Q-11 engine, while the Nord 1002 had a similar powered Renault 6Q-10. Other projected developments were not built.
In the spring of 1939 funds were allotted to the US Military Attaché for Air in Berlin, Germany for the local purchase of an airplane for liaison and staff flying. The aircraft purchased was a Messerschmitt Bf 108B Taifun (contract W-535-AC). The plane was a standard production version costing 14,378 dollars. Once delivered, the plane was designated XC-44 and assigned the serial number 39-718. The aircraft was delivered in March 1939 and accumulated 76 flying hours during the next six months. On 15 November 1940 the German government took control of the aircraft after the US Military Attaché left Germany.
By the end of the war, Bf 108 production in Germany and France totalled 885, and some 285 were built post-war in France. A few original Bf 108s and some Nord-built examples are still flying today.
Variants
Messerschmitt M.37 (later Bf 108 Taifun) - Until the outbreak of World War II, Willy Messerschmitt's M.35 proved to be one the worlds most outstanding aerobatic aircraft. From that design he developed the M.37 for competition in the 4th Challenge de Tourisme Internationale of 1934. Six aircraft were built, with the first prototype being flown in June 1934. Setting many records, most notably was an aircraft with the name "Taifun" flown by female pilot Elly Beinhorn on her record breaking flight from Berlin to Constantinople in 1935. The name stuck, and the type was later redesignated the Bf 108 Taifun or "Typhoon".
Messerschmitt Bf 108A - The production Bf 108A proved unsuccessful in the Challenge de Tourisme Internationale, with the handicapping system favouring lighter and less advanced designs. It nonetheless continued to set records and gain attention. The Luftwaffe adopted the aircraft for communication, supply and target towing. It was also exported in some numbers to Bulgaria, Hungary, Japan, Romania, Soviet Union, Switzerland and Yugoslavia. Two aircraft used by the German Embassy in Britian were taken over by the Royal Air Force when war broke out and impressed into service under the designation Messerschmitt Aldon. Several Bf 108s continued to fly with the RAF after the war as well.
Messerschmitt Bf 108B - This was a major production version with a number of improvements, including a tailwheel replacing the tailskid and powered by the 240 hp (179 kW) Argus As 10C engine.
Messerschmitt Bf 108C - This was a proposed high speed version with a 400 hp (298 kW) Hirth HM 512 engine. It was never built.
Messerschmitt Bf 208 - This was an improved version with retractable tricycle landing gear. Two prototypes were built by SNCAN near Paris during the war, one of which was destroyed in an air raid.
SNCAN (Nord) 1001 Pingouin I (Penguin) - The was the first in the Nord 1000 Series which started production in 1945. It was a three-seat version of the Bf 108 built by SNCAN (Nord) in Les Mureaux near Paris replacing the standard Argus engine with the 233 hp (174 kW) Renault 6Q-11 engine.
SNCAN (Nord) 1002 Pingouin II (Penguin) - Similiar to the SNCAN (Nord) 1001 Pingouin but using a Renault 6Q-10 engine of similiar power but providing four-seat accomodation. About 250 Pingouin Is and IIs were built, most of them ending up with the French Armed Services who used them in communication and liaison roles.
SNCAN (Nord) 1100 Noralpha - During 1943-44 Nord built two prototypes of the Messerschmitt Me 208 for the Germans, which differed from the Bf 108 by introducing retractable tricycle landing. Only one servived the war, and it was liberated by the French who redesignated it the sole Nord 1100 Noralpha.
SNCAN (Nord) 1101 Ramier I (Woodpidgeon) - Based on the single captured Me 208 (Nord 1100 Noralpha), the Societé Nationale de Constructions Aeronautiques du Nord (SNCAN) produced post-war the Nord 1101 Ramier I with a Renault 6Q-10 engine.
SNCAN (Nord) 1102 Ramier II (Woodpidgeon) - Similar to the above with with a Renault 6Q-11 engine. Of the Nord 1100 Series about 200 aircraft were produced for the French Armed Services.
SNCAN (Nord) N1104 Noralpha - A single aircraft used to flight test a 240 hp (179 kW) Potez 6Dba engine.
SNCAN (Nord) N1110 Nord-Astazou - Two Nord 1101 Ramier Is were converted for flight testing with the Turboméca Astazou turboshaft engine.
Specifications (Messerschmitt Bf 108B Taifun "Typhoon")
Type: Four Seat Communications & Liaison
Accommodation/Crew: Pilot and up to three passengers with a baggage compartment behind the rear seats
Design: Willy Messerschmitt of Bayerische Flugzeugwerke A.G.
Manufacturer: Bayerische Flugzeugwerke A.G. (in 1938 it was renamed to Messerschmitt A.G.) in Augsburg then production was moved to a new plant in Regensburg. Also built by Societé Nationale de Constructions Aeronautiques du Nord (SNCAN) in Les Mureaux near Paris which continued to build the type after the war
Powerplant: One 240 hp (179 kW) Argus As 10C 8-cylinder inverted-Vee piston engine driving a three-bladed propeller. Oil tank capacity 3.4 Imperial gallons (15.5 litres).
Performance: Maximum speed 186 mph (300 km/h) at 5,005 ft (1525m); cruising speed 161 mph (260 km/h) at 8,005 ft (2440 m); service ceiling 19,685 ft (6000 m).
Fuel Capacity: 48.4 Imperial Gallons (58.1 US Gallons or 220 liters).
Range: 621 miles (1000 km) with internal fuel.
Weight: Empty 1,941 lbs (880 kg) with a maximum take-off weight of 2,987 lbs (1355 kg).
Dimensions: Span 34 ft 10 in (10.62 m); length 27 ft 2 1/2 in (8.29 m); height 7 ft 6 1/2 in (2.30 m); wing area 176.53 sq ft (16.40 sq m).
Armament: None.
Variants: Messerschmitt M.37, Bf 108 Taifun, Bf 108A, Bf 108B, Bf 108C, Bf 208, Nord 1000 Series, Nord 1100 Noralpha, Nord 1100 Series, N1104 Noralpha, N1110 Nord-Astazou.
Equipment/Avionics: Standard communications equipment only.
History: First flight (Bf 108 prototype) June 1934; first flight (N1101 Nord-Astazou F-WJDQ) 15 October 1959.
Operators: Germany (Luftwaffe), Bulgaria (6), Hungary (6), Romania (6), Britian (2), Yugoslavia (12), Chile (1), Japan (1), Spain (1), Austria (4), Soviet Union (2), Australia (1), Switzerland (12), United States (1). France (285 built by Nord post-war).