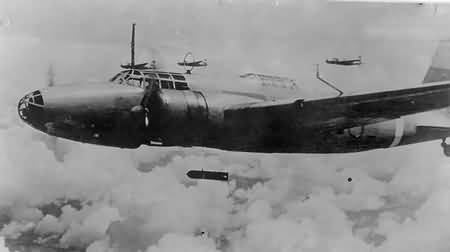 Winning a production order in November 1937, following competition with Nakajima's Ki-19 prototype, the Mitsubishi Ki-21 was designed and built to meet an Imperial Japanese Army requirement of early 1936 for a four-seat bomber that would have a maximum speed of at least 249 mph (400 km/h) and an endurance of more than 5 hours. Few twin-engine bombers anywhere in the world could exceed such performance at that time and, not surprisingly, the Ki-21 was later recognised as the best bomber in Japanese service during World War II. A cantilever mid-wing monoplane of all-metal construction, the design incorporated retractable tailwheel landing gear, a ventral bomb bay and two radial engines, one mounted in a nacelle at the leading edge of each wing. As first flown, on 18 December 1936, the Ki-21 had 825 hp (615 kW) Mitsubishi Ha-6 radial engines, but competitive evaluation against the Nakajima Ki-19 powered by that company's Ha-5 engine led the army to instruct Mitsubishi to introduce similar engines on the Ki-21. When the aircraft had been tested again with revised vertical tail surfaces and these more powerful engines, the army had no hesitation in ordering the aircraft into production under the designation Army Type 97 Heavy Bomber Model 1A, company designation Mitsubishi Ki-21-Ia. The first of the production aircraft began to enter service in the summer of 1938 but, when used operationally in China later that year , they were soon found to be lacking in defensive armament and self-sealing fuel tanks.

Improved versions were developed to overcome these and other shortcomings, the Ki-21-Ib introducing revised horizontal tail surfaces, larger area trailing-edge flaps, an enlarged bomb bay and armament increased to a total of five 7.7 mm (0.303 in) machine-guns. The generally similar Ki-21-Ic differed by having increased fuel capacity and the addition of one more 7.7 mm (0.31 in) gun. To increase performance four improved Ki-21-Ics were given more powerful Mitsubishi Ha-101 engines and these, redesignated Ki-21-II, were used for service trials. Ordered into production as the Army Type 97 Heavy Bomber Model 2A (Mitsubishi Ki-21-IIa), this version was operated by most of the army's heavy bomber groups at the beginning of the Pacific war. These aircraft played a significant role in. the opening phase of the war, but as Allied resistance began to increase and bomber crews found themselves confronted by fighter aircraft of increased quality and in greater quantity, Ki-21 losses began to rise steeply. Further revisions of defensive armament were made, the Ki-21-IIb replacing the dorsal gun position by a manually operated gun turret containing one 12.7 mm (0.50 in) machine-gun, and this version also introduced redesigned cockpit canopies and individual engine exhaust stacks to give some thrust augmentation. However, it soon became clear that the Ki-21 was gradually becoming obsolescent, and during the last year of the war the maj6rity were relegated to second-line duties. Allocated the Allied codename 'Sally', the Ki-21 was built to a total of 2,064 by Mitsubishi (1,713) and Nakajima (351). From this total a number of Ki-21-la aircraft were modified to serve as freight transports for use by Greater Japan Air Lines. Designated MC-20, these aircraft had all armament and military equipment removed and could, if required, be fitted with nine troop seats.
Variants
Ki-21-I - Prototype, powered by the Nakajima Ha-5 engine, demonstrated performance equal to any of the world's contemporary bombers in the same category.
Ki-21-Ia - It was ordered into production as the Army Type 97 Heavy Bomber Model 1A (Mitsubishi Ki-21-la), enter ing service in the summer of 1938. Operational experience in China showed the type to be deficient in armament, leading to the improved Ki-21-lb.
Ki-21-Ib - With five instead of three machine-guns and an enlarged bomb bay.
Ki-21-Ic - With increased fuel capacity and one extra machine-gun.
Ki-21-II - Continuing development brought four Ki-21-11 prototypes, introducing more powerful Mitsubishi Ha-101 engines.
Ki-21-IIa - With the same armament as the Ki-21-lc this model (Ki-21-II) entered production as the Ki-21-lla.
Ki-21-IIb - Final production version was the generally similar Ki-21-llb which incorporated some refinements.
MC-20-I and Army Type 100 Transport Model 1 (Ki-57 "Topsy") - In addition to the military Ki-21s, about 100 Ki-21-la aircraft were later converted for use as unarmed civil freighter/transports.
MC-20-II and Army Type 100 Transport Model 2 (Ki-57 "Topsy") - An improved model with Mitsubishi Ha-102 radials in redesigned nacelles. Also incorporated a number of detail refinements and equipment changes. About 406 aircraft were built before production ended in January 1945.
L4M1 (Ki-57 "Topsy") - A small number of MC-20-I aircraft transferred to the Japanese Navy.
(Army Type 97 Heavy Bomber Model 1A - Mitsubishi Ki-21-IIb)
Allied Codename: Sally
Type: Five or Seven Seat Heavy Bomber
Design: Mitsubishi Design Team
Manufacturer: Mitsubishi Jukogyo KK, also built by Nakajima Kikoki KK
Powerplant: (Ki-21-I) Two 850 hp (634 kW) Nakajima Ha-5-Kai 14-cylinder two row radial engines. (Ki-21-IIb) Two 1,500 hp (1119 kW) Mitsubishi Ha-101 14-cylinder radial engines.
Performance: Maximum speed 301 mph (485 km/h) at 15,485 ft (4720 m); service ceiling 32,810 ft (10000 m); initial rate of climb 1,640 ft (500 m) per minute.
Range: 1,678 miles (2700 km) on internal fuel.
Weight: Empty 13,382 lbs (6070 kg) with a maximum take-off weight of 23,391 lbs (10610 kg).
Dimensions: Span 73 ft 9 3/4 in (22.50 m); length 52 ft 6 in (16.00 m); height 15 ft 11 in (4.85 m); wing area 749.19 sq ft (69.60 sq m).
Armament: Five 7.7 mm (0.303 in) Type 89 machine-guns (in nose, ventral, tail, and port and starboard beam positions) and one 12.7 mm (0.50 in) Type 1 machine-gun in dorsal turret plus up to 2,205 lbs (1000 kg) of bombs.
Variants: Ki-21-I (prototype), Army Type 97 Heavy Bomber Model 1A (Mitsubishi Ki-21-Ia), Ki-21-Ib, Ki-21-Ic, Ki-21-II, Ki-21-IIa, Ki-21-IIb, MC-20 (Ki-57) unarmed transport. (See Mitsubishi Ki-57 in transport section).
Avionics: None.
History: First flight November 1936; service delivery 1937; first flight (Ki-21-II) mid-1940; final delivery September 1944.
Operators: Japan (Imperial Japanese Army), Thailand.