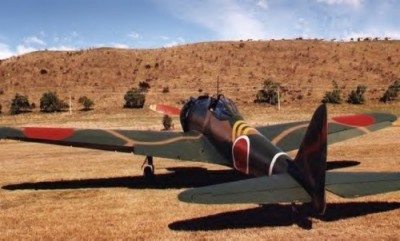 A restored Nakajima Ki-43 Hayabusa "Oscar" in California
In December 1939 Nakajima was instructed by the Imperial Japanese Army to initiate development of a more advanced fighter to supersede the company's own Ki-27, the first of three prototypes making its maiden flight during January 1939. A cantilever low-wing monoplane, this Nakajima Ki-43 had retractable tailwheel landing gear, seated its pilot in an enclosed cockpit and was powered by Nakajima's new supercharged Ha-25 Sakae radial engine with a take off rating of 975 hp (727 kw). Service testing of the prototypes showed that the type met the specification, but manoeuvrability was so poor that, at one time, it seemed the new fighter was unlikely to be accepted by the army. However, 10 pre-production aircraft were ordered and in attempts to improved manoeuvrability, modifications were introduced. These included increased wing area, weight reduction and finally, the incorporation of manoeuvrability or so-called combat flaps. This proved to be the answer to the problem, to the extent that the type was ordered into production as the Army Type 1 Fighter Model 1A Hayabusa (Perigrine Falcon), company designation Ki-43-1a.


Nakajima Ki-43-Ic of HQ Chutai, 64th Sentai, Chiengmai, northern Thailand in March 1942
This version was armed with two 7.7 mm (0.303 in) machine guns and carried two 33 lbs (15 kg) bombs on external racks, but two sub-variants differed in armaments, the Ki-43-1b having one 7.7 mm (0.303 in) and one 12.7 mm (0.50 in) and the Ki-43-1c two 2.7 mm (0.50 in) machine guns. Production started March 1941 and when the K-43 began to reach operational units it proved to be by far the most manoeuvrable fighter in the army's inventory, enjoying considerable success in the early stages of the Pacific war. With the advent of more effective allied fighters, however, the Ki-43's shortcomings became apparent, leading first to the construction of five Ki-43-II prototypes for evaluation. These introduced the more powerful Nakajima Ha-115 engine, some armour protection for the pilot, and an early form of self-sealing fuel tanks.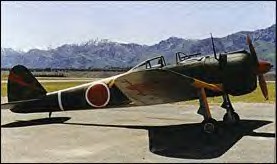 Satisfactory testing brought construction of the initial Ki-43-IIa production version which had reduced wing span, a modified canopy, machine gun armament as for the Ki-43-Ic, and two underwing racks each able to carry a 551 lbs (250 kg) bomb. Late series aircraft, designated Ki-43-IIb (also known as the Ki-43-II Otsu), were generally similar but for some equipment changes, and the final production Ki-II-KAI incorporated the progressive modifications introduced on the Ki-43-IIa and Ki-43-IIb aircraft. Further development followed with the construction of 10 Ki-43-IIIa prototypes, which which were similar to the Ki-43-II KAI except for introducing the 1,150 hp (858 kw) Nakajima Ha-115-II to give improved performance at rated altitude, and two Ki-43-IIIb interceptor prototypes with the 1,300 hp (969 kw) Mitsubishi Ha-112 engine and forward firing machine armament of two 20 mm cannon, but neither of these versions entered production before the Pacific war ended.
Allocated the Allied codename 'Oscar', the Hayabusa remained in service from the beginning to the end of the war, taking active part in operations for the defence of Tokyo and by use in a Kamikaze role. Production had totalled 5,919 by wars end, with (3,239) built by Nakajima, (2,631) built by Tachikawa and 49 aircraft built by the Army Air Arsenal at Tachikawa.
(Army Type 1 Fighter Model 1A Hayabusa "Perigrine Falcon" - Nakajima Ki-43-IIb or Ki-43-II Otsu)
Allied Codename: Oscar
Type: Single Seat Fighter & Fighter Bomber
Powerplant: One 1,150 hp (858 kw) Nakajima Ha-115 14-cylinder radial piston engine.
Performance: Maximum speed 329 mph (530 km/h) at 13,125 ft (400 m); cruising speed 273 mph (440 km/h); service ceiling 36,745 ft (11200 m).
Range: 1,988 miles (3200 km) with external fuel stores.
Weight: Empty 4,211 lbs (1910 kg) with a maximum take-off weight of 5,710 lbs (2590 kg).
Dimensions: Span 35 ft 6 3/4 in (10.84 m); length 29 ft 3 1/4 in (8.92 m); height 10 ft 8 3/4 in (3.27 m); wing area 230.36 sq ft
(21.40 sq m).
Armament: Two 12.7 mm (0.50 in) forward firing machine guns, plus two bombs up to 551 lbs (250 kg) in weight on underwing racks.
Variants: Ki-43 (prototype), Ki-43-1a (Army type I Fighter Model 1A Hayabusa production aircraft) , Ki-43-1b, Ki-43-1c, Ki-43-II (five prototypes for evaluation), Ki-43-11a (production aircraft), Ki-43-11b, Ki-43-11 KAI, Ki-43-111a (prototype with a more powerful engine), Ki-43-111b (proposed interceptor with only cannon but it never entered service).
Operators: Japanese Army, Thailand.