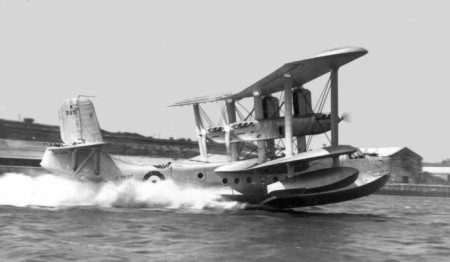 Short Brothers had great hopes the Short S.5 Singapore I prototype, but its primary claim to fame is that it was used by Alan Cobham for his 23,000 mile (37015 km) survey flight around the African continent. The S.12 Singapore II of 1930 was no more successful, but the S.19 Singapore III submitted to fill the Air Ministry Specification R.3/33 was rewarded with an order. Largest of the RAF's pre-war biplane flying-boats still in service at the outbreak of World War II, the Short S.19 Singapore Mk III was powered by two tractor and two pusher Rolls-Royce Kestrel engines, mounted in back-to-back pairs.

Development of the Singapore's basic design began with the Mk I of 1926, and was followed by the Mk II of 1930, which did not go into production. The Mk III was Short's submission to Specification R.3/33 of which four development aircraft were ordered and the first flew in July 1934. This batch underwent trials at the Marine Aircraft Experimental Establishment, Felixstowe, and, following the completion of these, a production order was issued against a new specification, R.14/34. Contracts followed in batches, and production ceased with the 37th aircraft in June 1937.
The four development aircraft were delivered to squadrons for operational training, and the first production Singapore Mk III flew in March 1935. Deliveries began to No. 230 Squadron at Pembroke Dock in April 1935, and other Singapore Mk Ills went to Nos 203, 205, 209 and 210 Squadrons.
Nineteen Singapores were still in service at the outbreak of World War II with Nos. 203 and 205 Squadrons. The last operations were flown by No. 205 Squadron in October 1941 before the squadron received the Consolidated Catalina. No. 203 Squadron received Blenheims in March 1940 and other squadrons received the Short Sunderland.
Specifications (Short S.19 Singapore Mk III)
Type: Six Seat General Reconnaissance Flying Boat
Design: Saunders-Roe Design Team
Manufacturer: Saunders-Roe Aircraft Company
Powerplant: Four 560 hp (418 kW) Rolls-Royce Kestrel VIII/IX V-12 inline piston engines.
Performance: Maximum speed 145 mph (233 km/h) at 2,000 ft (610 m); cruising speed 105 mph (169 km/h); service ceiling 15,000 ft (4572 m).
Range: 1,000 miles (1609 km) with internal fuel.
Weight: Empty 18,420 lbs (8355 kg) with a maximum take-off weight of 27,500 lbs (12475 kg).
Dimensions: Span 90 ft 0 in (27.43 m); length 76 ft 0 in (23.16 m); height 23 ft 7 in (7.19 m); wing area 1,834.0 sq ft (170.38 sq m).
Armament: Three 7.7 mm (0.303 in) Lewis machine-guns with one in the nose, dorsal and tail positions plus up to 2,000 lbs (907 kg) of bombs.
Variants: S.5 Singapore Mk I, S.12 Singapore Mk II, S.19 Singapore Mk III.
Avionics: None.
History: First flight (prototype) July 1934; first delivery (Mk III production) March 1935; last operation sorties October 1941.
Operators: United Kingdom (RAF Coastal Command).