In the USA in the late 1930s, the Taylorcraft Company enjoyed considerable success with its Models B, C, and D light civil aircraft. They were so successful that In 1938 Alexander Lance Wykes a local Leicestershire businessman, travelled to North America and negotiated a licence agreement to build an American designed light aircraft in England. The licence obtained was for the manufacture of the Taylorcraft Model B Aeroplane and on the 21 November 1938 Taylorcraft Aeroplanes (England) Limited was registered as a Private company with both production and selling rights for the British Empire and Europe. Construction commenced in rented premises at the Britannia Works during February 1939. The first aircraft was completed by 24 April 1939 and registered as G-AFNW.
Six American-built Model As were imported into Britain, followed by one Model B, and these were typical of the aircraft to be built by the new company at Thurmaston. Of braced high-wing monoplane configuration, with a fabric-covered wing of composite wood and metal construction, the aircraft featured a fuselage and tail unit that were of welded steel tube with fabric covering. Accommodation within the enclosed cabin was for two persons, seated side by side, and landing gear was of basic non-retractable tailwheel type, with main unit shock absorption by rubber bungee. Powerplant of the imported Model As consisted of one 40 hp (30 kW) Continental A-40 flat-four engine, and the Model B differed by having a 50 hp (37 kW) A-50 engine from the same manufacturer.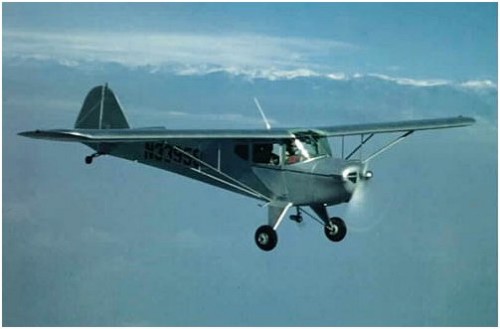 An civil Auster in flight. Civil use was the original intention of the licence agreement
The British-built equivalent to the Model A was designated originally Model C, but this was soon to be redesignated Auster Plus C, reflecting the improved performance resulting from the installation of a 55 hp (41 kW) Lycoming O-145-A2 engine. Including the prototype (G-AFNW), 23 Plus Cs were built. With a 90 hp (67 kW) Cirrus Minor I engine, the designation changed to Plus D, and nine civil aircraft were completed as such before the outbreak of World War II.
Of the 32 British-built aircraft mentioned above, 20 of the Plus Cs and four of the Plus Ds were impressed for service with the RAF. The Plus Cs, re-engined with the Cirrus Minor for RAF use, became redesignated Plus C.2. Most of these aircraft were used by No. 651 Squadron for evaluation of their suitability for deployment in AOP (Air Observation Post) and communications roles. This led to an initial order for 100 generally similar aircraft for military use under the designation Auster Mk l. The name Auster is latin for "warm southern wind".
Other than provision of split trailing-edge flaps to improve short-field performance, Austers were to change little throughout the war. During this time more than 1,600 were built for service use under the designations Auster Mk I, Mk III, Mk IV and Mk V, with the Auster I entering service with No. 654 Squadron in August 1942. Only two Auster Mk IIs, with 130 hp (97 kW) Lycoming 0-290 engines were built because of a shortage of the American powerplant. This led to the Auster Mk III, which was basically identical to the Auster Mk I but with a 130 hp (97 kW) Gipsy Major I engine. The 470 Auster Mk IIIs were followed by 254 Auster Mk IVs, which re-verted to the Lycoming engine, and introduced a slightly larger cabin to provide space for a third seat. Major production version was the Auster Mk V, of which approximately 800 were built, and this differed from the Auster IV by introducing blind-flying instrumentation.
At the height of their utilization, Austers equipped Nos. 652, 653, 657, 658, 659, 660, 661, 662, 664 and 665 Squadrons of the 2nd Tactical Air Force, and Nos 651, 654, 655, 656, 663, 666, 671, 672 and 673 Squadrons of the Desert Air Force. They were also used in small numbers by associated Canadian and Dutch squadrons. Their initial deployment in an operational role was during the invasion of Algeria. and they were to prove an indispensable tool in the Sicilian and Italian campaigns. Just three weeks after D-Day, these unarmed light planes were in the forefront of the action as the Allied armies advanced into France. Flown by British Army officers, who had been trained by the RAF for service with the AOP (Air Observation Post) squadrons, the Austers not only spotted for the artillery, but a suitably equipped version also provided photographic evidence of the effectiveness of the artillery action.
Auster Aircraft Company - Auster A.O.P. 6
The use of aircraft as air observation posts for the army had its origins in World War I, and in World War II a considerable number of American light aircraft types were pressed into service for this purpose. In the UK, developments of the pre-war US Taylorcraft design had resulted in a series of aircraft from that company which was re-named Auster Aircraft in March 1946. Last of the type to serve was the Auster Mk V with a 130 hp (97 kW) Avco Lycoming engine.
As the end of the war approached, it was decided to build a replacement for the Auster Mk V using a British engine, and the Auster A.O.P. 6 appeared in 1945, with a strengthened rear fuselage, increased fuel capacity, increased all-up weight and more power. The engine was a 145 hp (108 kW) de Havilland Gipsy Major VII, and lengthened landing gear struts were necessary to provide clearance for the larger-diameter propeller. A significant difference in appearance resulted from the installation of external non-retractable aerofoil flaps. Of metal construction, these were mounted behind the wing to enhance the aircraft's take-off performance. Floats and skis were installed on some aircraft.
An initial production run of 296 A.O.P. 6s was completed in 1949 but further production began in 1952 and the total built by the end of the run was around 400. Of these, 22 ex-British aircraft were delivered to the Belgian air force and two were transferred to the Royal Hong Kong Auxiliary Air Force. New aircraft were supplied to the Royal Canadian Air Force (36), South African Air Force (5) and to the Arab Legion (4).
In his book Soldiers in the Air, Brigadier Peter Mead compared the A.O.P. 6 with the Auster Mk V. He emphasized that it had no artificial horizon and that the aircraft, and therefore its controls, were heavier and clumsier, and that it had inferior take-off performance. Indeed, the fact that its take-off run was noticeably longer than its landing run. Mead Insisted, instilled doubts and apprehension in many pilots when lining up for take-off from a new, small field.
However the A.O.P. 6 served for a number of year until it began to be replaced by the Auster A.O.P. 9 in 1955, and surplus A.O.P. 6s began to appear, being snapped up for conversion to civil use the Auster Mk 6A and later, the Beagle Terrier.
Auster Aircraft Company - Auster A.O.P. 9
A successor to the Auster A.O.P. 6 was required in the British Army's A.O.P. squadrons in the mid-1950s, and a completely new design was advanced as the Auster A.O.P. 9. Of similar high-wing configuration to its predecessor, the A.O.P.9 was of a slightly lower loaded weight, but had a considerably more powerful engine, the 180 hp (134 kW) Blackburn Cirrus Bombardier 203 inline engine, giving greatly improved take-off and landing performance. It could operate from ploughed fields and muddy surfaces, thanks to robust landing gear with low-pressure tires, and in addition to its A.O.P. role the aircraft could be used for light transport. The rear cockpit floor was easily detachable and replaced by a new floor, bringing within its scope such tasks as casualty evacuation, photographic work and cable laying.
The prototype A.O.P. 9 flew at the maker's airfield on 19 March 1954 and deliveries began in February 1955. The new aircraft was soon in action overseas, against terrorists in Malaya with No. 656 Squadron in Operation 'Firedog'. A leaflet-dropping sortie was the first operation for the A.O.P. 9, and the type soon proved to be a valuable complement to the A.O.P.6 already in that theatre, In September 1957 the Army Air Corps was formed, taking over responsibility for A.O.P. work from the RAF. By that time No. 656 Squadron had flown 143,000 sorties, more than any other unit in 'Firedog'.
With No. 653 Squadron in Aden, engine problems began to impair operations seriously. A loss of power when operating from strips at between 4000-7000 ft (1220-2135 m) meant a poor rate of climb, dangerous in view of hostile armed tribesmen. However, by this time the army was thinking seriously of helicopters for A.0.P. work, and funds were not available for Auster improvements. A total of 145 was built, and some were supplied to the Indian army, and the Indian and South African air forces.
In 1960 the Auster Aircraft Co was bought out (along with Miles Aircraft) by the Pressed Steel Company and formed into the British Executive and General Aircraft (BEAGLE). BEAGLE in turn was bought out in 1966, and in 1968 the Auster rights were sold to Hampshire and Sussex Aviation.
Specifications (British Taylorcraft Auster Mk V)
Type: Three Seat Light Liaison, Communications, Observation & Civil Touring
Accommodation/Crew: An enclosed cabin with seats for three, two side-by-side with dual controls and a seat immediately behind the second pilot. Glazing the same as the Mk IV with a domed Perspex roof-light, with both side windows opening. Cabin heating, two large doors and armour protection for the pilot were also provided.
Design: C. Gilbert Taylor of The Taylorcraft Aircraft Corporation of America (formerly Taylorcraft Aviation Company). Taylor's original company had been acquired by William Piper, for whom he designed the E-2 Cub. They parted company in 1935, and Taylor went on to form the Taylor-Young Aeroplane Company which produced the Taylorcraft.
Manufacturer: Taylorcraft Aeroplanes (England) Limited based at Thurmaston, Leicestershire (Britannia Works at Melton Road) under licence by The Taylorcraft Aircraft Corporation of America. On the 21 November 1938 Taylorcraft Aeroplanes (England) Limited was registered as a Private company with both production and selling rights for the British Empire and Europe. The rights were negotiated by Alexander Lance Wykes who formed Taylorcraft Aeroplanes (England) Limited to build the aircraft. Early in the war the company acquired a second production facility at the County Flying Group Airfield on Gaddesby lane in Rearsby (Rearsby Airfield). By 1940 the company had become a Ministry of Aircraft Production Repair Centre and by the war's end had over 10 plants in Thurmaston, Syston, Mountsorrel and Rearsby. Alexander Lance Wykes, was killed while demonstrating a Auster Mk IV in 1945, and was replaced by Frank Bates as Managing Director. In March 1946 the British company became the Auster Aircraft Limited when the original Taylorcraft licence expired.
Powerplant: (Mk I) 90 hp (67 kW) Cirrus Minor I engine. (Mk III) One 130 hp (97 kW) D.H. Gipsy Major I 4-cylinder engine. (Mk IV optional) One 130 hp (97 kW) D.H. Gipsy Major I 4-cylinder engine. (Mk IV and Mk V) One 130 hp (97 kW) Lycoming O-209-3 flat-four 4-cylinder horizontally-opposed air-cooled piston engine driving a fixed pitch wooden airscrew. (J/1 Autocrat) One 100 hp (74.6 kW) Cirrus Minor II 4-cylinder engine.
Performance: Maximum speed 130 mph (209 km/h) at sea level; cruising speed 112 mph (180 km/h) at 1,000 ft (305 m); service ceiling 15,100 ft (4600 m) with an absolute ceiling of 18,200 ft (5550 m); stalling speed (flaps up) 38 mph (61 km/h); stalling speed (flaps fully down) 30 mph (48 km/h); initial rate of climb 800 ft (244 m) per minute; climb to 15,000 ft (4575 m) in 46 minutes; take-off run (with flaps) 75 yards (68 m).
Fuel Capacity: 15 Imperial gallons (68.18 litres). An external long-range tank of 8 Imperial gallons (36.36 litres) could also be carried to extend the range.
Range: Cruising range of 220 miles (352 km) on internal fuel.
Weight: Empty 1,050 lbs (476 kg) with a maximum take-off weight of 1,920 lbs (827 kg); wing loading (maximum) 9.87 lbs/sq ft (48.2 kg/sq m); power loading 14 lbs/hp (6.36 kg/hp).
Dimensions: Span 36 ft 0 in (10.97 m); length 22 ft 5 in (6.83 m); height 8 ft 0 in (2.44 m); wing area 167.0 sq ft (15.51 sq m).
Armament: None.
Variants: Plus C (civil), Plus D (civil), Auster Mk I. Mk II (AOP 3 - Lycoming), Mk III (AOP 3 - Gypsy Major), Mk IV (AOP 4), Mk V (AOP 5), J.1 (civil), AOP 6, AOP 9.
Equipment/Avionics: (Optional) Standard communications and navigation equipment. The Auster Mk V introduced a full blind-flying panel driven by a mechanised vacuum-pump to cater to bad weather flying on urgent communication duties. The auxiliary trimming surface below the tailplane was replaced by a standard elevator trimmer.
History: Completion date (first prototype) 24 April 1939; first flight (prototype - civil registration G-AFNW) 3 May 1939 from Sir Lindsay Everardís airfield at Ratcliffe on the Wreake.
Operators: Great Britain, Canada (RCAF), Australia (RAAF), Netherlands (Free Dutch Forces), New Zealand (post-war).