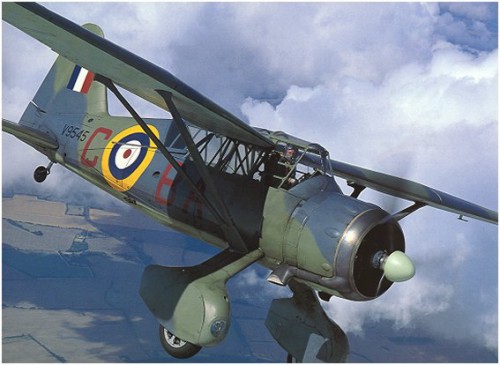 British army co-operation aircraft used between the wars were largely conversions of existing airframes. In 1934, however, the Air Ministry Issued Specification A.39/34, for a new aircraft to replace the Hawker Hector biplane which was then used for the purpose. In June 1935 Westland tendered and won a contract covering two prototypes which the company designated P.8. The name Lysander was adopted after a Spartan admiral who defeated the Athenian fleet in 405 BC. It was then the British Army's custom to name co-operation aircraft after classical warriors. It soon earned the nickname "Lizzie".
The first prototype (K6127) underwent taxiing trials at Yeovil, Somerset on 10 June 1936, before being taken by road to Boscombe Down, where it made its first flight on 15 June, in the course of which it returned to Yeovil. Minor modifications were made and the prototype was shown at the SBAC Display at Hatfield at the end of June, and on 24 July it went to the Aircraft and Armament Experimental Establishment at Martlesham Heath for a week to under-take handling evaluation.
A production order for 144 aircraft was placed in September, and the second prototype flew on 11 December 1936, spending much of its time at Martlesham Heath before going to India in 1938, for tropical trials with No. 5 Squadron. Deliveries to the RAF began in June 1938, when No. 16 Squadron at Old Sarum received its first aircraft to replace the Hawker Audax then in service. The School of Army Co-operation was also based at Old Sarum, and its pilots received instruction on the Lysander from squadron personnel.
During 1939, 66 Lysander Mk Is were completed and of these, No. 16 Squadron received 14, the School of Army Co-operation nine, while other deliveries were made to No. 13 Squadron at Odiham, No. 26 at Catterick and No. 4 at Wimborne, the Lysanders in all cases replacing Hawker Hectors. On the outbreak of war there were seven Lysander squadrons, the others being No. II, and the Auxiliary Air Force's squadrons Nos. 613 and 614. By this time most of the home-based squadrons had replaced their 890 hp (664 kW) Bristol Mercury XII powered Mk Is with Lysander Mk IIs. These had the 905 hp (675 kW) Bristol Perseus XII engine rated at 2,750 rpm at 6,500 ft (1980 m), which offered a slightly better performance at altitude. Many of the Mk Is were sent overseas, for service in Egypt, India and Palestine. A total of 116 Mk Is was followed on the production line by 442 Mk IIs, and it was with this latter mark that Nos II, 4, 13 and 26 Squadrons moved to France in 1940.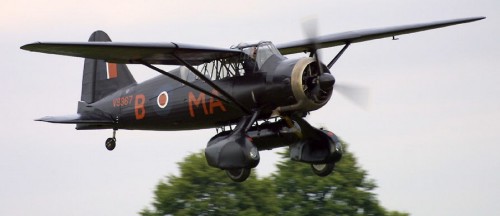 A restored Westland Lysander (serial V9367) was a Mk IIIA (SD) that flew with No. 161 Squadron.

As the German attack began, No. 4 Squadron moved to Belgium, but such was the fury of the onslaught that 11 Lysanders were lost between 10 and 23 May, some being eliminated on the ground. One of the squadron's Lysander crews destroyed a Bf 110 during a running battle with six Messerschmitts and managed to return to base. On 22 May an aircraft of No. II Squadron, flown by Flight Officer Doidge shot down a Henschel Hs 126 while his rear-gunner accounted for a Ju 87 Stuka. By then the end of French resistance was near, and the Lysander squadrons were withdrawn to the United Kingdom, although some sorties were still made over the battle area to drop supplies to Allied forces. One of these sorties was decimated when, of 16 Lysanders and Hectors sent out on a supply sortie over Calais, 14 aircraft and crews failed to return. Of the 174 Lysanders sent to France and Belgium, Eighty-eight were lost in air combat, another 30 destroyed on the ground, and a loss of 120 crew members between September 1939 and May 1940.
The heavy fighting on the continent, and severe losses incurred by army co-operation units, indicated that the old concept of this type of operation was outdated, particularly when air superiority had not been achieved. Accordingly, Lysanders were withdrawn from the UK-based squadrons, which began to re-equip in early 1941 with Curtiss P-40 Tomahawks.
Overseas, Lysanders had replaced Audaxes in No. 208 Squadron in Egypt in April 1939, and the squadron's new aircraft saw action in the Western Desert alongside Hawker Hurricanes of the same squadron which were being used for tactical reconnaissance. The squadron later took part in the Greek campaign, its Lysanders being replaced by Tomahawks in 1942.
No. 6 Squadron at Ramleh, Palestine, operated a variety of aircraft, and was using Hawker Hardies and Gloster Gauntlets when it received its Lysanders in February 1940. These were supplemented and later replaced, in 1942, by various marks of Hurricane and Bristol Blenheim Mk IVs.
In September 1941 No. 28 Squadron at Ambala, India, was the first squadron in the area to receive Lysanders, replacing Audaxes. The squadron subsequendy took its new aircraft to Burma, and operated in ground-attack, bombing and tactical reconnaissance roles before being withdrawn to India in March 1942. In December of that year it converted to Hurricanes, becoming a fighter squadron. The last squadron to use Lysanders in action was No. 20, in Burma during late 1943, before receiving Hurricanes as replacements.
Although withdrawn from first-line service, Lysanders continued in operation for a variety of other roles as target-tugs, air-sea rescue aircraft and, least publicised at the time, with the Special Operations Executive (SOE), which formed three squadrons (Nos. 138, 161 and 357), using a mixed bag of aircraft which included Lysanders, maintained contact with resistance groups in occupied Europe, dropping ammunition, explosives, radios and other equipment and transporting agents to and from the continent. It was in these night operations in occupied territory that the Lysander really came into its own, being able to use its remarkable short landing and take-off capabilities to the utmost in the small fields marked out by the resistance. Lysander Mk IIIs and Mk IIIAs were used for this work, 367 of the former and 347 of the latter being built, powered by the 870 hp (649 kW) Bristol Mercury XX or 30 engines.
Final production variant was the TT.Mk IIIA target-tug, of which lOO were built. Figures for total Lysander production vary, as a number of aircraft were cancelled, but around 1,652 were built, including 225 under licence in Canada by National Steel Car Corporation Lmited (Victory Aircraft Limited) in Malton (Toronto).

A Westland Lysander Mk II of No. 225 Squadron of the Royal Air Force. They were easy targets for German fighters and suffered heavy losses in France and Belgium. Used initially as ground support aircraft, they were soon relegated to second line duties, where the STOL capabilities of the aircraft were used to their full potential.
36 Lysanders Mk IIs went to the Türk Hava Kuvvetleri (Turkish Air Force), and six more to the Aer Chór na hÉireann (Irish Air Corps). The Royal Egyptian Air Force took 20 (18 new Mk II's, an ex-RAF Mk I, and a Mk III for their No. 1 (AC) Squadron). Finland's Ilmavoimat ordered seventeen Lysanders, but only twelve were delivered during 1940, one being lost during the ferry flight. They were used during the Continuation War for reconnaissance, photographic survey, pamphlet and message drops, and ground attack. Most of them served in Lentolaivue 16. The Aviátion Militar Portuguesa (Portuguese Air Corps) received eight Lysanders by cargo ship in September 1943. Three aircraft were sent to the United States for evaluation.
In 1940, the first prototype Lysander (K6127) was modified with a shortened fuselage, a Delanne-type wing (rear wing almost as large as the main one) with twin fins and rudders, and a four-gun Boulton Paul turret with a huge field of fire. This was intended as a home defence beach strafer.
Similar in purpose to the 'Tandem Wing' Lysander, (L4673) was modified to incorporate a ventral gun position, also for anti-invasion defence. As the name suggests, it had a ungainly bloated look to it. It crashed on take-off, and development was abandoned. Another Lysander (P1732) was fitted with a mock-p of a four-gun Boulton Paul turret. It was soon abandoned and never flew. Yet another anti-invasion aircraft (K6127) was armed with a 20 mm Oerlikon cannon with 60 round drum magazines mounted above each wheel fairing, positioned to just clear the propeller arc. Intended to attack invasion barges.
For research purposes only, Blackburn fitted (P9105) with a radical new short-span high-lift Steiger wing. It measured only 38 ft in span, and featured full-span flaps and slats, a single main spar, and was swept forward 9°. Lateral control was by wing-tip spoilers. Two more experimental aircraft were tested. One aircraft featured castoring wheels for crosswind landings. Another test used tracked landing gear for rough landing grounds. Another aircraft was fitted with bench-type air brakes fitted on the wings as an aerodynamic experiment.
At the end of the war Canada was the only country to have a large Lysander population, some of which remained in service until the early 1960s. The last operational use of Lysanders was by No. 3 Squadron Royal Egyptian Air Force against the Israeli Air Force in the 1948 war with Israel.
Variants
Lysander P.8 Prototypes - A two-seat high-wing monoplane of metal construction mainly covered in fabric. Powered by Bristol Mercury XII air-cooled radial engine of 890 hp (655 kW) driving a two-bladed fixed wooden propeller. Wing optimized for low-speed flight, and short takeoff and landing (STOL) and braced with two pairs of struts. Also equipped with trailing edge flaps and leading edge slats (both automatically operated). Large fixed landing gear with spats (fairings), each containing a landing light, a 7.7 mm (0.303 in) Browning machine-gun and 500 rounds of ammunition and fittings for a stub wing. Stub wings could be fitted with bombs, supply containers, and/or various other stores. Rear cockpit had flexible mounting with a single 7.7 mm (0.303 in) Lewis Mk.IIIG or Lewis Mk.IIIE or Vickers K machine-gun on flexible mounting in rear cockpit (Eight 97 round drum magazines were suppied for the Lewis).
Lysander Mk I - The original production version with a 890 hp (664 kW) Bristol Mercury XII radial engine driving a variable pitch three-bladed metal propeller.
Lysander Mk II - Similar to the Lysander Mk I but powered by a 905 hp (675 kW) Bristol Perseus XII radial engine. Supplied to France (1), Ireland (6) and Turkey (36). About 20 RAF aircraft were later transferred to Free French air force. One supplied to National Steel Car Corporation (later Victory Aircraft Limited) of Malton, Ontario, as the pattern for licence construction of 75 with Bristol Perseus XII engines.
Lysander Mk III - Similar to Lysander Mk I but with a Bristol Mercury XX radial engine. Westland built 367 and 150 licence-built in Canada.
Lysander Mk IIIA - Similar to Lysander Mk III but with a Mercury 30 engine and additional machine-gun in rear cockpit. 347 built, of which 11 were supplied to Free French, Portugal (8) and the US Army Air Force (2).
Lysander Mk IIISCW or (SD) - Conversions of the Lysander Mk III and Mk IIIA for clandestine operations carrying agents or VIPs to and from enemy territory. Extra fuel capacity with a 150 Imperial gallon (682 litre) auxiliary fuel tank and access ladder to rear cockpit on left side, armoured floor, improved radio equipment and provision for two 'passengers'. Also called 'Special Duties' or (SD) aircraft.
Lysander TT.Mk I - The designation of Lysander Mk Is after conversion for target towing. They were unarmed.
Lysander TT.Mk II - The designation of Lysander Mk IIs after conversion for target towing. They were unarmed.
Lysander TT.Mk III - The designation of Lysander Mk IIIs after conversion for target towing. This designation became standard for all previous marks converted for target towing. They were unarmed.
Lysander TT.Mk IIIIA - 100 new production target tugs with 870 hp (649 kW) Bristol Mercury 30 Poppet-Valve 9-cylinder air-cooled radial engine rated at 2,650 rpm at 4,500 ft (1370 m) and 820 hp (612 kW) at 2,650 rpm at take-off using fuel with an 87 Octane rating.
Specifications (Westland Lysander Mk III)
Type: Two Seat Army Co-Operation, Air Sea Rescue, Reconnaissance & Covert Ops
Accommodation/Crew: Pilot and Rear Gunner.
Design: Technical Director Arthur Davenport and Technical Manager Edward 'Teddy' Petter of Westland Aircraft Limited.
Manufacturer: Westland Aircraft Limited at Yeovil, Somerset (England) and the National Steel Car Corporation Limited in Malton (Canada). In 1942 National Steel Car Corporation Lmited became Victory Aircraft Limited in order to expedite the production the Avro Lancaster Bomber. Victory Aircraft Limited was a wholly-owned by the Crown and responsible to the Minister of Munitions and Supply. Westland produced 1,427 (including two prototypes) and National Steel Car produced 225 aircraft.
Powerplant: One 870 hp (649 kW) Bristol Mercury XX Poppet-valve 9-cylinder air-cooled radial engine rated at 2,650 rpm at 4,500 ft (1370 m) and 820 hp (612 kW) at 2,650 rpm at take-off.
Performance: Maximum speed 212 mph (341 km/h) at 5,000 ft (1525 m); service ceiling 21,500 ft (6555 m); stalling speed 56 mph (90.1 km/h); climb to 10,000 ft (3048 m) in 8 minutes.
Fuel Capacity: 106 Imperial gallons (482 litres) in a fuselage tank. On the Lysander Mk IIISCW an external long-range tank of 150 Imperial gallons (682 litres) could also be carried to extend the range, giving the aircraft an endurance of around 8 hours.
Range: 600 miles (966 km) on internal fuel.
Weight: Empty 4,365 lbs (1980 kg) with a maximum take-off weight of 6,318 lbs (2866 kg).
Dimensions: Span 50 ft 0 in (15.24 m); length 30 ft 6 in (9.30 m); height 14 ft 6 in (4.42 m); wing area 260.0 sq ft (14.15 sq m).
Armament: Four 7.7 mm (0.303 in) Browning machine-guns. One in each wheel spat with 500 rounds per gun and two on a trainable mount in the rear cockpit) plus up to 500 lbs (227 kg) of bombs on stub wing attached to the wheel spats. Special Duty (SD) aircraft usually had the rear cockpit machine-guns removed. Typical ordnance loadout was as follows:
16 x 20 lbs (9 kg) Mk I bombs, or 16 x 11.5 lbs (5.2 kg) Mk I or Mk II practice smoke bombs, or 16 x Mk I aircraft reconnaissance flares or


4x 112 lb (50.8 kg) Mk.VII bombs (plus four smoke markers on fuselage carrier), or 4x 120 lb (54.4 kg) Mk.I bombs; or


2x 250 lb (113 kg) bombs (plus four smoke markers on fuselage carrier), or 2x dinghy containers (plus four smoke markers on fuselage carrier), or 2x SCI smoke generators, or 2x Mk.VB supply dropper. or 2x LC 17/30 lb small bomb canisters.
Variants: P.8 Prototypes, Mk I, Mk II, Mk III, Mk IIIA, Mk IIISCW (covert ops), TT.Mk I, TT.Mk II, TT.Mk III, TT.Mk IIIA.
Equipment/Avionics: Standard communications and navigation equipment.
History: First flight (prototype) 15 June 1936; first flight (second prototype) 11 December 1936; initial deliveries (Mk I) June 1938.
Operators: Great Britain (RAF), Canada (RCAF - built under licence), Egypt (20), Finland (9), France (1), Ireland (6), Portugal (8), Turkey (36), USA (3).