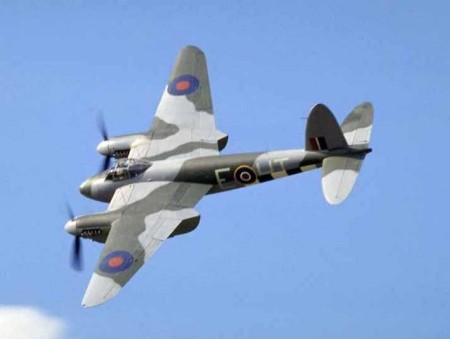 Designed and planned as a private venture by the de Havilland company in the autumn of 1938, the de Havilland D.H.98 Mosquito was intended for use as an unarmed bomber or reconnaissance aircraft, one that would fly so fast and high that defensive armament would be superfluous. The powerplant was to comprise two Rolls-Royce Merlins, and to save strategic materials all-wood construction was chosen. Although this may not now seem a very advanced aircraft, it was certainly far too much for the Air Ministry of that day to swallow and de Havilland's proposal was neatly filed in the 'pending' tray.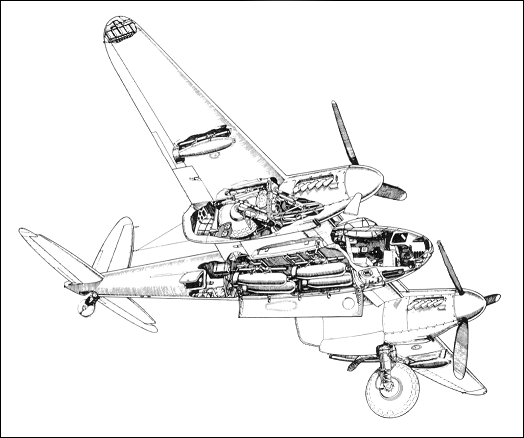 It was not until World War II had started that the Air Ministry gave serious thought to the possibility that light alloys might become in short supply. In such circumstances an all-wood aircraft might be a useful ace up the sleeve. Even then, the committal to proceed was only to the extent of authorising detail design and de Havilland's design team began work at the end of December 1939, resulting in an order on 1 March 1940 for 50 aircraft against Air Ministry Specification B.1/40. Even then the way ahead was not clear, for in the post-Dunkirk frenzy of concentration to build up stocks of standard in production aircraft, de Havilland's new bomber was temporarily postponed.
In due course the programme was reinstated and eventually, on 25 November 1940, the prototype Mosquito Mk I was flown for the first time. There was little doubt from factory testing that this new bomber was capable of development into an outstanding aircraft, comfortably exceeding the performance margins of the Specification. When demonstrated to military and government officials shortly afterwards, these sceptical gentlemen discovered that the new bomber had the manoeuvrability of a fighter, a dashing high speed that was not far short of 644 km/h (400 mph), and were staggered to see it performing smooth climbing rolls on the power of one engine, the propeller of the second engine 'feathered' to prevent windmilling and to cut drag to a minimum.
Official trials followed immediately, beginning on 19 February 1941 and leading to the initiation of priority production by July of that year. Three prototypes were built and the last of these to fly, on 10 June 1941, was of a photo-reconnaissance (PR) version. The promised combination of high speed and high altitude had made the Mosquito a natural selection for such a role, and a PR version was the first of these exciting new aircraft to enter operational service. The initial sortie, a daylight reconnaissance over Brest, La Pallice and Bordeaux, was made on 20 September 1941, and immediately confirmed the concept of high speed and no armament as being correct, for during this initial deployment the lone Mosquito PR.Mk I was able easily to outpace three Messerschmitt Bf 109s which attempted to intercept.
Next into service was the bomber version, the first being designated Mosquito B.Mk IV. Deliveries to the RAF's No.2 Group began in November 1941, the Mosquitoes going first to No.105 Squadron, then based at Swanton Morley, Norfolk. The winter months were spent in familiarisation and working up, for the Mosquito was a very different aeroplane from the Bristol Blenheim which it had replaced. This pioneering squadron had not only to learn how to handle a very much faster and more manoeuvrable aircraft, but also how best to deploy it in attacks against the enemy. At that time there must have been some doubt among the crews who were to fly these aircraft of just how this 'plywood' bomber would withstand the enemy's defences. They soon discovered that the Mosquito had an enormous capacity to absorb punishment. By no means did it consist only of plywood, but the strength and flexibility of this material was exploited to the full in its construction. The cantilever wing, mounted in a mid-position, was a one piece assembly, with plywood used for the spar webs and all skins. Tail unit structure was similar, but the fuselage was entirely different. This consisted of a plywood-balsa-plywood sandwich, built up onto spruce formers, and was constructed in two halves which were completely equipped individually with their appropriate control, pipe and wiring runs before the two halves were united. The retractable tailwheel type landing gear was unusual in that shock absorption dispensed with costly to build oleo-pneumatic struts, substituting rubber-in-compression springing. All versions had accommodation for a crew of two, seated side-by-side.
(ABOVE) At dawn on a December day in 1944, a Mk.XVI Mosquito of No.140 Squadron (RAF) silently awaits its crew at Melsbroek, Belgium. The hangar has been camouflaged as a barn. This pressurized photo-recce version of the famous "Wooden Wonder," packed with cameras and extra fuel, could cruise over enemy territory at over 40,000 feet, in excess of 400 mph (TAS) if necessary. Universally loved by its crews, hated and copied by its enemies, the "Mossie" was born beautiful at de Havilland as a high-speed bomber built mostly of moulded plywood, a nonstrategic material. When Geoffrey de Havilland, Jr. flew the prototype on November 25, 1940, he knew his father's company had created something unique. Mosquitoes became some of the finest combat types of the war, serving equally well in multiple roles, including night fighter and anti-shipping strike.
As noted above, the first of the three Mosquito prototypes was a bomber version, and the last intended for photo-reconnaissance. The second, first flown on 15 May 1941, was equipped as a night-fighter, and carrying initially AI Mk IV radar and a nose armament of four 20 mm cannon and four 7.7 mm (0.303 in) machine-guns. Designated Mosquito NF.Mk II, the type began to enter service first with No. 157 Squadron, which made its first operational sortie on the night of 27-28 April 1942. The type equipped No. 23 Squadron shortly afterwards, and this was the first unit to operate the type in the Mediterranean theatre when based at Luqa, Malta, from December 1942. These were deployed not only as night-fighters, but also in a day or night intruder role, making the first night intruder sortie on 30-31 December 1942.
The missing one in the versions detailed so far is the Mosquito T.Mk III, a dual-control trainer used for conversion to the type, and 343 were constructed. The story of the Mosquito's operational deployment is too extensive to be covered in an A-Z entry such as this, however, the list of variants that follows gives an appreciation of the wide role played by the Mosquito during World War II. The Mosquito was built not only in the UK, but also by the de Havilland factories in Australia and Canada. When production was finally terminated a total of 7,781 had been built.
Many examples of the Mosquito continued to give valuable service in the RAF during the immediate post-war years. Photographic-reconnaissance Mosquitoes were used extensively in the Middle and Far East, and No.81 Squadron in Malaya was the last unit to use the type operationally, in late 1955. The bomber versions were displaced by English Electric Canberras in 1952-3, some then being used in a training role, with others converted for photo-reconnaissance or target-tug duties. In this latter role some remained in service until 1961. Fighter versions, however, disappeared in the early 1950s, their role taken over by the new generation of turbine-powered fighters.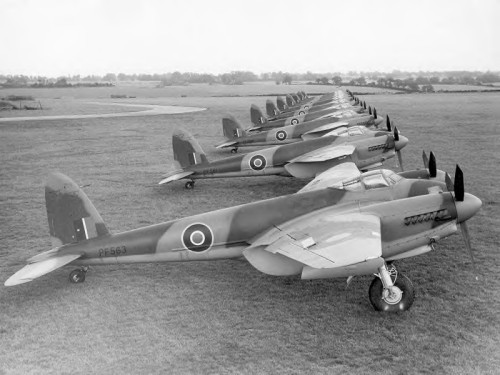 Wing Commander G.H. Goodman DFC 151 Squadron.

Four Heinkel-111's shot down in six minutes.

4 May 1944 - On a routine flight to Dijon via Mont St Michel making landfall they set course for St. Laurent and to Bonny sur Loire. Approximately 15 miles northeast of Dijon they followed the railway line towards Dijon. At approximately 8-10 miles west of Dijon they spotted a flight of enemy aircraft flying in an easterly direction.

Goodman opened the throttles to catch up to them, and cautiously slid into their formation underneath and astern of them. He immediately set his sights on the starboard aircraft and fired two 3-second bursts and watched as he fell out of formation in a steep dive and burning. He had managed to score hits on the port and starboard engines and fuselage. As they closed in on the leader, from 250 yards astern, they fired a 4 second burst into his aircraft. They watched as he caught fire, as pieces of debris flew off the aircraft and as he headed for the deck in an uncontrollable dive.

They were amazed, as the third aircraft in the formation flying in the port position, is totally unaware as to what was happening. They came in well astern and close to 250yds and sent a 3 second burst into his port engine and fuselage. Again they watched as a large fire erupts inside the fuselage and as the aircraft headed straight to the ground.

"Tally Ho" on to the fourth aircraft they had noticed earlier. At this point they were now directly over the aerodrome watching the fourth aircraft making a wide turn on the west side. They opened the throttles to catch up to him and slid in astern and let loose with a 3 second burst into his starboard engine as his port engine had already stopped. We watched as he went into a steep dive burning on the way down and crashed northwest of the aerodrome.

Wing Commander Cunningham DSO/DFC Cat's eyes Cunningham (night fighter extraordinaire)
Commander of 85 Squadron

Earlier under the Command Wing Commander Peter Townsend 85 squadron had earned much renown as a day fighter. Under the direction of Wing Commander Cunningham and implementing the art of night fighting, the unit gained a great deal of credibility. Squadron Leader Burbridge and Flight Lieutenant Skelton shot down 20 raiders at night. At the end of the war, 85 squadron had shot down a total of 278 enemy aircraft. In supporting bombers over Germany, 67 were shot down by the "Mossie", 67 over Britain and 168 at night.

Special Operations Target Amiens
140 Wing 2 Group
Group Captain P.C.Pickard three DSO's and a DFC
Lieutenant Broadley DSO,DCM,DFM.
Wing Commander I.S. "Black"Smith
487 Squadron
Wing Commander RW "BOB" Iredale
Squadron Leader I R McRitchie
Flight Lieutenant R W Sampson
464 Squadron

In one of the most famous examples of pin point bombing of targets, the operation was designed to allow 700 members of the French Resistance to escape. The prisoners were being held in Amiens jail awaiting execution by the Gestapo. The success of the operation depended on split second timing accuracy and a low level bombing run to the target. This was to be achieved by three formations of aircraft. Six aircraft each from No.464 /21/and 487 were selected for this mission.

No.487's duties were to breach the outer wall in two separate places. No. 464 was to take out the guards annex inside the compound, this was accomplished by scrapping over the exterior walls and skidding their bombs across the inner courtyard to rest against the guards annex.

The operation was incredibly successful as 258 prisoners managed to escape, sadly, many were recaptured and many more were killed in the bombing. Aimed at killing and confusing the Gestapo there were more daylight pinpoint bombings including the attack on the Gestapo Headquarters at Aarhus and Oslo.

When it was finally determined that it was more effective to fly the Mosquito on night bombing missions than the Lancaster, it was decided to implement a Light Night Striking Force of Mosquito's. The Mosquito could drop four and one half times the weight of bombs for the same investment in Lancasters. Berlin was bombed relentlessly for 36 continuous nights and 170 times by this new force. This bombing campaign became so regular by the Mosquito's that it became known as "The Berlin Express" by the Germans.

In May 1944 MosquitoDK296 (bright blue) flew to Russia, the Russians were going to build Mosquito's under license. DK296 actually flew 15 sorties for 150 Squadron. On Squadron Leader Dodds first trip to Moscow the first part of the journey was uneventful up till they reached the Eastern front. With outdated maps and expecting to follow railway lines that had been moved or no longer existed, trouble began. As they tried to sort out which town was which, they were attacked by Russian fighters. Fortunately with the Mosquito's speed and the poor shots of the Russian aviators they managed to elude their pursuers.

Once Dodd and the Mosquito were on the ground the Russians could not do enough for them and their machine. Vodka, Caviar and the theatre were the order of their stay.

Group Captain Hon. Max Aitken Station Commander Banff in Scotland
Coastal Command 248 Squadron
Battle of Britain fighter ace.

This squadron was known for their daring low-level attack tactics. Often after a sortie there were chimney pots, telephone or fence wire trailing or tangled in their aircraft. Once there was even a ship's pennant.

While flying a mission four days before VE day, Flight Lieutenant G.N.E.Yeats and Flight Lieutenant T.C.Scott (the navigator) collided with the spar and pennant from the masthead of an enemy destroyer they were attacking. Upon landing it was discovered the ship's pennant was fluttering from the nose of the aircraft.


Nicknames: Mossie; Balsa Bomber; Wooden Wonder; Freeman's Folly (early nickname referring to Air Council member Sir Wilfred Freeman); Tsetse (Mk XVIII anti-shipping variant).
Specifications (de Havilland D.H.98 Mosquito FB.Mk VI)
Type: Two Seat Fighter Bomber, Reconnaissance & Night Fighter
Design: de Havilland Design Team
Manufacturer: The de Havilland Aircraft Company, Hatfield and Leavesden, also built by Airspeed, Percival Aircraft and Standard Motors (Canley). Built by de Havilland Aircraft Pty, in Australia and de Havilland Aircraft of Canada.
Powerplant: (Mks II, III, IV and early Vs) Two 1,230 hp (918 kW) Rolls-Royce Merlin 21 engines. (Late FB.Mk VI) Two 1,635 hp (1219 kW) Rolls-Royce Merlin 25 engines. (Mk IX) Two 1,680 hp (1253 kW) Rolls-Royce Merlin 72 engines. (Mk XVI) Two 1,680 hp (1253 kW) Rolls-Royce Merlin 72 or 1,710 hp (1276 kW) Rolls-Royce Merlin 73/77 engines. (Mk 30) Two 1,710 hp (1276 kW) Rolls-Royce Merlin 76 engines. (Mk 33) Two 1,635 hp (1219 kW) Rolls-Royce Merlin 25 engines. (Mk 34/35/36) Two 1,690 hp (1260 kW) Rolls-Royce Merlin 113/114 engines. Many other variants had corresponding Merlins made by Packard.
Performance: Maximum speed 362 mph (583 km/h) at 5,500 ft (1675 m); maximum cruising speed 325 mph (523 km/h) at 15,000 ft (4570 m); service ceiling 33,000 ft (10060 m); initial climb rate of 1,870 ft per minute with a climb to 15,000 ft in 9 minutes 30 seconds.
Fuel: 453 Imp gal (544 US gal) plus provision for a 66.5 Imp gal (79.9 US gal) fuselage tank. (Externally) Up to 200 Imp gal (240 US gal) in 2 × 100 or 50 Imp gal (120 or 60 US gal) underwing droptanks.
Range: 1,650 miles (2655 km) with internal bombload.
Weight: Empty 14,300 lbs (6486 kg) with a loaded take-off weight of 22,300 lbs (10115 kg).
Dimensions: Span 54 ft 2 in (16.51 m); length 40 ft 10 3/4 in (12.47 m); height 15 ft 3 in (4.65 m); wing area 454 sq ft (42.18 sq m).
Armament: Four 20 mm Hispano Mk II cannon with 150 rounds per gun in the lower nose and four 7.7 mm (0.303 in) Browning Mk II machine-guns in the upper nose plus 2,000 lbs (907 kg) of bombs or 1,000 lbs (454 kg) of bombs and eight 60 lbs rocket projectiles.
History: First flight (prototype Mk I) 25 November 1940; first flight (NF.Mk II) 15 May 1941; first flight (T.Mk III) January 1942; first delivery (B.Mk IV) 105 Squadron at Swanton Morley in November 1941.
Operators: Austraila, Belguim, Canada (RCAF), China, Czechoslavakia, France, Yugoslavia, New Zealand, Norway, Soviet Union, Turkey, United Kingdom (RAF, RN, BOAC), United States (AAF).
Number Built: 7,781
Number Still Airworthy: One (Previously airworthy, but has not flown for the last few years.)