Beech Musketeer, Sierra & Sundowner history, performance and specifications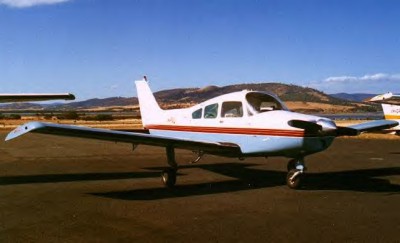 The Musketeer family was developed by Beechcraft as a lower cost and lower performance four seater than the Bonanza, intended to compete with the Cessna 172 and Piper Cherokee. The prototype Model 23 first flew on 23 October, 1961. First production aircraft were delivered in autumn 1962, and enjoyed swift popularity.

The type developed, late in 1965, into three main types, the Musketeer A23A Custom III, Musketeer A23-19 Sport III and Musketeer A23-24 Super III. The Custom and Super had more powerful engines, and greater maximum takeoff weights. The Sport had a less powerful 150 hp (112 kW) engine and lower MTOW. Optional aerobatic kits were available for the Custom and Sport when flown as two-seaters.

In 1969 the Musketeer Super R was introduced, a Musketeer Super with retractable tricycle undercarriage. From 1970 a more rounded fuselage was introduced, and the models were renamed Musketeer B19 Sport, Musketeer C23 Custom and Musketeer A24 Super. The Musketeer name was dropped in 1971 and a further renaming took place. The Custom became the Sundowner C23, the Super R became the Sierra A24R, and the Sport became the Sport R19. The designations changed yet again in 1974 to reflect engine horsepower - Sundowner 180, Sport 150, and Sierra 200.
The Sierra was given a new cowling, quieter engine and more efficient prop in 1974, and various aerodynamic changes were made to the Musketeer family in 1977. Sport manufacture ended in 1978. The Sundowner 180 and Sierra 200 remained in production into the 1980s, with series production ceasing in 1983 after over 5,000 had been built.
TYPE: Four seat light aircraft.
PERIOD BUILT: 1962-1983
COUNTRY OF ORIGIN: United States
ENGINE: (A23A) One Lycoming IO-346-A fuel injected flat four piston engine of 165 hp / 125 kW.
(B19) One Lycoming O-320-E2D of 150 hp / 112 kW
(C23) One Lycoming O-360-A4K of 180 hp / 135 kW - all with fixed pitch 2-blade propeller.
(C23R) One Lycoming IO-360-A1B6 of 200 hp / 150 kW driving a variable pitch propeller.
DIMENSIONS:
Wing span: 32 ft 9 in / 10.0 m. all versions
Length: 25 ft 0 in / 7.62 m (A23A); others 25 ft 9 in / 7.84 m.
Height: 8 ft 3 in / 2.51 m. all versions
WEIGHTS (A23A):
Max. takeoff: 2,400 lb / 1089 kg
PERFORMANCE:
Max. speed: (A23A) 127 kts. / 235 kph
(B19) 169 kts. / 225 kph
(C23) 123 kts / 228 kph
(C23R) 141 kt / 262 kph
Long range cruising speed; 102 kts. / 188 kph (A23A)
Initial climb: 728 ft / min. (A23A)
Range: 679 nm / 1252 km. with reserves.
CAPACITY: All seat four, with additional seating for 2 children in Musketeer Super III.