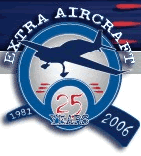 Walter Extra has always viewed aviation from his own special perspective. One of the world's most successful competitive aerobatic pilots, he decided in the 1980s to design and build his own aircraft. What began as an experimental one-man operation has since grown into an international success story. Today, the Extra aircraft lineup includes the EA-300L, EA-400 and EA-500.
2003, October
Walter Extra makes trans-Atlantic crossing in EA-500; Aircraft debuts in U.S. during NBAA

2003, August
New U.S. ownership and management team, led by Ken Keith, breathes new life into Extra Aircraft

2002
EXTRA 500 prototype aircraft is built and flown.

2001
First EXTRA 400 sold in the US.

1999
IFR-Certificate is received for EXTRA 400.

1998
The FAA Type Certificate is received for the EXTRA 400, flown by many world aerobatic champions, including Patty Wagstaff.

1996
The EXTRA 200 is introduced. This aircraft has a slightly smaller fuselage and a 200 HP four cylinder engine. During this same year, after four years of design and development, the prototype of the EXTRA 400 is flown. This is a six-place, pressurized single engine business/touring aircraft built with composite technology resulting in extraordinary strength, space and performance.

1993
The EXTRA 300L is introduced, a two-place version of the 300S.

1992
The first EXTRA 300S, a single-place aircraft, was flown.

1988
EXTRA 300 prototype, the first two-place EXTRA , is completed and flown by three competitors at the 1988 World Aerobatic Championship. These 300 HP aircraft have composite wings.

1987
EXTRA 260 prototype flew with a six cylinder 260 HP and 3-blade-prop.

1981
He completed his first EXTRA 230 with wood wing, four cylinder 230 HP engine and a 2-blade-prop.

1980
Walter Extra flew a modified Pitts Special in the World championship and decided to design a high performance monoplane with an optimum structure, weight and performance.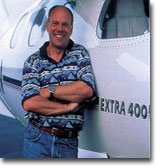 Walter Extra