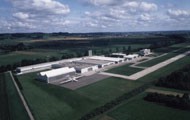 The history of the GROB company goes back to 1926 when Dr. Ernst Grob began production of internal combustion engines. The company is now one of the largest manufacturers of machine tools in Germany.

In 1971 the Aerospace Division was founded by Dr. Burkhart Grob, an enthusiastic pilot and entrepreneur. Since 1974 the company has its own purpose-built airfield that accommodates research, development, manufacturing and assembly facilities.

Initially the company was engaged in the licensed production of 200 CIRRUS gliders. This was soon followed by the development and production of our own ASTIR glider; initially as a single seater and then the dual seat TWIN ASTIR, TWIN III ACRO and finally the innovative TWIN III SL self-launching glider which set new standards in its class.

In March 1981 GROB received German type certification for the G 109, the World's first genuine series production composite motor glider. One year later it was certified by the FAA as the first all-composite motor glider in the United States.

The pioneering spirit of the company was again demonstrated when the G 115 received German type approval, and subsequently FAA certification as the first fully composite aircraft in the US. With the G 115 GROB successfully entered the training aircraft market, thus spawning a family of aircraft powered by 4 and 6 cylinder engines. The latest development is the G 120 high performance trainer and aerobatic aircraft. GROB will again set standards with a new class of aircraft - the G 140. This fully aerobatic aircraft can be powered by either a turboprop or piston engine and fills the dual roles of a high performance trainer and a fast 4 seater business aircraft.

With the development, production and testing of the STRATO 1 high altitude aircraft in the late 1980s, GROB demonstrated both the remarkable capabilities of the company and the advantages of composite technology. This aircraft established five FAI world records for altitude, time to climb and flight endurance. It was the first composite aircraft for stratospheric research and reached altitudes of almost 54,000 feet (16,460 meters). The STRATO 2C - with its all-carbon fibre composite airframe - has pushed the limits even further. The dimensions and performance of this aircraft remain unequalled to this day.

With a total of more than 3,500 aircraft produced and delivered globally, GROB Aerospace is now the world´s largest and most experienced manufacturer of composite aircraft.