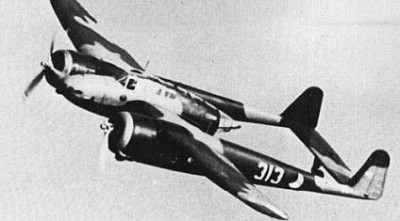 In November 1936 the prototype Fokker G.I heavy fighter caused a sensation when exhibited at the Paris Air Show, which in those days did not have a flying display but only a static exhibition in the Grand Palais. The concept of a twin-boom twin-engined fighter (later adopted for the Lockheed P-38 Lightning) was revolutionary at the time, and the new aircraft was the centre of much critical appraisal, leading it to be called Le Faucheur or Grim Reaper, in part to its devastating armament.

After the Show, the Fokker G.I was taken to Eindhoven/Welschap airfield, from where its first flight was made on 16 March 1937. The G.I was then powered by two 750 hp (559 kW) Hispano-Suiza 80-82 counter-rotating radial engines, but problems with these prototype units resulted in a change to similarly rated Pratt & Whitney SB4-G Twin Wasp Juniors during reconstruction, after the G.I suffered brake failure and rammed a hangar at Schlphol on 4 July 1937.
Demonstrations had already been given to the Netherlands army air corps at Soesterberg, and considerable interest was shown, resulting at the end of the year in an order for 36 aircraft to be designated G.IA. In order to ease the spares situation, it was stipulated that these must have 830 hp (619 kW) Bristol Mercury VIII engines, which were also to power the T.V bomber and D.XXI fighter already on order for the air corps.
This decision brought delay because although G.IA production began immediately there was a hold-up in the supply of engines. Thus the first production aircraft to fly, actually, the second of the batch, became airborne only on 11 April 1939. It remained with the makers for production testing and modifications, and the first aircraft was delivered to Soesterberg on 10 july 1939.
Possibilities of export orders followed the aircraft's debut at Paris and a number of foreign pilots came to Fokker to fly and evaluate the G.lB export version. Orders were placed by Finland (26), Estonia (9), Sweden (18) and Republican Spain(12), while a licence-production agreement was in negotiation with Denmark and another with Manfred Welss in Hungary. The Dutch embargo on weapon exports before World War II killed the Spanish order, but the Finnish batch was under construction when war broke out and a ban was then placed on its export. After lengthy negotiations a contract was drawn up to permit the G.IB's export on 17 April 1940, by which time 12 had been completed, apart from armament.
When Germany attacked the Netherlands on 10 May 1940, 23 G.Is were in service. 12 with the 4th Fighter Group at Alkmaar and 11 with the 3rd Fighter Group at Rotterdam/Waajhaven, The G.Is were successful in destroying several Junkers Ju 52/3ms during the early stages of the German invasion, but by the fifth day, when Dutch resistance ended, only a single example remained airworthy.
The Germans occupied the Fokker factory, ordering completion of the 12 G.Is intended for Finland, and these were used subsequently by the Luftwaffe as fighter trainers. Test flights from the factory were made under German supervision, but on 5 May 1941 two Dutch pilots succeeded in evading an escorting German-flown G.I and escaped to England. Their G.IB was taken to the Royal Aircraft Establishment, Farnborough, for examination, and used subsequently by Phillips and Powis (Miles Aircraft) at Reading for research into wooden construction.
A total of 62 Fokker G.Is are believed to have been built, and none survived the war
Specifications (Fokker G.1A)
Type: Two or Three Seat Heavy Fighter & Ground Support
Design: N. V. (Nederlandsche Vliegtuitenfabriek) Fokker Design Team
Manufacturer: N. V. (Nederlandsche Vliegtuitenfabriek) Fokker in Amsterdam
Powerplant: (G.IA) Two 830 hp (619 kW) Bristol Mercury VIII 9-cylinder radial engines. (G.IB) Two 750 hp Pratt & Whitney R-1535-SB-4 Twin Wasp Junior 14-cylinder radial engines.
Performance: (G.IA) Maximum speed 295 mph (475 km/h) at 9,020 ft (2750 m); cruising speed 221mph (355 km/h) at 9,020 ft (2750 m); service ceiling 30,500 ft (9300 m), climb to 16,405 ft (5000 m) in 8 minutes 0 seconds.
Range: (G.IA) 945 miles (1520 km); (G.IB) 913 miles (1469 km) on internal fuel.
Weight: (G.IA) Empty 7,410 lbs (3360 kg) with a maximum take-off weight of 10,582 lbs (4800 kg); (G.IB) Empty 6,930 lbs (3143 kg) with a maximum take-off weight of 10,520 lbs (4772 kg).
Dimensions: Span 56 ft 3 1/4 in (17.15 m); length 37 ft 9 in (11.50 m); height 11 ft 2 in (3.40 m); wing area 412.26 sq ft (38.30 sq m).
Armament: (G.IA) Eight 7.9 mm (0.312 in) FN-Browning forward firing machine guns in the nose and one similar gun on pivoted mount in tail cone, plus up to 882 lbs (400 kg) of bombs. (G.IB) Two 23 mm Masden cannon and two 7.9 mm (0.312 in) FN-Browning machine guns in the nose, plus up to 882 lbs (400 kg) of bombs.
Variants: G.IA (three seat with the addition of a radio operator), G.IB (export - two seat only).
Avionics: None.
History: First flight 16 March 1937; service delivery May 1938.
Operators: Netherlands, Sweden, Denmark.