The PA-34 was, like the PA-32 Saratoga, a derivation of the PA-28 Cherokee series, in this case a twin engined variant. It began as an experimental tri-motor conversion to a Cherokee Six, with an additional engine on each wing, in the late 1960s.

This developed through two further, twin-engined prototypes, the third flying in 1969, and the type entered production in 1971. Handling problems resulted in the introduction in 1974 of the PA-34-200T Seneca II with changed flight controls and turbo-supercharged Continental TSIO-360 engines.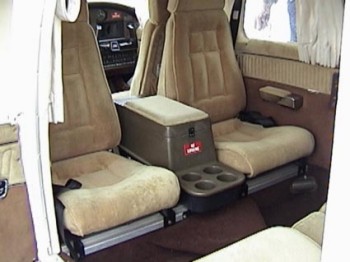 1970 interior trim
This was followed in 1981 by the Seneca III with counter-rotating propellers, and in 1994 by the more refined Seneca IV. The Seneca V of 1997 features inter-cooled turbocharged L/TSIO-360-RB engines, and the sixth seat replaced by an entertainment/executive work station with extending table and optional phone/fax.