When Japan entered the war, the Royal Australian Air Force was in desperate need of aircraft. At that time, its total strength amounted to only 175 front-line aircraft, most of which were obsolete. The fighter sector consisted of old-fashioned Brewster Buffaloes, which were clearly inadequate compared to their more modern and powerful adversaries. There was a great fear that the country would be invaded, and, faced with the fact that it was impossible for Australia's principal allies (Great Britain and the United States) to provide better equipment within a short space of time, the Australian aeronautical industry decided that it would build a combat plane capable of facing the emergency independently. This was the CA-12 Boomerang, a small, robust, and agile fighter that the Commonwealth Aircraft Corporation (CAC) designed and built within a very brief space of time and that gave invaluable service from 1943 onward, proving to be unbeatable in a tactical role.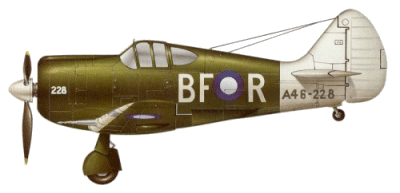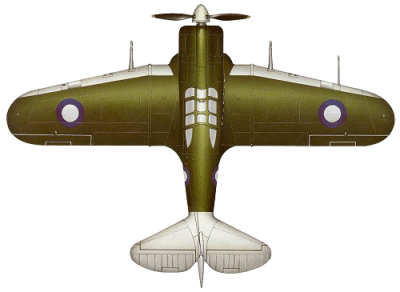 A Commonwealth Aircraft CA-13 Boomerang of 5th Squadron Royal Australian Air Force - Bougainville, New Guinea 1943
The Boomerang, the only entirely Australian-designed aircraft to see combat during World War II, was created by Lawrence Wackett on the basis of experience acquired during the production on license of the North American NA-16/NA-26 (the multirole two-seater that gave rise to the prolific series of Texan-Harvard trainers in the United States), which was christened Wirraway. Clauses in the contract with North American also allowed for eventual modifications to the basic model, and, driven by the urgency of the situation, CAC's chief designer decided to develop the fighter using the basic structure of this aircraft as a starting point. This proved to be a wise choice, as well as benefiting from the advantages of using an airframe that had already been carefully tested, it meant that most of the existing production infrastructures could be employed. The program was launched on December 21, 1941, and the prototype took to the air on May 29 of the following year. It kept the Wirraway's wings, landing gear and tail fins. However, the rest of the fuselage was entirely new and had been improved to house the large and powerful Pratt & Whitney Twin Wasp radial engine.
Tests revealed the CA-12 Boomerang to be basically without faults, easy to fly and very manoeuvrable, Production was launched immediately on the basis of an initial order for a first lot amounting to 150 aircraft placed in February 1942. These production series aircraft were delivered to the units from October 10 onward, and following an intensive period of preparation with the pilots, they were consigned to the combat units. On April 4, 1943, the first fighter unit (84th Squadron) was declared operative in New Guinea. Production of the initial series continued until June of the same year, and the Boomerang Mk I was followed by 95 aircraft belonging to the Mk II series, which were slightly modified and designated CA-13. The final series included 49 CA-19 Boomerang Mk IIs, with further improvements, and the last of these was delivered in February 1945.
The total of 250 aircraft also included a single CA-14 built in order to improve the plane's performance at altitude. This aircraft was provided with a supercharged engine and had modified tail planes. However, it never went into production, because the availability of the greatly superior Spitfire Mk VIII made it unnecessary.
Despite its overall inferiority compared to the powerful and effective Japanese fighters, the Boomerang was used with particular intensity as an interceptor throughout 1943. Toward the end of the following year, the aircraft were gradually withdrawn from this role, following the arrival of the more effective British and American combat planes. The Boomerangs thus passed to the units cooperating with the army and were successfully employed as tactical support planes. They distinguished themselves in missions of this type up to the last day of the war.
Boomerangs entered service in October 1942 when the RAAF's No.2 Operational Training Unit at Mildura, Victoria, received its first aircraft. The Boomerang became operational with No. 84 Squadron, which was the first to receive the new fighters, in April 1943. Initial contact with Japanese bombers was made during the following month when No. 85 Squadron equipped with Boomerangs. Other squadrons followed, including Nos 4 and 5, where Boomerangs replaced Wirraways in the army co-operation role. As higher performance fighters became available, the Boomerangs were replaced, having proved to be extremely manoeuvrable, tough and blessed with a rapid rate of climb. They had acquitted themselves well in roles for which they were not designed and were remembered with affection by their pilots. Only one true Boomerang, a CA-12, survives in a museum.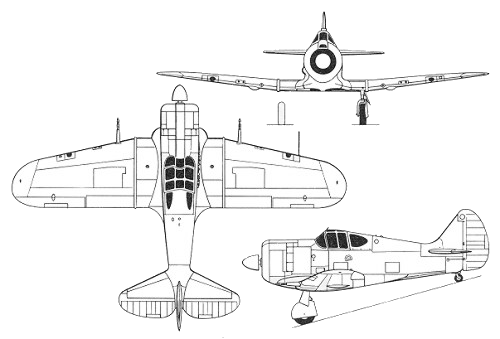 A three sided diagram of a Commonwealth CA-14 Boomerang
Variants
CA-12 (later named Boomerang Mk I) - Japan's entry into World War II found Australia ill prepared, with the only fighters on RAAF strength being a few obsolescent Brewster Buffaloes based in Malaya. However, the licence under which CAC (Commonwealth Aircraft Company) built the Wirraway permitted modifications to the design and Lawrence Wackett used that aircraft's entire wing, landing gear and tail unit married to a new fuselage to produce a single-seat fighter, the Commonwealth Aircraft CA-12, later named Boomerang Mk I. An order was placed for 105 in February 1942, and because many Wirraway components were used the prototype was built in only three months, flying for the first time on 29 May 1942.
CA-13 Boomerang Mk II - Production of this first batch was completed in June 1943, and a second batch of 95 aircraft designated CA-13 Boomerang Mk" followed, these incorporating a number of minor modifications.
CA-14/CA-14A - A single CA-14 was built with a General Electric turbocharger to improve high- altitude performance; it was modified later as the CA-14A to have a square fin and rudder, but availability of the faster Spitfire Mk Vllls rendered these improvements unnecessary.
CA-19 Boomerang Mk II - The final production batch consisted of 49 designated CA-19 Boomerang Mk II, again with minor modifications, and the last of these was delivered in February 1945.
Specifications (Commonwealth Aircraft CA-13 Boomerang Mk II)
Type: Single Seat Fighter
Design: Wing Commander Lawrence J. Wackett
Manufacturer: Commonwealth Aircraft Corporation at Fisherman's Bend, Australia
Powerplant: One 1,200 hp (895 kW) Pratt & Whitney R-1830-S3C4-G Twin Wasp radial engine.
Performance: Maximum speed 305 mph (491 km/h) at 15,500 ft (4725 m); service ceiling 34,000 ft (10365 m); initial climb rate 2,940 ft (896 m) per minute.
Range: 1,600 miles (2575 km) with maximum fuel.
Weight: Empty equipped 5,375 lbs (2437 kg) with a maximum take-off weight of 8,249 lbs (3742 kg).
Dimensions: Span 36 ft 0 in (10.97 m); length 25 ft 6 in (7.77 m); height 9 ft 7 in (2.92 m); wing area 225.0 sq ft (20.90 sq m).
Armament: Four 7.7 mm (0.303 in) Browning machine-guns and two 20 mm Hispano cannon in wings.
Variants: CA-12 (later Boomerang Mk I), CA-13 Boomerang Mk II, CA-14/CA-14A, CA-19.
Avionics: None.
History: First flight (prototype) 29 May 1942; first delivery August 1942; final delivery early 1944.
Operators: Australia.