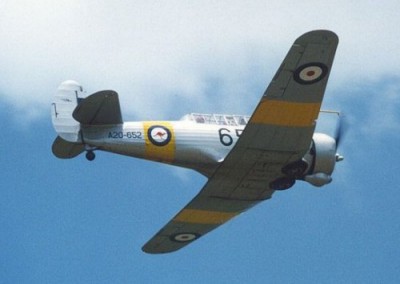 The Commonwealth Aircraft corporation Pty Ltd was formed in 1936 as the result of an Australian government scheme to establish an aircraft industry and make the country independent of outside suppliers. A number of wealthy industrial firms contributed to the financing of the company and, following a visit by an Air Board Technical Commission to the USA in 1936, negotiations were concluded for licence manufacture of the North American NA-26 two-seat general purpose monoplane and its Pratt & Whitney Wasp engine. The NA-26 being an improved version of North Americans NA-16, with retractable tailwheel landing gear, the 600 hp (447 kW) Pratt & Whitney R-1340 radial engine and equipment representative of contemporary operational aircraft. Tugan Aircraft Ltd was taken over by Commonwealth and its chief designer, Wing Commander Lawrence Wackett, became general manager of the new company. An initial order was placed by the RAAF for 40 NA-33s (North Americans new designation), as the licence-built version was designated. The manufacturer's designation was Commonwealth Aircraft CA-1, being the first Commonwealth aircraft, and the name Wirraway was chosen, which means "challenge" in the language of the aboriginals.


A Commonwealth Aircraft CA-5 Wirraway of No. 4 Squadron, Royal Australian Air Force based in New Guinea during December 1942
The first Australian built aircraft flew at Melbourne on 27 March 1939, and within four months the RAAF had accepted the first three aircraft. The outbreak of war in Europe led to increased orders for Wirraways. and the British government also financed the purchase of aircraft for the Empire Air Training Scheme in Australia. By June 1942 Commonwealth had built 620, and the type continued in limited production until the 755th and last aircraft was delivered in 1946. They replaced the Hawker Demon two-seater biplanes that were in service at the time. There were a number of Commonwealth designations for the Wirraway; these, together with the number built, were as follows: CA-1 (40), CA-3 (60), CA-5 (32), CA-7 (100), CA-8 (200), CA-9 (188) and CA-16 (135). The CA-10 was to have been a bomber version and the CA-10A a dive-bomber, but both were cancelled. The designation CA-20 was allocated to Wirraways converted for use by the Royal Australian Navy in the post-war training role. The top and bottom of the fuselage had light alloy metal panels, the sides had fabric. The basic construction of the fuselage was made of steel-tube with stringers and light alloy frames.
Wirraways saw service on convoy patrol work from Darwin, in Malaya, New Britain and New Guinea before being replaced by more warlike equipment, and by mid-1943 most front line Wirraway squadrons had re-equipped with CAC Boomerangs. As they were withdrawn from service almost 400 Wirraways were put into long-term storage. Eventually a number of these were used as the basis for the CA-28 Ceres agricultural aircraft.
Specifications (Commonwealth Aircraft CA-1 Wirraway)
Type: Two Seat Trainer & Light Bomber
Design: Wing Commander Lawrence J. Wackett as Chief Designer on this licence built version of the North American NA-16
Manufacturer: Commonwealth Aircraft Corporation Pty Ltd at Fisherman's Bend, Australia
Powerplant: One CAC built 600 hp (447 kW) Pratt & Whitney R-1340-S1H1-G Wasp radial engine.
Performance: Maximum speed 220 mph (354 km/h) at 5,000 ft (1525 m); maximum cruising speed 182 mph (293 km/h) at 5,000 ft (1525m); service ceiling 23,000 ft (7010 m): initial climb rate of 1,950 ft (594 m) per minute.
Range: 720 miles (1159 km) with maximum fuel.
Weight: Empty equipped 3,992 lbs (1811 kg) with a maximum take-off weight of 6,595 lbs (2991 kg).
Dimensions: Span 43 ft 0 in (13.11 m); length 27 ft 10 in (8.48 m); height 8 ft 8 3/4 in (2.66 m); wing area 255.7 sq ft (23.76 sq m).
Armament: Two fixed forward firing 7.7 mm (0.303 in) Vickers Mk V machine-guns and a similar weapon in the rear cockpit plus up to 1,000 lbs (454 kg) of bombs (usually 4 x 250 lbs bombs).
Variants: CA-1 Wirraway, CA-3, CA-5, CA-7, CA-8, CA-9, CA-10 (bomber version but never built), CA-10A (dive bomber version but never built), CA-16, CA-20 (Navy aircraft).
Avionics: None.
History: First flight (prototype) 27 March 1939; first deliveries June 1939; final production 1946.
Operators: Australia.